George Floyd protests
May and June 2020 protests after the killing of George Floyd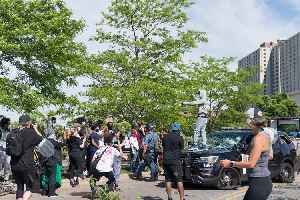 The George Floyd protests are an ongoing series of protests and unrest which began in Minneapolis in the United States on May 26, 2020. The protests began as a response to the killing of George Floyd, a 46-year-old African American man who died during an arrest after Derek Chauvin, a Minneapolis Police Department officer, knelt on Floyd's neck for nearly nine minutes as three other officers looked on.


You Might Like
TikTok's Boogaloo extremism problem
It's hard to describe the group succinctly. Broadly it is an extremist, libertarian militia that is deeply distrustful of government and prepared for a civil war. They are almost always heavily armed...
WorldNews - Published
Live Updates on George Floyd Protests
The defense secretary appeared to break with President Trump over deploying active-duty troops in cities. Protests were largely peaceful overnight, with only sporadic reports of looting.
NYTimes.com - Published
Search this site and the web: