Sally Yates
American lawyer and former prosecutor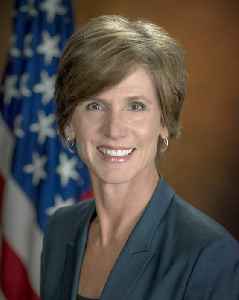 Sally Quillian Yates is an American lawyer. She was a United States Attorney, later United States Deputy Attorney General, having been appointed to both positions by President Barack Obama, and later was Acting United States Attorney General.


Sally Yates: Trump trying to 'sabotage' USPS

Sally Yates, who was fired by President Donald Trump after just days on the job as his acting Attorney General, lambasted Trump at the Democratic National Convention on Tuesday for targeting public..
Credit: Reuters Studio Duration: 02:11
Published
You Might Like
Trump campaign bashes Tuesday at DNC as 'loser night,' targeting Sally Yates, AOC
Fox News host Laura Ingraham described the lineup as a "veritable who's who of failures, each of whom have done immense damage to our country."
USATODAY.com - Published
'The Future of Our Democracy Is at Stake,' Sally Yates Says
Sally Yates, a former acting attorney general, spoke to the Democratic National Convention about the flaws she sees in President Trump while endorsing Joe Biden.
NYTimes.com - Published
After Trump: All the ways the next president can restore trust in the Justice Department
Convention speaker Sally Yates wrongly assumed the rule of law would govern Trump's DOJ. Our plan would revive trust in an agency named for an ideal.
USATODAY.com - Published
A look at Biden's potential running mates: Stacey Abrams, Sally Yates, Michelle Lujan Grisham, and Gretchen Whitmer
Presumptive Democratic nominee Joe Biden is expected to announce his pick for vice president next week. CBS News political correspondent Ed O'Keefe joined CBSN with more on some of the contenders:..
CBS News - Published
8/5/20: Red and Blue
Pres. Trump's rift with COVID-19 experts; Sally Yates testifies on Capitol Hill
CBS News - Published
Sally Yates, Under Attack by Republicans, Defends Flynn Investigation
The former deputy attorney general criticized the Justice Department's decision to drop its prosecution of Michael T. Flynn, President Trump's former national security adviser.
NYTimes.com - Published
Sally Yates says Comey went rogue by sending agents to interview Flynn
Flynn was interviewed by the FBI at the White House in January 2017.
CBS News - Published
Former acting AG Sally Yates set to testify before Senate panel on Russia inquiry
Yates was dismissed for refusing to defend President Donald Trump's Muslim travel ban days after he was inaugurated.
USATODAY.com - Published
Joe Biden: Stacey Abrams, Sally Yates could be potential vice president picks
WINTERSET, Iowa — Former Vice President Joe Biden on Friday night identified several prominent Democratic women who he said could serve as his vice president if he is elected president. At a town..
WorldNews - Published
Also reported by •USATODAY.com