Kane Brown
American singer and songwriter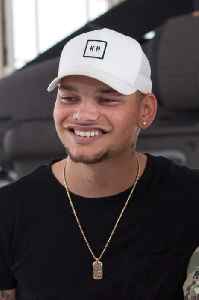 Kane Allen Brown is an American singer and songwriter who first came to the attention of the public through social media. He released his first EP, titled Closer, in June 2015 and followed it with a new single, "Used to Love You Sober", in October 2015. After Brown signed with RCA Nashville in early 2016, the song was included on his EP Chapter 1, released in March 2016. He released his first full-length album, the self-titled Kane Brown, on December 2, 2016. The single "What Ifs" came from this album, and in October 2017, Brown became the first artist to have simultaneous number ones on all five main Billboard country charts. Brown released his second album, Experiment, in November 2018, which became his first number one album on the Billboard 200.


You Might Like
Jamie Lee Curtis on Taylor Swift: 'I'm very proud of her'
Jamie Lee Curtis, Carole King, Shania Twain and Kane Brown discuss Taylor Swift's public feud with Scooter Braun and Scott Borchetta, who own the musician's back catalogue. (Nov. 25)  
USATODAY.com - Published
Country star Kane Brown and wife Katelyn welcome baby girl Kingsley Rose
Kane Brown is in heaven with his new baby girl, Kingsley Rose Brown, who he affectionately calls "KB3."
USATODAY.com - Published
Also reported by •CBS News
CMT Artists of the Year: Thomas Rhett leads prayer for Kane Brown, other memorable moments
CMT Artists of the Year emotionally honored country music's best and brightest in Nashville on Wednesday.
USATODAY.com - Published
Police blame speed in crash that killed drummer Kenny Dixon; Kane Brown postpones LA show
State police say speed appears to be the cause of a single-vehicle crash that caused the death of Kenny Dixon on Saturday. Friday show postponed.
USATODAY.com - Published
Kane Brown's drummer, Kenny Dixon, 27, killed in car accident
Kenny Dixon, the drummer for country music star Kane Brown, was killed in a car accident on Saturday, the band confirmed. He was 27.
USATODAY.com - Published
CMA Awards' biggest snubs: Where are Kane Brown and Luke Bryan?
Who's missing and who surprised from this year's list of CMA Awards nominees.
USATODAY.com - Published
Kane Brown dedicates 'Homesick' to military families
Country singer Kane Brown says his new single "Homesick" may have been written about his experiences of life on the road, but military families have really connected to it. (July 5)  
USATODAY.com - Published
No country for Marshmello men
At the CMT Music Awards in Nashville, country star Kane Brown talks about his collaboration with American DJ Marshmello, Sheryl Crow discusses her new song with Maren Morris and Stevie Nicks, while..
USATODAY.com - Published