Camp Fire (2018)
2018 wildfire in Butte County, California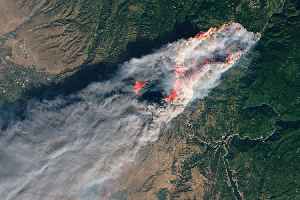 The Camp Fire was the deadliest and most destructive wildfire in California history to date. It is also the deadliest wildfire in the United States since the Cloquet fire in 1918, and is high on the list of the world's deadliest wildfires; it is the sixth-deadliest U.S. wildfire overall. It was the world's costliest natural disaster in 2018. Named after Camp Creek Road, its place of origin, the fire started on November 8, 2018, in Butte County, in Northern California. After exhibiting extreme fire behavior through the community of Concow, an urban firestorm formed in the densely populated foothill town of Paradise. The fire caused at least 85 civilian fatalities, with 3 persons still missing, and injured 12 civilians, two prison inmate firefighters, and three other firefighters. It covered an area of 153,336 acres (62,053 ha), and destroyed 18,804 structures, with most of the damage occurring within the first four hours. Total damage was $16.5 billion; one-quarter of the damage, $4 billion, was not insured. The fire reached 100 percent containment after seventeen days on November 25, 2018.


PG&E thinks its equipment started wildfires. Now, the utility wants customers to absorb another rate hike
(CNN)Pacific Gas and Electric has filed for bankruptcy and may face billions of dollars' worth of penalties, fines and liabilities related to recent wildfires. Now, the utility says it needs another..
WorldNews - Published
As Residents Return, The Wildfire-Struck Town Of Paradise Struggles To Provide Clean Water
The town of Paradise is still a disaster zone with only six percent of the debris from last year's destructive Camp Fire hauled away, but more and more residents are returning to their homes as the..
WorldNews - Published
California Had Historic Wildfire Damage in 2018
According to an annual report from the National Interagency Coordination Center, wildfires burned more than 1.8 million acres in 2018.
Credit: Newsy Studio Duration: 00:56Published
PG&E Says It Will Likely Be Found Responsible for Camp Fire
The cause of the Camp Fire is still under investigation, but California's largest public utility says it believes it will be found responsible.
Credit: Newsy Studio Duration: 00:56Published
Search this site and the web:
You Might Like