Make America Great Again
American campaign slogan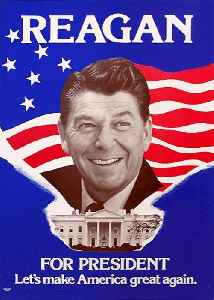 "Make America Great Again" is a campaign slogan used in American politics that was popularized by Donald Trump in his successful 2016 presidential campaign. Ronald Reagan used the similar slogan "Let's make America great again" in his successful 1980 presidential campaign. Bill Clinton also used the phrase in speeches during his successful 1992 presidential campaign and again in a radio commercial aired for his wife Hillary Clinton's 2008 presidential primary campaign. Democratic pollster Douglas Schoen has called Trump's use of the phrase as "probably the most resonant campaign slogan in recent history," citing large majorities of Americans who believed the country was in decline. The slogan has become a pop culture phenomenon, seeing widespread use and spawning numerous variants in the arts, entertainment, and politics. In the Trump era, Voice of America has called the slogan a loaded phrase because it "doesn't just appeal to people who hear it as racist coded language, but also those who have felt a loss of status as other groups have become more empowered."


2 men arrested for assault, robbery of man wearing MAGA hat
Two men are facing robbery and assault charges in Maryland, over a clash with a man sporting a red "Make America Great Again" hat.
USATODAY.com - Published
MAGA hat assault: Man told attackers he was 'entitled to his own views,' police say
Two men are accused in the alleged Maryland assault. Police say they struck the victim until he fell to the ground and demanded he take off the hat.
USATODAY.com - Published
Republican Bill Weld Running Against Trump
Bill Weld is the first candidate to challenge President Trump for the GOP's presidential nomination.
Credit: Newsy Studio Duration: 01:38Published
CNN hit with $275 million defamation suit by Kentucky student
A Kentucky teenager sued CNN on Tuesday for defamation, saying the cable network falsely conveyed to viewers that he was the "face of an unruly hate mob" confronting a Native American activist at..
Credit: Reuters Studio Duration: 01:29Published
MAGA Supporter Creates App To Determine "Conservative Safe Space" Businesses
According to Gizmodo, a new app has been created to determine if businesses are either "safe" or "not safe" spaces for conservatives. The app is called 63red Safe and it was created by MAGA..
Credit: Wochit News Duration: 00:30Published
Trump Silence Notable On Coast Guard Officer
When Chicago police accused actor Jussie Smollett of fabricating a story about being attacked by MAGA-loving bigots, President Donald Trump was quick to weigh in. "What about MAGA and the tens of..
Credit: Wochit News Duration: 00:48Published
Search this site and the web:
You Might Like