Eiffel Tower
Tower located on the Champ de Mars in Paris, France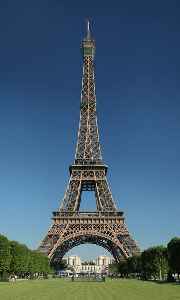 The Eiffel Tower is a wrought-iron lattice tower on the Champ de Mars in Paris, France. It is named after the engineer Gustave Eiffel, whose company designed and built the tower.


Watkin's Wembley folly: London's 'Eiffel Tower' that never was
A Victorian rail magnate tried to build a taller tower than Eiffel's - but it did not go to plan.
BBC News - Published
Bromance or bad date? Trump, Macron trade barbs over tariffs, NATO
They have hosted each other for state visits and dined at the Eiffel Tower, but the once-budding bromance between U.S. President Donald Trump and France's Emmanuel Macron looks to have turned into a..
Reuters - Published
Protests over pension reforms ravage France
French trade unions crippled transport, shut schools, and brought demonstrators into the streets on Tuesday in a redoubled effort to force President Emmanuel Macron to ditch a planned pension reform by..
Credit: Reuters - Politics Duration: 01:06Published
French activists demand stronger action on climate
French climate activists protested in Paris on Sunday, holding upside-down portraits of French President Emmanuel Macron near the Eiffel Tower, and denouncing a lack of action on climate change.
Credit: Reuters Studio Duration: 00:45Published
Massive French strike prompts Eiffel Tower closure
The Eiffel Tower was closed on Thursday as employees took part in massive nationwide strikes against President Emmanuel Macron's plans to reform pensions.
Credit: Reuters Studio Duration: 00:48Published
Stunt mountainbiker's adrenaline-fuelled view of Paris
Stunt mountainbiker Fabio Wibmer takes a different view of Lyon and Paris as he rides the streets and stairways of the cities.
Credit: Reuters - Sports Duration: 02:52Published
'Everybody deserves love': Ellen surprises gay couple whose parents won't attend their wedding
After their stunning Eiffel Tower engagement photos went viral, Ellen DeGeneres surprised fiancées Kate Austin and Sarah Sulsenti on her talk show.
USATODAY.com - Published
Eiffel Tower-sized asteroid coming dangerously close to Earth tonight
A massive asteroid bigger than the Eiffel Tower is set to whizz by Earth on Friday, NASA has warned. The potentially hazardous space rock is so large it would leave a three mile crater and...
WorldNews - Published
Sophie Turner and Joe Jonas' second wedding date revealed
Sophie Turner and Joe Jonas, who got married in a secret Las Vegas ceremony last month, are in France preparing for their second wedding. It had long been rumoured that the couple were planning on..
WorldNews - Published
5/29: CBSN AM
Destructive tornadoes hit Kansas City area; Zip lining off the Eiffel Tower
CBS News - Published
Art by French artist Saype on the Champs de Mars honours migrant rescuers
A 600-metre-long, biodegradable work of graffiti by French artist Saype on the Champs de Mars in Paris honours migrant rescuers, in the first of a series of works on this park next to the Eiffel Tower.
France 24 - Published
You Might Like