Pittsburgh
City in western Pennsylvania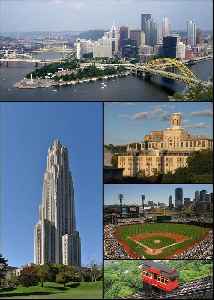 Pittsburgh is a city in the Commonwealth of Pennsylvania in the United States, and is the county seat of Allegheny County. As of 2018, a population of 308,144 lives within the city limits, making it the 63rd-largest city in the U.S. The metropolitan population of 2,362,453, is the largest in both the Ohio Valley and Appalachia, the second-largest in Pennsylvania, and the 26th-largest in the U.S.


Champions Patriots open vs. Steelers; 5 international games
The NFL's 100th season will begin with its most classic rivalry and feature the Super Bowl champion Patriots hosting Pittsburgh in the first Sunday night game.
USATODAY.com - Published
Islanders finish off Penguins 3-1 for stunning playoff sweep
The New York Islanders' turnaround season is heading to the second round of the playoffs after a 3-1 win over Pittsburgh gave the Islanders a stunning 4-game sweep
USATODAY.com - Published
Bernie Sanders reaches out to working-class voters in a five-state swing
U.S. presidential candidate Bernie Sanders holds rallies across five battleground states that voted for Donald Trump in the last election. Sanders blasted the president for "lying" to voters when he..
Credit: Reuters Studio Duration: 01:04Published
Pittsburgh Facing Lawsuits Over New Gun Control Laws
The legislation restricts the use of assault-style weapons and bans items like high-capacity magazines and armor-piercing bullets.
Credit: Newsy Studio Duration: 01:48Published
Pittsburgh City Council Approves Gun Control Bills
Three bills would ban certain weapons and firearm accessories, among other measures.
Credit: Newsy Studio Duration: 00:57Published
Protests after white Pittsburgh cop found not guilty for killing black teen
Pittsburgh, Pennsylvania was the latest U.S. city rocked by demonstrators upset over a not-guilty verdict for a white police office who shot an unarmed black teen. Conway G. Gittens has more.
Credit: Reuters Studio Duration: 01:43Published
Police Officer Found Not Guilty in Shooting of 17-Year-Old
​Police officer Michael Rosfeld had been facing criminal homicide charges, including murder, voluntary manslaughter and involuntary manslaughter.
Credit: Newsy Studio Duration: 00:50Published
Protests in Pittsburgh after police officer cleared of killing black teen
Protests erupted outside a Pittsburgh courtroom after a jury unanimously found that a white police officer did not commit murder when he fatally shot black teenager Antwon Rose. Rough cut (no reporter..
Credit: Reuters Studio Duration: 00:45Published
The Big Interview: Le'Veon Bell
New Jets running back Le'Veon Bell sat down with Jenny Vrentas of the MMQB for an exclusive interview about why he picked the Jets, what went wrong in Pittsburgh, and finding happiness.
Credit: Sports Illustrated Duration: 25:31Published
11 Cities With The Worst Tap Water In The US
Millions of people are exposed to unsafe drinking water every year in the US. Industrial towns like Pittsburgh and Detroit have discovered unsafe levels of lead in their water, which can lead to..
Credit: Wochit News Duration: 01:02Published
Trial to Begin for Police Officer Who Shot Antwon Rose Jr.
Former East Pittsburgh police officer Michael Rosfeld fatally shot the teenager in 2018 after the teen ran from a car he'd pulled over.
Credit: Newsy Studio Duration: 01:08Published
Kurt Angle Will Retire After WrestleMania
WWE Hall of Famer Kurt Angle announced this week that he will have his last match inside the squared circle on April 7 at WrestleMania 35. Angle opened a segment on Monday Night Raw by announcing his..
Credit: Wochit News Duration: 00:52Published
How Will Antonio Brown and Derek Carr Mesh in Oakland?
It's no secret that Antonio Brown and Ben Roethlisberger had a shaky relationship towards the end of Brown's tenure in Pittsburgh. Will the seven-time Pro Bowler and Oakland QB Derek Carr's..
Credit: Sports Illustrated Duration: 01:10Published
What Is CTE?
Chronic traumatic encephalopathy can lead to symptoms similar to Alzheimer's and ALS.
Credit: Newsy Studio Duration: 02:48Published
Pittsburgh GM Kevin Colbert Says Le'Veon Bell Will Be An Unrestricted Free Agent
Pittsburgh Steelers GM Kevin Colbert told a group of reporters on Wednesday that Le'Veon Bell will become a free agent when the new NFL year begins on March 13.
Credit: Sports Illustrated Duration: 00:50Published
Pass first Pitt? Panthers believe the big play is back
Pittsburgh junior quarterback Kenny Pickett believes the Panthers have a chance to be more dynamic in 2019. Pickett wrapped up spring drills by throwing two touchdowns during the annual Blue/Gold..
USATODAY.com - Published
Pittsburgh Restricts Use Of Assault-Style Weapons In Wake Of Synagogue Shootings
Pittsburgh's mayor signed legislation Tuesday restricting the use of assault-style weapons in the city, National Public Radio reported. The city council introduced a set of bills a few weeks after a..
WorldNews - Published
Archer suspended for 5 games, Puig for 2, Bell for 1
Pittsburgh pitcher Chris Archer suspended for 5 games, Cincinnati outfielder Yasiel Puig for 2, Reds manager David Bell for 1 for roles in bench-clearing fracas
USATODAY.com - Published
Canada hails Facebook ban on far-right figures
Ottawa: The Canadian government on Monday hailed Facebook´s decision to ban prominent far-right activists after the platform came under renewed scrutiny for allowing hate groups to flourish in the..
WorldNews - Published
You Might Like