Pope Francis
266th pope of the Catholic Church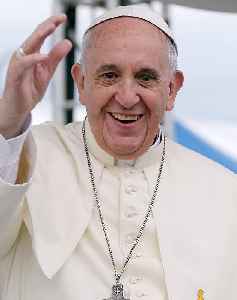 Pope Francis is the head of the Catholic Church and sovereign of the Vatican City State. Francis is the first Jesuit pope, the first from the Americas, the first from the Southern Hemisphere, and the first pope from outside Europe since the Syrian Gregory III, who reigned in the 8th century.


Pope Francis's first public appearance with mask

Pope Francis wore a mask for the first time at a public function on Tuesday (October 20) when he attended a prayer service with other religious leaders to implore peace.
Credit: Reuters Studio Duration: 00:45
Published
Pope hosts post-lockdown indoor general audience

Over 1,000 people gathered in the Paul VI hall at the Vatican for the first time a general audience held by Pope Francis has been indoors since the coronavirus pandemic.
Credit: Reuters Studio Duration: 01:08
Published
Pope presents encyclical in St. Peter's square

Pope Francis presented to the faithful gathered in St. Peter's square, the new encyclical on Sunday.
Credit: Reuters Studio Duration: 01:19
Published
Vatican denies Pompeo audience with Pope

U.S. Secretary of State Mike Pompeo slammed what he called China's "repressive" regime on Wednesday, as Vatican officials accuse him of trying to drag the Catholic Church into the U.S. presidential..
Credit: Reuters - Politics Duration: 01:36
Published
Fired cardinal denies wrongdoing

An Italian cardinal fired from his powerful Vatican post said on Friday Pope Francis had accused him of embezzlement and nepotism, but he denied wrongdoing and said he was still ready to lay down his..
Credit: Reuters Studio Duration: 01:19
Published
Pope visibly happy to resume public audiences

Pope Francis held his first weekly general audience with a live crowd in six months on Wednesday as the Holy See slowly lift restrictions imposed due to the coronavirus pandemic.
Credit: Reuters Studio Duration: 01:01
Published
You Might Like



AP Top Stories Oct. 21 P

Here are the top stories for Wednesday, Oct 21st: Trump and Biden campaigns make October sprint; Justice Dept. announces Purdue Pharma settlement; Barrett visits senators on Capitol Hill; Pope Francis..




USATODAY.com - Published




Pope replaces saint-making chief as corruption scandal grows

Pope Francis named a new head for the Vatican's saint-making office Thursday to replace the once-powerful cardinal at the center of a growing corruption scandal that has raised questions about the..




WorldNews - Published





What 60 Minutes gave the pope

Pope Francis isn't the easiest man to buy for, but Scott Pelley decided to offer him a gift with a very personal meaning behind it.




CBS News - Published





Scott Pelley meets Pope Francis

"What is your goal for America?" Scott Pelley asks Pope Francis about his upcoming trip to the U.S. The pope's response: "To meet people." Watch Pelley's full report "Pope Francis."




CBS News - Published





Cardinal George Pell meets Pope Francis for first time since acquittal

The Vatican's ex-treasurer had his conviction for sexual abuse overturned in Australia in April.




BBC News - Published





Pope Francis: Radical changes needed to avoid climate catastrophe

Pope Francis on Saturday issued an urgent call to action to defend the planet and help the poor in his second TED talk.Francis, known for his affinity for social media and technology, said in a..




New Zealand Herald - Published





Pope Francis denounces "magical theories" of capitalism

"The marketplace, by itself, cannot resolve every problem," Pope Francis wrote in a new encyclical on Sunday.




CBS News - Published





Pope Francis: Market capitalism has failed in pandemic, needs reform

Pope Francis says the coronavirus pandemic has proven that the "magic theories" of market capitalism have failed and that the world needs a new type of politics that promotes dialogue and solidarity..




New Zealand Herald - Published

Also reported by •WorldNews


Pope Francis refuses to meet with Mike Pompeo ahead of 2020 election

When asked whether the meeting would be exploited by Pompeo, the Vatican's second-ranking official said, "I have no proof to say this, but certainly it is a thought that may be made."




CBS News - Published





Pope denies audience with Pompeo; Vatican warns against playing politics over China

The Vatican said Wednesday it had denied a request from Mike Pompeo for an audience with Pope Francis, and accused the Secretary of State of trying to drag the Catholic Church into the US presidential..




WorldNews - Published





Pompeo calls for pope to show 'courage' over China

US Secretary of State Mike Pompeo revived a spat with the Vatican today during a visit to Rome, a month ahead of the US elections and hot on the heels of a diplomatic breach that experts see as an..




WorldNews - Published





David Attenborough broke a world record on Instagram

Sir David Attenborough opens an art exhibition on January 10, 2020, in London, England. | Photo by Tim P. Whitby/Getty Images David Attenborough's debut on Instagram last week landed him the..




The Verge - Published





Cardinal proclaims innocence after resigning in Vatican financial scandal

(CNN)One of the Vatican's powerful cardinals has resigned from his post amid a growing financial scandal. Giovanni Angelo Becciu says he was accused of embezzlement and proclaimed his innocence during..




WorldNews - Published





Vatican cardinal pushes back after pope fires him in scandal

A powerful Vatican cardinal who was sacked by Pope Francis in an astonishing twist to the Vatican's latest financial scandal pushed back Friday (US time) against allegations he embezzled Holy See money..




New Zealand Herald - Published





Powerful Vatican cardinal resigns amid financial scandal

ROME — The powerful head of the Vatican's saint-making office, Cardinal Angelo Becciu, resigned suddenly Thursday from the post and renounced his rights as a cardinal amid a financial scandal that..




WorldNews - Published





Catholic voters can't ignore abortion or Kamala Harris' religious bigotry in 2020 election

As Pope Francis has said, 'The right to life is the first among human rights.' So why make American Catholics feel like they shouldn't vote for life?




USATODAY.com - Published





Vatican, China prepare to renew historic deal to US anger

Shares The Vatican and China are preparing to renew a historic deal on the appointment of bishops that has slightly thawed icy relations -- much to the displeasure of the US. Pope Francis has been..




WorldNews - Published





Pope gives green light for extension of accord with Beijing

VATICAN CITY--Pope Francis has signed off on a two-year extension of a deal with China on the appointment of bishops that critics have condemned as a sell-out to the communist government, a senior..




WorldNews - Published





Pope Francis uses mask, sanitiser as he appeals for public health

VATICAN CITY: Pope Francis wore a face mask and used hand sanitiser Wednesday as he appealed for the faithful to look out for the health of others as well as themselves during the coronavirus pandemic...




WorldNews - Published





Father Michel J. Mulloy Resigns Weeks Before Becoming Bishop of Duluth

Father Michel J. Mulloy was chosen by Pope Francis to lead the Diocese of Duluth, Minn., but then an allegation from the 1980s surfaced, church officials said.




NYTimes.com - Published





Pope Francis warns there's a 'plague WORSE than Covid'... and that is 'gossip'

A "plague worse than Covid" is threatening to divide the Roman Catholic Church, the pontiff has said, urging the faithful to abstain from "gossiping" and warning against airing all their..




WorldNews - Published





Pope tells leaders post-pandemic economic models must change

By Philip Pullella VATICAN CITY (Reuters) - Pope Francis said on Friday that the coronavirus pandemic had "toppled the shaky pillars" of a world economic model built on the idolatry of money and..




WorldNews - Published





WorldView: Coronavirus-free pope, North Korea frees quarantined foreigners, and more

Italian media is reporting that Pope Francis has tested negative for the novel coronavirus; North Korea lifts a quarantine imposed on foreigners; Israeli Prime Minister Benjamin Netanyahu claims..




CBS News - Published





Pope: Rich can't get priority for coronavirus vaccine, poor need help

VATICAN CITY (AP) — Pope Francis on Wednesday warned against any prospect that rich people would get priority for a coronavirus vaccine. "The pandemic is a crisis. You don't come out of it the same..




WorldNews - Published





Headlines at 8:30: Pope Francis renews Argentine passport

"CBS This Morning" takes a look at some of the day's headlines from around the globe.




CBS News - Published





1/29: Icy weather in Atlanta leaves thousands stranded; "Superpope" Francis, rock star of the Catholic church

Traffic was frozen overnight on all three of Atlanta's main highways after a rare winter storm brought snow and ice to the South; and, after Pope Francis received the rock star treatment with a Rolling..




CBS News - Published





Doves released at Vatican attacked by crow and seagull

At the Vatican, Pope Francis called for an end to violence in the Ukraine before releasing two white doves as a symbol of peace. Moments later, a black crow and a seagull attacked the doves in front of..




CBS News - Published





Cardinal Dolan on meaning of Christmas

Pope Francis calls Christmas "an encounter with the Lord." Cardinal Archbishop of New York Timothy Dolan joins the "CBS This Morning" co-hosts to discuss the meaning behind the holiday season.




CBS News - Published





Three cheers for Pope Francis

Time Magazine named Pope Francis its "Person of the Year" for 2013, a choice heartily seconded by "Sunday Morning" contributor Nancy Giles.




CBS News - Published





12/11: Asiana cockpit transcripts reveal new details of deadly crash; Pope Francis captures imagination of the world

The National Transportation Safety Board held a hearing about the crash of Flight 214, which killed three people and raised questions about whether pilots have become too reliant on automated systems;..




CBS News - Published





Pope Francis appoints 6 women to senior roles

Pope Francis has ensured there are more women officials at the Vatican than ever before.




CBS News - Published





Pope 'deeply pained' over Turkey's move on Hagia Sophia

VATICAN CITY (AP) — Pope Francis said on Sunday that he is "deeply pained" over the decision by Turkey to change the status of Hagia Sophia — which was originally built in Istanbul as a..




WorldNews - Published





Pope appoints ex-ECB boss Draghi to prestigious academy of social sciences

VATICAN CITY (Reuters) - Pope Francis has appointed former European Central Bank chief Mario Draghi as a member of the Pontifical Academy of Social Sciences, the Vatican said on Friday. The Academy, a..




WorldNews - Published





Pope Denounces Unimaginable 'Hell' of Libyan Migrant Camps

Pope Francis denounced the unimaginable "hell" of Libya's migrant detention camps as he celebrated a Mass on Wednesday in honor of would-be asylum seekers who risk their lives for a better future...




WorldNews - Published





Rethink: Pope Francis warns poor have become part of landscape

Pope Francis says that the coronavirus pandemic has shown how much the poor are disconnected from society. Poverty is often hidden away, he says, but trying to help others can help us rediscover...




WorldNews - Published

Also reported by •BBC News


Defend seafaring workers hit hard by pandemic, Pope says

Pope Francis paid tribute on Wednesday to hundreds of thousands of seafarers stuck on ships due to the coronavirus pandemic, a situation the United Nations has said poses a risk to the safe operation..




Reuters - Published





Pope urges end to Libyan conflict

VATICAN CITY -- Pope Francis on Sunday urged political and military leaders in Libya to end their hostilities and called on the international community to take "to heart" the plight of migrants trapped..




WorldNews - Published





Pope appeals for end to Libyan civil war

Pope Francis appealed on Sunday for both sides in the Libyan civil war to seek peace, urging the international community to facilitate talks and protect refugees and migrants he said were victims of..




Reuters - Published





World reaches 400,000 coronavirus deaths as Pope Francis urges caution

BARCELONA, Spain — The confirmed global death toll from the COVID-19 virus reached at least 400,000 fatalities on Sunday, a day after the government of Brazil broke with standard public health..




WorldNews - Published





Don't celebrate victory over coronavirus too soon, Pope tells Italians

Pope Francis on Sunday warned Italians to not let their guard down against coronavirus now that infection rates have fallen and urged them to obey government rules on social distancing and wearing..




Reuters - Published





Pope Francis calls George Floyd's death 'tragic' and racism 'sin'

VATICAN CITY — Pope Francis spoke out from the Vatican, weighing in on the death of George Floyd at the hands of police in Minneapolis, calling his death "tragic." The pontiff spoke as the eighth..




WorldNews - Published





Pope urges U.S reconciliation, condemns racism and street violence

Pope Francis called for national reconciliation in the United States on Wednesday, saying that while racism is intolerable, the street violence that has broken out is "self-destructive and..




Reuters India - Published

Also reported by •Reuters


Pope condemns racism and violence in U.S., calls for national reconciliation

Pope Francis broke his silence on the unrest in the United States on Wednesday, saying no one can "turn a blind eye to racism and exclusion" but condemning violence as "self-destructive and..




Reuters - Published




Pope makes anti-corruption spending rules mandatory in Vatican

Pope Francis has approved sweeping new rules for procurement and spending in the Vatican meant to cut costs, ensure transparent competition and reduce the risk of corruption in awarding contracts.




Reuters - Published





People more important than the economy, pope says about Covid crisis

Pope Francis said on Sunday that people are more important than the economy, as countries decide how quickly to reopen their countries from coronavirus lockdowns.




Reuters - Published