Belfast
Capital and chief port of Northern Ireland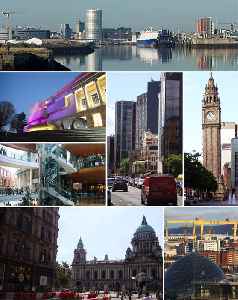 Belfast is the capital and largest city of Northern Ireland, standing on the banks of the River Lagan on the east coast. It is the 12th-largest city in the United Kingdom and the second-largest on the island of Ireland. It had a population of 333,871 as of 2015. Belfast suffered greatly in the Troubles: in the 1970s and 1980s it was one of the world's most dangerous cities, with a homicide rate around 31 per 100,000.


Charles and Camilla meet nurses on visit to Belfast

Prince Charles and the Duchess of Cornwall visit the Ulster Museum in Belfastduring a one-day trip to Northern Ireland. They met a number of young nurseswho completed their training early to help with..
Credit: PA - Press Association STUDIO Duration: 01:35
Published
'Deplorable' house parties will not be tolerated, warns health minister

Dangerous and anti-social house parties in Belfast's Holyland student districtwill not be tolerated, the health minister has said. Footage showing groups ofyoung people congregating and drinking in..
Credit: PA - Press Association STUDIO Duration: 01:51
Published
You Might Like



Labour calls for public inquiry into Pat Finucane murder

The British Labour party has urged Prime Minister Boris Johnson to "act without delay" and order a public inquiry into the murder of Belfast solicitor Pat Finucane. Mr Finucane, 39, was shot by..




WorldNews - Published





Anti-Masker Kicked Off UK Flight, Coughs on Everyone

Anti-mask rants, and dangerous COVID behavior, aren't just a U.S. problem -- an angry passenger spewed her breath on fellow fliers when she was kicked off a UK flight. The incident went down Sunday on..




TMZ.com - Published





The Guardian view on covert human intelligence sources: draw a line | Editorial

On 12 February 1989, two men burst through the door of Pat Finucane's home in Belfast as he sat down to dinner, shooting him 14 times in front of his wife and children. Twenty-three years later,..




WorldNews - Published





Haaland stars as Norway thrash Northern Ireland

Erling Haaland and Alexander Sorloth both score twice as Northern Ireland suffer a 5-1 humbling by Norway in their Nations League game in Belfast.




BBC News - Published





'Suspect device' left outside Sinn Fein's Belfast office was a hoax, police say

The object was found by Connolly House on Monday evening, West Belfast's MP says




Independent - Published





'Tins of Guinness aren't the same': Pints flow as pubs reopen in Northern Ireland

'It feels safer than the supermarket,' pub-goers tell Amanda Ferguson in Belfast




Independent - Published





Noah Donohoe: Body found by Belfast police searching for missing teenager

Police searching for a missing schoolboy in Northern Ireland have discovered a body.




Independent - Published





Belfast shooting: Man with links to dissident republican groups killed

'No family should have to go through this heartache,' says MP. 'Those involved have absolutely no place in our community and should get off the back of local people'




Independent - Published





People mourn George Floyd's death from D.C. to New Zealand

A vigil for George Floyd was held in Belfast, Northern Ireland, and thousands gathered to protest his death in New Zealand.




USATODAY.com - Published




Has Dominic Cummings met his Waterloo? Breach of coronavirus lockdown a classic case of 'do as I say and not as I do'

JUST when you thought the Government's handling of the coronavirus crisis couldn't sink any lower, along comes Dominic Cummings. At worst, the Prime Minister's top aide is a first-class hypocrite for..




WorldNews - Published





Coronavirus: Aer Lingus review after packed flight complaint

Passengers on a Belfast-Heathrow flight were sat side by side despite social-distancing guidelines.




BBC News - Published




British government agreed EU could set up office in Belfast last year before pretending it hadn't

Government now rejecting EU oversight of implementing Northern Ireland agreement




Independent - Published





Belfast shooting: Man killed was suspect in murder of teenager who was found dismembered in Dublin

Local reports suggest victim had possible link to killing of 17-year-old Keane Mulready Woods




Independent - Published





Belfast shooting: Man dies after gun attack in Ardoyne area

Victim shot in broad daylight, councillor says




Independent - Published





'Let's turn the streets of Belfast orange!': MS Society apologises for accidentally igniting sectarian tensions in Northern Ireland

Misjudged tweet intended to be reference to t-shirts supporters wear during fundraising




Independent - Published





Police apologise for 'victim blaming' leaflets which linked rape to alcohol consumption

Officers will investigate how discontinued flyers were handed out in Belfast




Independent - Published





Sacking of UK minister who broke Northern Ireland logjam dismays Belfast, Dublin

British Prime Minister Boris Johnson has sacked the minister who helped end three years of political paralysis in Northern Ireland, prompting criticism on Thursday that Johnson was indifferent to the..




Reuters - Published





Haskins retires from boxing after defeat

Belfast man Sean McComb maintains his winning professional record with an impressive stoppage of Argentina's Mauro Maximiliano Godoy.




BBC News - Published





Boris Johnson to meet Northern Ireland leaders in Belfast after powersharing deal

Agreement led to restoration of Stormont executive after three years




Independent - Published





Northern Ireland's politicians return to work after three-year standoff

Northern Ireland's main political parties sat down together in Belfast on Saturday to form a power-sharing government and end a three-year standoff that threatened a key part of the province's 1998..




Reuters - Published





Hillary Clinton becomes chancellor of Belfast's Queen's University

She is first woman to be appointed in role, which will last five years




Independent - Published





Belfast murders: Man arrested after couple stabbed to death in flat

'Tragic scene' as bodies found in home days before Christmas




Independent - Published





Belfast homes evacuated after two found dead in suspected stabbing

Local councillor describes deceased as couple of 'characters' well known in area




Independent - Published





DUP concede deputy leader Dodds has lost in UK parliament

The Democratic Unionist Party conceded that its deputy leader, Nigel Dodds, had lost his seat in the British parliament on Friday as counting in his Belfast constituency came to a close.




Reuters - Published




Boris Johnson is playing with fire in Northern Ireland

Belfast, Northern Ireland (CNN)Northern Ireland is once again at an intersection. The current general election campaign has led to unprecedented political alliances which could -- by default or design..




WorldNews - Published





Couple falls victim to Airbnb scam in Belfast

Simone and Alice Cardillo arrived at their accommodation to find it was empty and for sale.




BBC News - Published





Lord mayor of Belfast caught urinating in street

'I tried to find somewhere as discreet as possible,' says John Finucane




Independent - Published





Northern Ireland Open final: Holder Trump defeats O'Sullivan in thrilling decider

Judd Trump successfully defends his Northern Ireland Open title with a 9-7 win over Ronnie O'Sullivan in a thrilling final in Belfast.




BBC News - Published





Germany book place at Euro 2020 after Belarus rout

Toni Kroos struck twice as Germany qualified for the European Championship with a 4-0 win over Belarus. Die Mannschaft's qualification was confirmed after Northern Ireland failed to beat the..




WorldNews - Published





Play-offs for Northern Ireland after draw against Dutch in Belfast

Northern Ireland's slim hopes of qualifying automatically for the Euro 2020 finals are over as they draw 0-0 with the Netherlands in Belfast.




BBC News - Published





Lorry deaths detectives to issue inquiry details

Det Ch Insp Daniel Stoten, from Essex Police, will speak at PSNI headquarters in Belfast on Friday.




BBC News - Published





Britain welcomes Spirit AeroSystems' purchase of Bombardier's Belfast site

British business minister Nadhim Zahawi on Thursday welcomed Spirit AeroSystems' purchase of Bombardier's plant in Belfast as great news for workers and a welcome investment in the United Kingdom.




Reuters - Published





Bombardier in advanced talks to sell three plants to Spirit AeroSystems for over $1 bilion: sources

Canada's Bombardier is in advanced talks to sell three facilities, including its Belfast wing-making plant, to Spirit AeroSystems for more than $1 billion in cash and assumed liabilities, two sources..




Reuters - Published





It's impossible to 'succeed' in the Brexit negotiations – this is one of the stupidest things a country has ever done

A declining British mainland and a resurgent Belfast will serve as a permanent reminder of just how colossal an error Brexit was




Independent - Published





DUP would oppose reported EU Brexit offer over Northern Ireland veto

The small Northern Irish party supporting the British government would emphatically oppose any scheme to give the devolved assembly in Belfast a way out of a Brexit backstop after a number of years, a..




Reuters - Published





Northern Ireland abortion restrictions breach UK's human rights law, Belfast High Court rules

Northern Ireland's strict abortion ban which even bans the procedure in cases of rape or incest breaches the UK's human rights commitments, the High Court in Belfast has ruled.




Independent - Published





Northern Irish activist joins other Brexit cases in Supreme Court

A Northern Irish rights campaigner whose case against Britain leaving the European Union without a deal was dismissed by Belfast's High Court last week succeeded on Monday in joining two other..




Reuters - Published




Northern Ireland's DUP rules out Brexit backstop 'by another name'

Belfast: Northern Ireland's largest political party on Friday said it would not allow the British region to be forced to accept EU regulations after Brexit, shooting down reports that such a move..




WorldNews - Published





Northern Irish 'no-deal' Brexit challenge dismissed in court

Belfast's High Court dismissed on Thursday a case arguing that a British exit from the European Union without a withdrawal agreement would contravene Northern Ireland's 1998 peace accord, saying the..




Reuters - Published




Belfast court dismisses Northern Irish challenge against no-deal Brexit

Belfast's High Court dismissed on Thursday a case arguing that a British exit from the European Union without a withdrawal agreement would contravene Northern Ireland's 1998 peace accord.




France 24 - Published





Northern Irish activist to appeal dismissal of 'no-deal' Brexit case

A Northern Irish rights campaigner will appeal the dismissal by Belfast's High Court on Thursday of his case arguing that a British exit from the European Union without a withdrawal agreement would..




Reuters - Published




Nora Quoirin's funeral mass held in Belfast

The teenager died in Malaysia after vanishing on a family holiday in August.




BBC News - Published





Northern Irish court to make no-deal Brexit ruling on Thursday

Belfast's High Court is to rule on Thursday on the legality of a British exit from the European Union without a withdrawal agreement after an activist argued such a move would not be compatible with..




Reuters - Published




Battling Northern Ireland knocked off top of group by Germany

Northern Ireland drop their first points in Euro 2020 qualifying as goals by Marcel Halstenberg and Serge Gnabry give Germany a 2-0 win in Belfast.




BBC News - Published





Thousands protest against British PM suspending Parliament

An estimated 10,000 people gathered in central London, while others protested in in Belfast, York and others cities in support of blocking a "no deal" Brexit




CBS News - Published