Madagascar
Island nation off the coast of Southeast Africa, in the Indian Ocean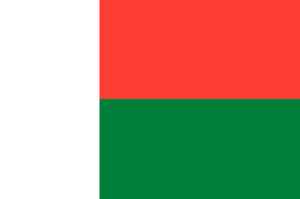 Madagascar, officially the Republic of Madagascar, and previously known as the Malagasy Republic, is an island country in the Indian Ocean, approximately 400 kilometres off the coast of East Africa. The nation comprises the island of Madagascar and numerous smaller peripheral islands. Following the prehistoric breakup of the supercontinent Gondwana, Madagascar split from the Indian subcontinent around 88 million years ago, allowing native plants and animals to evolve in relative isolation. Consequently, Madagascar is a biodiversity hotspot; over 90% of its wildlife is found nowhere else on Earth. The island's diverse ecosystems and unique wildlife are threatened by the encroachment of the rapidly growing human population and other environmental threats.


Madagascar measles epidemic kills more than 1,200 people
AMBALAVAO: Babies wail as a nurse tries to reassure mothers who have come to vaccinate their children. They fear a measles epidemic that has killed more than 1,200 people in this island nation where..
WorldNews - Published
Search this site and the web:
You Might Like