Ebola virus disease
Viral hemorrhagic fever of humans and other primates caused by ebolaviruses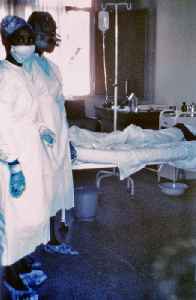 Ebola virus disease (EVD), also known as Ebola hemorrhagic fever (EHF) or simply Ebola, is a viral hemorrhagic fever of humans and other primates caused by ebolaviruses. Signs and symptoms typically start between two days and three weeks after contracting the virus with a fever, sore throat, muscular pain, and headaches. Vomiting, diarrhea and rash usually follow, along with decreased function of the liver and kidneys. At this time, some people begin to bleed both internally and externally. The disease has a high risk of death, killing between 25 and 90 percent of those infected, with an average of about 50 percent. This is often due to low blood pressure from fluid loss, and typically follows six to sixteen days after symptoms appear.


Militiamen kill senior WHO official in attack on Congo Ebola center
Heavily armed militiamen attacked a hospital treating Ebola patients in eastern Democratic Republic of Congo on Friday, killing a senior World Health Organization (WHO) epidemiologist and injuring two..
Reuters - Published
Attack At Hospital In Ebola Zone In DRC Kills Cameroonian Doctor As Outbreak Persists
The mayor of Butembo said a recent attack at a hospital in the current Ebola outbreak zone in the Democratic Republic of Congo killed a Cameroonian doctor and injured several others on Friday,..
WorldNews - Published
Also reported by •Reuters
WHO: Congo Ebola Outbreak Not an International Emergency
There have been 1,206 confirmed and probable cases of the disease since the epidemic started last August, including 40 new cases in the last few days.
Credit: Newsy Studio Duration: 01:08Published
Deadly Ebola Outbreak in Congo Surpasses 1,000 Cases
According to the country's health ministry, since the epidemic started, there have been 1,009 cases of the disease.
Credit: Newsy Studio Duration: 01:03Published
Ebola Outbreak In Congo, 1,000 Cases Reported
CNN reports The deadly Ebola outbreak in the Democratic Republic of Congo, has surpassed 1,000 cases, according to the country's health ministry. The number of confirmed cases stands at 1,009, of which..
Credit: Wochit News Duration: 00:43Published
WHO Says Ebola Outbreak In Congo Could Be Over By September
The organization's director-general said the number of new cases being reported each week is down since January.
Credit: Newsy Studio Duration: 01:09Published
Ebola outbreak response in DR Congo criticised
Health workers battling Ebola in Democratic Republic of Congo are facing 'a climate of deepening community mistrust' nearly seven months after the outbreak began, Doctors Without Borders warns.
Credit: Al Jazeera STUDIO Duration: 02:18Published
Two Ebola clinics burned down in DR Congo
Four people with confirmed cases of the highly contagious virus are still missing after fleeing the scene.
Credit: Al Jazeera STUDIO Duration: 02:09Published
Congo Ebola centre set on fire after armed attack
Armed assailants have attacked an Ebola treatment centre in Butembo, eastern Democratic Republic of Congo, setting off a fire and becoming embroiled in an extended gun battle with security forces,..
Credit: Reuters Studio Duration: 00:40Published
Ebola is real, Congo president tells skeptical population
Congolese President Felix Tshisekedi on Tuesday implored people in areas hit by the nation's worst-ever Ebola outbreak to accept the disease is real and trust health workers.
Reuters - Published
Measles outbreak drains resources we may need for a future epidemic or bioterrorist attack
We cannot afford to ignore the lessons that measles, Ebola, pandemic influenza and other diseases have been teaching us about our vulnerabilities.
USATODAY.com - Published
WHO says Ebola outbreak in DR Congo not yet global emergency
The ongoing Ebola outbreak in the Democratic Republic of Congo does not yet warrant being declared a global emergency but is of "deep concern," the World Health Organization said Friday.
France 24 - Published
Ebola spread concentrated in Congo, not a wider emergency: WHO
An outbreak of Ebola in the Democratic Republic of Congo (DRC) that has killed more than 700 people and is continuing to spread does not constitute an international emergency, the World Health..
Reuters - Published
Red Cross Warns DRC Outbreak Far From Contained Since Many Are Not Seeking Care
The International Federation of Red Cross and Red Crescent Societies (IFRC) said the current Ebola outbreak in the Democratic Republic of the Congo was worsening on Thursday, according to the African..
WorldNews - Published
You Might Like