Cleveland Clinic
Hospital in Ohio, United States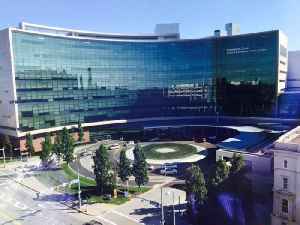 The Cleveland Clinic is an American academic medical center based in Cleveland, Ohio. Owned and operated by the Cleveland Clinic Foundation, an Ohio nonprofit corporation established in 1921, it runs a 170 acres (69 ha) campus in Cleveland, as well as 11 affiliated hospitals, 19 family health centers in Northeast Ohio, and hospitals in Florida and Nevada. Outside the United States, Cleveland Clinic also operates the Cleveland Clinic Abu Dhabi hospital and a outpatient sports medicine clinic in Toronto. A Cleveland Clinic hospital campus in London is scheduled to open in 2021. Tomislav Mihaljevic is the president and CEO.


You Might Like
How to live stream the first 2020 presidential debate
Illustration by Alex Castro / The Verge On Tuesday, September 29th at 9PM ET, President Donald Trump and former Vice President Joe Biden will square off in the first presidential debate of 2020. The..
The Verge - Published
First U.S. partial face transplant recipient dies at 57
The Cleveland Clinic says Connie Culp died of complications from an infection unrelated to her transplant, which was in 2008.
CBS News - Published
U.S. accuses Chinese-born researcher at Cleveland Clinic of ties to Chinese spying
A Chinese-born former employee of the Cleveland clinic was arrested on fraud charges related to $3.6 million in federal grants, the FBI said on Thursday, the latest move in a U.S. crackdown on alleged..
Reuters - Published
Do you think eating before swimming is dangerous?
Science says that eating before taking a dip in the pool is quite okay. "It's absolutely fine to go swimming any time after you eat," says Peter Wernicki, an orthopedic surgeon at Cleveland Clinic..
WorldNews - Published
Harrison Dillard, Olympic champion sprinter/hurdler, dies
CLEVELAND (AP) — Harrison Dillard, the former Buffalo Soldier and only Olympic runner to win gold medals in both the sprints and high hurdles, has died. He was 96. Longtime friend Ted Theodore said..
WorldNews - Published
First baby born in U.S. from dead donor's transplanted womb
Cleveland Clinic says it has delivered the first baby in North America after a womb transplant from a dead donor.
CBS News - Published
First baby in US born from transplanted uterus of deceased donor, Cleveland Clinic says
The Cleveland Clinic released a statement saying it successfully delivered a baby to a mother who received a uterine transplant from a dead donor.
USATODAY.com - Published