Christmas
Holiday originating in Christianity, usually celebrated on December 25 (in the Gregorian or Julian calendars)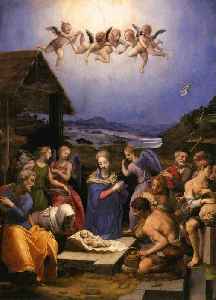 Christmas is an annual festival commemorating the birth of Jesus Christ, observed primarily on December 25 as a religious and cultural celebration among billions of people around the world. A feast central to the Christian liturgical year, it is preceded by the season of Advent or the Nativity Fast and initiates the season of Christmastide, which historically in the West lasts twelve days and culminates on Twelfth Night; in some traditions, Christmastide includes an octave. Christmas Day is a public holiday in many of the world's nations, is celebrated religiously by a majority of Christians, as well as culturally by many non-Christians, and forms an integral part of the holiday season centered around it.


The Circular Economy, taking elevator pitches to new heights - and getting in the Christmas Spirit

On Euronews' Business Line this month, the Belgian cooperative that transforms waste into desirable designer products, the Dubai event taking elevator pitches to new heights. Plus, the toy companies..
Credit: euronews (in English) Duration: 08:00
Published
Sturgeon: Abide by Covid-19 rules to secure 'Christmas cheer'

Nicola Sturgeon has addressed the nation saying the best chance to secure some"Christmas cheer" is to stick to the different tiered restrictions for areasacross Scotland.
Credit: PA - Press Association STUDIO Duration: 01:45
Published
Gaten Matarazzo creates Christmas-inspired sock line

Stranger Things star Gaten Matarazzo is bringing his quirky style to a Christmas collaboration with Happy Socks.
Credit: Cover Video STUDIO Duration: 00:50
Published
What do Covid-19 restrictions mean for upcoming festivities?

Government ministers have warned that festivities including Christmas, BonfireNight and Diwali will not be "normal" this year – but it is unclear exactlywhat will be allowed. As the patchwork of..
Credit: PA - Press Association STUDIO Duration: 02:11
Published
Nicola Sturgeon: There is no magic way out of Covid-19

The number of positive coronavirus cases in Scotland has passed 60,000, NicolaSturgeon has announced. She said 28 coronavirus deaths and 1,202 positivetests have been recorded in the past 24 hours. Ms..
Credit: PA - Press Association STUDIO Duration: 00:49
Published
Lib Dems call for standardised Christmas restrictions

Liberal Democrats leader Sir Ed Davey has called for a four-nation approach to Covid-19 restrictions over Christmas, warning that people face confusion and complexity unless measures can be..
Credit: ODN Duration: 01:26
Published
Sir Ed Davey calls on Government to outline Christmas Covid-19 strategy

Leader of the Liberal Democrats Sir Ed Davey MP tells BBC Breakfast that theGovernment needs to come up with a coronavirus Christmas strategy across allfour UK nations.
Credit: PA - Press Association STUDIO Duration: 00:26
Published
Top 12 toys for Christmas revealed

DreamToys in London showcases the top 12 toys ahead of Christmas as chosen byan independent committee of retailers and the Toy Retailers Association. Thetoy industry has faced challenges to adapt to..
Credit: PA - Press Association STUDIO Duration: 01:31
Published
Sturgeon addresses students' Christmas concerns

First Minister Nicola Sturgeon told the Scottish Government's coronavirusbriefing on Monday that she understands students will be "worried and anxious"about the prospect of being unable to return..
Credit: PA - Press Association STUDIO Duration: 01:51
Published
Johnson looks to defuse Tory rebellion over free school meals

Boris Johnson is reportedly planning to increase funding for the poorestfamilies over Christmas in an attempt to head off a damaging revolt over freeschool meals. The Times quoted allies of the Prime..
Credit: PA - Press Association STUDIO Duration: 01:06
Published
French race to buy children's toys amid fears of pre-Christmas lockdown


Credit: FRANCE 24 English Duration: 01:34
Published
Trump: Biden will cancel Christmas

U.S. President Donald Trump in Nevada Sunday (October 18) said his rival, Joe Biden, will cancel Christmas if he wins in November.
Credit: Reuters Studio Duration: 00:31
Published
UK COVID-19 restrictions could mean a smaller turkey this Christmas

Restrictions on larger gatherings are leading UK turkey farmers to think small ahead of Christmas
Credit: Euronews English Duration: 01:15
Published
For Lapland, Christmas won't be canceled, but...

Christmas is coming, but in Santa's home village in northern Finland, the COVID pandemic means that the flocks of tourists who usually start to make merry in Rovaniemi at this time of year are not
Credit: Reuters Studio Duration: 01:15
Published
Nostalgic toys and family games are top Christmas picks at Hamleys

Nostalgic toys and games that get the whole family playing are at the heart ofHamleys' top picks list this Christmas, store bosses revealed.
Credit: PA - Press Association STUDIO Duration: 01:49
Published
Rent-a-reindeer business sees bookings crash as Christmas events cancelled

The owner of a rent-a-reindeer business said coronavirus restrictions havecaused bookings to crash this Christmas. With 110 reindeer, George Richardsonhas one of England's largest herds which he..
Credit: PA - Press Association STUDIO Duration: 01:52
Published
Head of UK Covid-19 vaccine taskforce: Slim possibility of vaccine by Christmas

There is a 'slim possibility' of one or two coronavirus vaccines beingavailable by Christmas, according to the head of the UK vaccine taskforce KateBingham. Researchers are calling for more volunteers..
Credit: PA - Press Association STUDIO Duration: 01:11
Published
Normal Christmas 'depends on our success' getting virus under control, says Johnson

Prime Minister Boris Johnson said whether a relatively normal Christmas ispossible depends on the public sticking to his coronavirus rules. He told theDowning Street press conference: "We'll do our..
Credit: PA - Press Association STUDIO Duration: 01:01
Published
Northern leaders call for more cash to cope with looming lockdowns

Greater Manchester Mayor Andy Burnham says that accepting Chancellor RishiSunak's latest financial support package would be to "surrender" people tohardship in the run up to Christmas. Speaking..
Credit: PA - Press Association STUDIO Duration: 00:29
Published
Boris Johnson: It will be bumpy until Christmas and beyond

Prime Minister Boris Johnson said it is "going to continue to be bumpy throughto Christmas, it may even be bumpy beyond". He told the BBC's Andrew MarrShow: "I appreciate the fatigue that..
Credit: PA - Press Association STUDIO Duration: 00:17
Published
Williamson addresses students' Christmas worries

Education Secretary, Gavin Williamson, has addressed rumours that students won't be allowed to return home for Christmas with their loved ones. He said the government and universities are working..
Credit: ODN Duration: 01:21
Published
Students may have to self-isolate to return home for Christmas

Students may be required to self-isolate at the end of the current universityterm in order to safely return home to be with their families at Christmas,the Education Secretary has said. Gavin..
Credit: PA - Press Association STUDIO Duration: 02:04
Published
You Might Like



Free school meals: Sheffield makes Christmas promise

A council says it will fund free school meals for vulnerable children over the Christmas holidays.




BBC News - Published





U.K. soccer player Marcus Rashford helps feed disadvantaged kids

Manchester United soccer player Marcus Rashford has helped underprivileged children get food they need during the pandemic. Now, local restaurants are also stepping in, after the government denied a..




CBS News - Published





Christmas comes early for some after 'awful year'

Sue Knight put up her decorations up to get some cheer after an accident and redundancy.




BBC News - Published





Covid: Minister says controlling coronavirus is more important than Christmas

Controlling the spread of Covid-19 is more important than creating a plan for families to be able to spend time together at Christmas, a senior Cabinet minster has told ITV News. George Eustice, the..




WorldNews - Published





'A critical period': Virus alerts issued for six new Sydney venues, as authorities flag Christmas warning

NSW Chief Medical Officer Kerry Chant says the festive season will bring new challenges in controlling the spread of COVID-19 as people relax and party.




SBS - Published





'A critical period': NSW warned about Christmas, as state records one new coronavirus case

NSW Chief Medical Officer Kerry Chant says the festive season will bring new challenges in controlling the spread of COVID-19 as people relax and party.




SBS - Published




Toymakers expect strong Christmas sales despite coronavirus

The makers of Barbie dolls and games like Jenga are benefitting as parents spend on stay-at-home activities.




BBC News - Published





3 creative Halloween decoration upgrades that can work for other holidays as well

These Halloween decoration ideas can also be applied to other holidays like Christmas.




USATODAY.com - Published





Covid-19 coronavirus: Oxford vaccine 'will be ready by Christmas' says professor leading the project

Medics and high-risk patients are likely to receive Oxford's Covid-19 before the end of the year, the professor leading the project said last night.Adrian Hill said emergency approval would allow those..




New Zealand Herald - Published





Covid: Scots told to prepare for 'digital Christmas'

The idea of people in Scotland having a normal Christmas in 2020 is "fiction", the national clinical director says.




BBC News - Published





Covid-19 coronavirus: Ireland focuses on Christmas as it enters new lockdown

Ireland is already focused on Christmas. It's a major national priority.Unless the country can get the Covid-19 pandemic under control, there won't be much Christmas cheer this year in Galway, Cork or..




New Zealand Herald - Published





J.C. Penney hopes to emerge from bankruptcy by Christmas

Plan in works for Simon Property Group to buy beleaguered clothing retailer, according to company officials.




CBS News - Published





Apple TV Plus will get classic Peanuts holiday specials as part of a new streaming deal

The Peanuts crew. | Image: Apple Apple TV Plus will be getting the beloved Peanuts Halloween, Thanksgiving, and Christmas holiday specials added to its catalog this year, and they'll each be..




The Verge - Published





Race to find a COVID-19 vaccine as cases rise worldwide

The race for a COVID-19 vaccine is heating up as cases rise worldwide. The chair of the U.K. Vaccine Taskforce says there's a slim chance a vaccine may be ready by Christmas. CBS News foreign..




CBS News - Published





Slim chance COVID vaccine ready by Christmas, says UK task force chair

"I think it's more likely that it'll be in early next year," said Kate Bingham.




CBS News - Published





Trump Aide Insists U.S. Will Reduce Forces in Afghanistan to 2,500 Troops

The national security adviser, Robert C. O'Brien, reiterated a plan to draw down troops to 2,500 by early 2021, sidestepping President Trump's call for a Christmas exit.




NYTimes.com - Published





Peter Ridsdale: Championship clubs could fold by Christmas, says Preston advisor

Half a dozen Championship clubs could fold by Christmas unless they get extra funding, says Preston advisor Peter Ridsdale.




BBC News - Published





Rudolph seeking a new home at auction

The Rudolph and Santa Claus figures used in the perennial stop-motion animation Christmas special "Rudolph the Red Nosed Reindeer" are going up for auction on Nov. 13. (Oct. 15)




USATODAY.com - Published




Covid: Decision on pausing in-person university lectures due 'shortly' - DfE

The move will help students return home for Christmas safely, the Department for Education says.




BBC News - Published





Top U.S. general casts doubt on Trump's Afghan withdrawal timeline

After Trump says all U.S. forces "should" be home for Christmas, Chairman of the Joint Chiefs stresses the pull-out remains "conditions-based."




CBS News - Published





Afghanistan withdrawal still 'conditions-based': Top US general

The US withdrawal of more troops from Afghanistan will depend on a reduction in violence and other conditions agreed in February with the Taliban, the Pentagon's top general said in an interview..




WorldNews - Published





Coronavirus: Turkey farmers worried over downsized Christmas dinners

Turkey farmers are concerned the 'rule of six' will lead to downsized Christmas dinners.




BBC News - Published





ShowBiz Minute: Lanez, Diddy, 'Soul'

Rapper Tory Lanez charged with shooting Megan Thee Stallion; Diddy, Springsteen among the Rock and Roll Hall of Fame 2020 induction guest list; Pixar's "Soul" bypasses theaters, will stream at..




USATODAY.com - Published





Disney's next Pixar movie will skip theaters for Disney Plus this December

Disney will premiere its next Pixar film, Soul, on Disney Plus this Christmas instead of releasing it theatrically in countries where Disney Plus is available. The film was originally scheduled to be..




The Verge - Published





Donald Trump says he wants US troops to leave Afghanistan by Christmas

US president's announcement on Twitter puts peace negotiations in jeopardy and was greeted enthusiastically by the Taliban Donald Trump has announced on Twitter that he wants to bring all US troops..




WorldNews - Published





Taliban welcome Trump tweet promising early troop withdrawal

ISLAMABAD (AP) — The Afghan Taliban on Thursday welcomed a tweet from President Donald Trump in which he promised to have the last of U.S. troops out of Afghanistan by Christmas. If that withdrawal..




WorldNews - Published





Coronavirus: Nottinghamshire warned over 'pre-Christmas partying'

Nottingham City Council leader warns this weekend should not be seen as a "last chance" to party.




BBC News - Published





Kate Middleton refused queen's invite to join royals for Christmas dinner until Prince William proposed, explosive new book claims

KATE Middleton refused an invitation from Queen Elizabeth to attend a family Christmas before her engagement to Prince William, a new book has claimed. British royal biographer Robert Lacey wrote that..




WorldNews - Published





US troops in Afghanistan should be home by Xmas: Trump

Washington, Oct 8 : US President Donald Trump has hinted that American troops stationed in Afghanistan should be "home by Christmas", following an announcement last month that Washington would..




WorldNews - Published

Also reported by •CBS News


U.S. Seeks to Draw Down Its Troops in Afghanistan to 2,500 by Early 2021

President Trump suggested a timeline as early as Christmas, prompting confusion among administration officials.




NYTimes.com - Published





Covid: Things 'bumpy through to Christmas' - Johnson

Boris Johnson says there is "hope" in fighting the virus, but it could be "a very tough winter".




BBC News - Published





A recording of Melania Trump captures her complaining in vulgar terms about Christmas decorations and mocking detained migrant children.




NYTimes.com - Published





'They say I'm complicit': Former friend of Melania Trump releases profanity-laced audio of discussions about her legacy

Trump expressed dismay that she was being criticized for focusing on decorating the White House for Christmas instead of other issues.




USATODAY.com - Published





The Virus Sent Droves to a Small Town. Suddenly, It's Not So Small.

The population boomed in Winhall, Vt., as people tried to get away from Covid-19 hot spots. Bear complaints are up. Plumbers are booked until Christmas. And the dump is "sheer pandemonium."




NYTimes.com - Published





Carrie Underwood's son sings on her Christmas record

The Grammy Award for cutest collaboration of the year goes to Carrie Underwood and her five-year-old son Isaiah, who backs up his mom on "Little Drummer Boy." It's part of the country superstar's new..




USATODAY.com - Published





Best Black Friday deals 2020: Confirmed date and offers to expect in the UK

The biggest shopping event of the year, otherwise known as Black Friday, will take place on Friday 27 November this year. As the event originally hails from America, the date always falls the Friday..




WorldNews - Published





Some UK bars to close early amid rising COVID-19 infections

LONDON (AP) — British Prime Minister Boris Johnson warned Thursday that authorities will have to impose tougher measures to combat the spread of COVID-19 and "protect'' the Christmas holidays..




WorldNews - Published





Virus support must be wound down: Morrison

A report from the McKell Institute has found planned cuts to JobKeeper wage subsidies will take almost $10 billion from the Australian economy by Christmas.




SBS - Published





EFL: Future of some Football League clubs beyond Christmas in doubt

Some English Football League clubs will struggle to stay afloat beyond Christmas if there is a delay to the wider rollout of fans and a financial rescue package is not secured urgently, BBC Sport has..




BBC News - Published





Salvation Army gets early start on holiday fundraising campaign to 'rescue Christmas' amid COVID-19 pandemic

Salvation Army's Red Kettle fundraising campaign is starting earlier than ever in an attempt to "rescue Christmas" amid the coronavirus pandemic.




USATODAY.com - Published





Coronavirus: How Christmas could be different this year

Under the new guidance, there will be a limit of six people from multiple households at social gatherings in England, and six people from two households in Scotland. There are some exceptions, but a..




WorldNews - Published





Leicester's Diwali lights switch-on event cancelled

The celebration and Christmas events in Leicester are called off due to coronavirus restrictions.




BBC News - Published





All states and territories, except WA, support easing coronavirus border restrictions by Christmas

Western Australia was the only state at Friday's national cabinet meeting not to agree to the timeframe.




SBS - Published





Scott Morrison makes plea for interstate borders to be reopened by Christmas

Mr Morrison said states and territories must work together to reopen their borders by the end of the year, warning Australia cannot resign itself to being a "dislocated nation under COVID-19".




SBS - Published





Flamur Beqiri murder: Kickboxer denies 'organised hit'

Anis Fouad Hemissi denies shooting Flamur Beqiri in front of his family on Christmas Eve.




BBC News - Published





Queen Elizabeth's Christmas message

In Queen Elizabet II's Christmas message, she reflects on the past year, including the birth of her great-grandson, Prince George, and anticipates the upcoming year.




CBS News - Published





Cardinal Dolan on meaning of Christmas

Pope Francis calls Christmas "an encounter with the Lord." Cardinal Archbishop of New York Timothy Dolan joins the "CBS This Morning" co-hosts to discuss the meaning behind the holiday season.




CBS News - Published





12/18: Fed to ease up on stimulus program; Snowball Express brings Christmas cheer to families

In his last press conference as Federal Reserve chairman, Ben Bernanke said the Fed will continue to stimulate the economy, but will cut bond purchases by $10 billion in January; and, Snowball Express,..




CBS News - Published





Covid 19 coronavirus: Australians told to 'cancel Christmas holiday plans'

As the Northern Territory looks to keep the hard border controls in place for at least another 18 months, and Western Australia points to a closure until at least the end of this year – experts fear..




New Zealand Herald - Published





Australia borders to stay shut as COVID-19 daily deaths reach record

Shares Australian Prime Minister Scott Morrison said internal border closures were unlikely to lift before Christmas, as the country on Monday reported a record single day rise in COVID-19 deaths...




WorldNews - Published