Chris Evans (actor)
American actor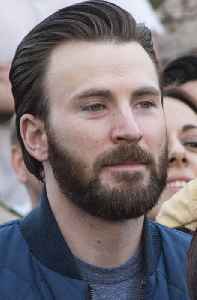 Christopher Robert Evans is an American actor. He began his career with appearances in several television series, such as in Opposite Sex in 2000. Following appearances in teen films including Not Another Teen Movie (2001) and The Perfect Score (2004), he gained attention for his portrayal of Marvel Comics character Human Torch in Fantastic Four (2005), and its sequel Fantastic Four: Rise of the Silver Surfer (2007).


Chris Evans uses photo leak to encourage people to vote

Evans made a lighthearted tweet referencing his social media storm over the weekend as he urged his fans to vote in the upcoming U.S. presidential election.
Credit: Cover Video STUDIO Duration: 00:45
Published
Chris Evans: That Pic For A Purpose

Here's what we can say: Over the weekend, Chris Evans appeared to accidentally leak a not suitable for work photo on his verified Instagram account. The photo of a body part people presumed to be his..
Credit: Wochit News Duration: 00:32
Published
Chris Evans launches political website

Chris Evans has launched a bipartisan political website after struggling to find reliable fact-based news.
Credit: Cover Video STUDIO Duration: 00:57
Published
You Might Like



Mark Ruffalo sends reassurance to pal Chris Evans after accidental nude photo leak

WENN.com Mark Ruffalo has reached out to Chris Evans after his Avengers: Endgame co-star accidentally leaked what appeared to be his own sexually-explicit photo online. The Hollywood hunk, known for..




WorldNews - Published





Chris Evans fans, Mark Ruffalo offer support after star accidentally posts nude photo

Chis Evans fans tried to protect the actor's privacy after the 'Captain America' star apparently accidentally shared a nude photo on Instagram.




USATODAY.com - Published





Chris Evans hopes to make a 'broader impact' with website

Known for his withering tweets about President Donald Trump, "Captain America" star Chris Evans says he's hoping to make a "broader impact" with a new civic engagement website and app. (Aug. 13)  




USATODAY.com - Published





Chris Evans wants website to shield democracy

"Captain America" star Chris Evans is putting his personal politics aside to launch a civic engagement website and app called A Starting Point. (Aug. 13)  




USATODAY.com - Published





Chris Evans, Octavia Spencer, more stars rally behind boy who saved sister from dog attack

Chris Evans, Mark Ruffalo, Octavia Spencer and more celebrities are rallying behind a young boy, 6-year-old Bridger, who saved his little sister.




USATODAY.com - Published





Avengers Endgame: 14,000 VFX artists worked on the movie's epic climax for THIS amount of time

Avengers: Endgame features the ensemble cast of Robert Downey Jr, Chris Hemsworth, Mark Ruffalo, Chris Evans, Scarlett Johansson, Benedict Cumberbatch, Don Cheadle, Tom Holland, Chadwick Boseman, Paul..




WorldNews - Published





Chris Evans reveals he almost turned down 'Captain America' over anxiety

Chris Evans, best known for portraying Marvel's Captain America, said he initially turned down the role of Steve Rogers over crippling anxiety.




USATODAY.com - Published





'It went so wrong, so fast': Chris Evans reveals hilarious quarantine dog grooming disaster

Chris Evans' quarantine haircut for his dog Dodger went "so wrong, so fast." The star shows the results on Twitter, gets sent to the doghouse.




USATODAY.com - Published





Chris Evans has the best advice for staying home in the coronavirus era: 'Adopt a dog!'

"I'm more full of questions than anything else," says Chris Evans of the coronavirus. "This is going to change every single element of our lives,"




USATODAY.com - Published





MOVIE REVIEW: Knives Out

by Graham Pierrepoint - KNIVES OUT IMDb Dir: Rian Johnson Starring Daniel Craig, Chris Evans, Ana de Armas, Jamie Lee Curtis, Michael Shannon, Don Johnson, Toni Collette, Lakeith Stanfield,..




One News Page Staff - Published





On This Day 13 March 2014

A world premiere in Hollywood unveiled 'Captain America: The Winter Soldier,' with stars including Chris Evans, Samuel L. Jackson and Robert Redford. (March 13)  




USATODAY.com - Published





CGI version of James Dean to star in new movie

Chris Evans called the casting "awful"




CBS News - Published





Here are all the new Apple TV+ shows and movies, from Oprah and Reese to Snoopy and Brie

Apple's new streaming service is about to kick off with stars like Oprah Winfrey, Jennifer Aniston and Chris Evans. Here are the new shows to watch.




USATODAY.com - Published





Chris Evans, Reese Witherspoon, more stars react to U.S. mass shootings: 'Honestly, what will it take?'

Hollywood is calling on Washington, D.C., to make changes after two U.S. mass shootings in less than 24 hours left at least 29 dead and 52 injured.




USATODAY.com - Published





See bearded Chris Evans save the world again in exclusive 'Red Sea Diving Resort' trailer

In his first post-Marvel role, Chris Evans plays action hero again – and with his Internet-approved beard – in Netflix's 'The Red Sea Diving Resort.'




USATODAY.com - Published





Star dads celebrate Father's Day: Chris Evans, Prince Harry, Drake, Sanaa Lathan, more

Gushing and wise, silly and sweet messages, plus great Father's Day photos honor Prince Harry, Steph Curry, Adam Levine, Tom Hanks, Carey Hart, more.




USATODAY.com - Published





MOVIE REVIEW: Avengers: Endgame

by Graham Pierrepoint - AVENGERS: ENDGAME IMDb Dir: Anthony Russo and Joe Russo Starring Robert Downey Jr, Chris Evans, Mark Ruffalo, Chris Hemsworth, Scarlett Johansson, Jeremy Renner, Don..




One News Page Staff - Published





No Host for 2019 Oscars – but Big-Name Presenters Revealed

by Alice Monroe - Following comedian and actor Kevin Hart's resignation from hosting duties at this year's Academy Awards, speculation has been rife as to who could step in and take his..




One News Page Staff - Published