Rabat
City in Rabat-Salé-Kénitra, Morocco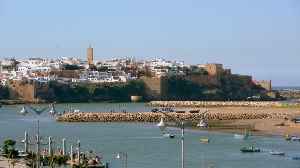 Rabat is the capital city of Morocco and the country's seventh largest city with an urban population of approximately 580,000 (2014) and a metropolitan population of over 1.2 million. It is also the capital city of the Rabat-Salé-Kénitra administrative region. Rabat is located on the Atlantic Ocean at the mouth of the river Bou Regreg, opposite Salé, the city's main commuter town.


You Might Like
Two dead, nine missing as fishing boat sinks off Morocco
A boat capsized off the coast of Morocco's port of Tan Tan, 856 km (537 miles), south of capital Rabat, leaving two fishermen dead while at least nine others were still missing, the fisheries..
Reuters - Published
ONLY ON AP Ivanka Trump on the impeachment inquiry
Ivanka Trump told The Associated Press she shares her father's view that the impeachment investigation is about "overturning the results of the 2016 election." She spoke to AP in Rabat, Morocco. (Nov...
USATODAY.com - Published
Moroccan journalist receives one-year prison sentence for 'illegal abortion'
Moroccan journalist Hajar Raissouni was sentenced in a Rabat court Monday to one year in jail for having had an "illegal abortion" and sexual relations outside marriage.
France 24 - Published
Moroccan journalist's trial for alleged abortion postponed after protest
The trial of a Moroccan journalist accused of having a late-term abortion and sexual relations outside marriage was postponed on Monday after hundreds of people protested outside a court in the capital..
France 24 - Published
At least seven people die in flash floods in southern Morocco
At least seven people were killed in flash floods in Morocco on Wednesday, following torrential rains in mountains in the south of the country near Taroudant, 600 kilometers (373 miles) south of Rabat,..
Reuters - Published
Morocco to send finance ministry staff member to Bahrain's economic summit: foreign ministry
Morocco's foreign ministry said on Monday that a member of the ministry of economy and finance will represent the country at a conference this week in Bahrain on the administration of U.S. President..
Reuters - Published
Semenya denies she refused to run in Rabat, blames event organiser
Caster Semenya's representatives reacted angrily on Saturday after the organiser of the Diamond League event in Rabat said the Olympic champion had refused an invitation to run the..
WorldNews - Published
Semenya rejects Rabat 800m invitation due to time restraints
Caster Semenya declines a late invitation to race in the 800m at Sunday's Diamond League Meeting in Rabat, Morocco.
BBC News - Published
Many women in Morocco face abuse at home, some are now speaking out
Bearing pictures of scars and bruises she said she had suffered at home, Fatna Ben Ghala sought help at a women's counseling center in a poor neighborhood near Morocco's capital Rabat after she and..
Reuters - Published