Hongkongers
Local identity for people from Hong Kong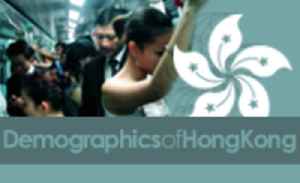 Hongkongers, also known as Hong Kongese and Hong Kong people, are people who originate from Hong Kong. These terms are a special identity for those who hold the legal residency in Hong Kong. Most of the Hongkongers were born and bred, or at least bred in Hong Kong sharing the same set of core values, including freedom, human rights and democracy, of Hong Kong. The terms itself have no legal definition by the Hong Kong Government; more precise terms such as Hong Kong Permanent Resident and Hong Kong Resident are used in legal contexts. However, the word "Hongkonger" was officially added to the Oxford English Dictionary in March 2014.


Hong Kong witnesses record registration of voters since 2003 as 350,000 new people express willingness ...
A record 350,000 Hongkongers have signed up to vote in the past two months amid calls from extradition bill protesters to oust pro-government politicians in the coming elections.The news was a boost to..
WorldNews - Published
Search this site and the web:
You Might Like