Mildura
City in Victoria, Australia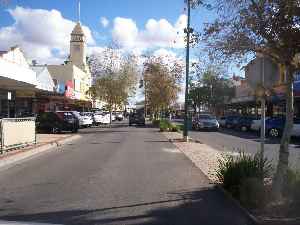 Mildura is a regional city in north-west Victoria, Australia. Located on the Victorian side of the Murray River, Mildura had a population of 33,444 in 2016. When nearby Wentworth, Irymple, Nichols Point and Merbein are included, the area had an estimated urban population of 51,903 at June 2018, having grown marginally at an average annual rate of 0.88% year-on-year over the preceding five years. It is the largest settlement in the Sunraysia region. Mildura is a major horticultural centre notable for its grape production, supplying 80% of Victoria's grapes. Many wineries also source grapes from Mildura.


You Might Like
Covid 19 coronavirus: Victoria's Mildura in lockdown despite zero cases for five months
A city of 30,000 people closer to Adelaide than Melbourne is locked down despite zero cases for five months. They have a message for the Premier. Six hours by car from Melbourne, residents of a city of..
New Zealand Herald - Published
Virgin Australia axes regional routes amid aviation downturn
Flights to Ayers Rock, Albury, Tamworth, Hervey Bay, Port Macquarie, Mildura and Cloncurry have been cut by the struggling airline.
SBS - Published
'Everyone's confused and shocked': Questions over permit system as border towns navigate Victoria-NSW border closure
The decision to close the border between New South Wales and Victoria for the first time in a century is expected to affect the regional economies of Albury-Wodonga, Echuca and Mildura.
SBS - Published
Mildura business dumped from national travel group after Aboriginal flag rant goes viral
The viral video showed a man and woman attempting to remove their neighbour's Aboriginal flag and accusing them of falsely claiming to be Aboriginal.
SBS - Published
McDonald's dumps franchisee after Aboriginal flag row goes viral
The fast-food chain has taken over the operation of its restaurants in Mildura and Irymple after its franchisee Robert Vigors was caught on camera questioning the Aboriginality of an Indigenous artist.
SBS - Published
Mildura woman attempts to tear down Aboriginal flag in viral video
A video - showing Indigenous residents questioned about their Aboriginality as a woman tries to physically take down an Aboriginal flag from their property - has gone viral on Twitter.
SBS - Published
Emergency-level fire burns in Victoria's north as dust storm turns Mildura orange
Dangerous weather sweeps Victoria on the state's first 'code red' day in almost a decade, with an emergency-level grassfire threatening communities in the state's north as a dust storm turns Mildura's..
WorldNews - Published
Reluctant war hero passionate about community, country and environment
Dudley Marrows, who died at the age of 101, was not only one of the RAAF's most highly decorated WWII veterans, but also an exceptional Australian. Dudley contributed significantly to the development..
The Age - Published