Pyongyang
Capital of North Korea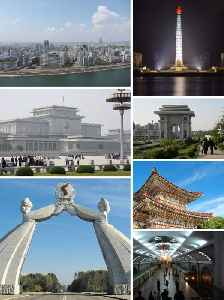 Pyongyang is the capital and largest city of North Korea. Pyongyang is located on the Taedong River about 109 kilometers (68 mi) upstream from its mouth on the Yellow Sea. According to the 2008 population census, it has a population of 3,255,288. Pyongyang is a directly-administered city with equal status to North Korean provinces.


Kim Jong-un tears up during massive military parade

[11:05] Dessent-Jackson, Louee North Korean leader Kim Jong-un appeared emotional while speaking at a massive military parade in Pyongyang early on Saturday, marking the 75th anniversary of the..
Credit: ODN Duration: 01:36
Published
North Korea hosts 'mass games' for 75th anniversary of ruling party

North Korea has staged a "mass games" show to mark the 75th anniversary of itsruling Workers' Party. The parade at Pyongyang's May Day Stadium was attendedby leader Kim Jong Un.
Credit: PA - Press Association STUDIO Duration: 00:53
Published
North Korea shows off giant missiles at huge military parade

North Korea's leader Kim Jong Un presides over a military parade in Pyongyang, as thousands of maskless troops defied the coronavirus threat. View on euronews
Credit: euronews (in English) Duration: 00:50
Published
Kim Jong-Un Visits 'Socialist Fairyland' Village

Kim Jong-un has praised North Korea's military for rebuilding a typhoon-hit village "as a socialist fairyland". The Supreme Leader was visiting an area in the south of the country, which has..
Credit: ODN Duration: 01:38
Published
North Korea Mobilises Thousands After Typhoon Damage

North Korea has mobilised thousands of workers from its capital Pyongyang to help the nation's countryside regions recently struck by a powerful typhoon. After surveying the damage, North Korean..
Credit: ODN Duration: 01:11
Published
Kim Jong-Un Surveys Damage in Typhoon-Hit Area

North Korean leader Kim Jong-un has visited areas struck by a typhoon and called for 12,000 workers from the capital Pyongyang to join in the recovery efforts. North Korean state-run TV showed..
Credit: ODN Duration: 01:37
Published
You Might Like



North Korea's nuclear, missile programs 'serious threat' to security--Pentagon chief

WASHINGTON--U.S. Defense Secretary Mark Esper on Wednesday said North Korea's nuclear and missile programs pose a global threat, after Pyongyang's unveiling of previously unseen intercontinental..




WorldNews - Published





North Korea's Kim Jong-Un breaks down in tears and apologises for 'failures' during military parade

North Korean leader Kim Jong-Un has broken down in tears and apologised to his people during a military parade in Pyongyang. Kim removed his glasses and wiped away tears during his address, saying:..




New Zealand Herald - Published





Japan vows to boost missile defense after North Korea parade

Japan has vowed to bolster its missile deterrence capability to respond to threats by North Korean weapons that are becoming "more diverse and complex," as displayed during Pyongyang's military..




WorldNews - Published





Kim Jong Un and North Korea show off new ballistic missile in military parade - is it the 'new strategic weapon'?

North Korea leader Kim Jong Un presided over a giant military parade in Pyongyang on Saturday, as the nuclear-armed country showcased its latest and most advanced weapons, and thousands of maskless..




New Zealand Herald - Published





North Korea Displays Huge New Intercontinental Ballistic Missile at Coronavirus-defying Parade

North Korea showed off a gigantic new intercontinental ballistic missile Saturday that analysts described as the largest of its kind in the world, as the nuclear-armed country defied the coronavirus..




WorldNews - Published





Pyongyang shows off BRAND NEW intercontinental ballistic missile during military parade, according to experts

The North Korean military has showcased a new mobile intercontinental ballistic missile during Saturday's military parade, one which experts say is larger than any previously demonstrated...




WorldNews - Published





N. Korea marks anniversary of ruling party, military parade possible

North Korea on Saturday marked the 75th anniversary of the founding of the ruling Workers' Party of Korea, with speculation mounting it will stage its first military parade in two years to show its..




WorldNews - Published





Why President Moon keeps pushing for end-of-war declaration

gettyimagesbank Moon's repeated calls directed at Biden administration: experts By Kang Seung-woo President Moon Jae-in's repeated calls to officially end the Korean War indicate his administration's..




WorldNews - Published





What we can expect to see at North Korea's 'biggest military parade'

It's certainly going to be big, according to the editor-in-chief of the Daily NK, a Seoul-based website with paid sources in the North. Lee Sang Yong told me that as early as March, Pyongyang had..




WorldNews - Published





Pyongyang summit deal should be fulfilled: S.Korean Prez

Seoul, Sep 19 : South Korean President Moon Jae-in said on Saturday that his Pyongyang summit accord with North Korean leader Kim Jong-un should be implemented despite restraints at home and abroad,..




WorldNews - Published





A new perspective on Trump's charm offensive with North Korea

(CNN)For a moment during the early days of the Trump administration, then-Defense Secretary James Mattis thought the US might be on the threshold of war that could go nuclear. It's a revelation that..




WorldNews - Published





North Korea issues shoot-to-kill orders to prevent coronavirus: US

WASHINGTON: North Korean authorities have issued shoot-to-kill orders to prevent the coronavirus entering the country from China, according to the commander of US forces in the South. The impoverished..




WorldNews - Published





Kim Jong-un: Questions over veracity of recent footage of North Korean dictator

North Korean leader Kim Jong-un certainly didn't look like a man who was about to slip into a coma when he was photographed last Wednesday in Pyongyang.But questions have immediately emerged about when..




New Zealand Herald - Published





Kim Jong-un in coma, sister to take over says South Korean diplomat

Pyongyang, Aug 24: North Korea's Supreme Leader, Kim Jong-un is in coma and his sister is posed to take over, Chang Song-min, a former aide to South Korea's late president Kim Day-Jung said. Song-min..




WorldNews - Published





North Korea propaganda: New faces but old messages

Pyongyang is believed to be behind several new YouTube and Twitter accounts aimed at foreign audiences.




BBC News - Published





North Korea prisoner asks U.S. to secure release

Kenneth Bae, an American missionary detained in North Korea for more than a year, made a brief statement before reporters in Pyongyang, North Korea. He called for the U.S. government to win his..




CBS News - Published





North Korea lifts lockdown in city, rejects flood, coronavirus aid

North Korean leader Kim Jong Un lifted a lockdown in a major city near the border with South Korea where thousands had been quarantined for weeks over coronavirus worries, state media said on Friday...




WorldNews - Published





85-year-old U.S. vet arrested in N. Korea three weeks ago

An 85-year-old Korean War veteran that went to Pyongyang, North Korea's capital for a 10-day trip, has been held there for the last three weeks. Margaret Brennan reports.




CBS News - Published





N.Korea has 'probably' developed nuclear devices to fit ballistic missiles: UN report

North Korea is pressing on with its nuclear weapons program and several countries believe it has "probably developed miniaturized nuclear devices to fit into the warheads of its ballistic missiles,"..




WorldNews - Published





From scandal to accusations of disloyalty, S.Korea's new point men on North have dramatic past

Shares South Korean President Moon Jae-in's new point men on North Korea face a daunting challenge: they must engineer a breakthrough in strained ties amid public scrutiny of their history with..




WorldNews - Published





North Korean leader Kim's sister seeks July 4 DVDs, rules out talks with Trump

The sister of North Korean leader Kim Jong Un dismissed the idea of a meeting with President Donald Trump this year, but did so with a warm tone that included an unusual mention of DVDs showing..




WorldNews - Published





North Korea's Kim ordered to pay damages to Seoul prisoners of war

Shares A South Korean court ordered Pyongyang's leader Kim Jong Un to compensate two former prisoners of war who spent decades as forced laborers in the North, in a move that could set a far-reaching..




WorldNews - Published





North Korea says won't hold new talks with US

North Korea has stressed that it has no intention of holding new negotiations with the United States, following a call by South Korea for Pyongyang and Washington to hold a new summit. Kwon Jong-gun,..




WorldNews - Published




South Korea official hits out at 'chaotic' US approach to Pyongyang after John Bolton memoir

An influential adviser to the South Korean president on Thursday lashed out at the United States over its "chaotic" decision-making over North Korea as was revealed in former US national security..




WorldNews - Published





70 years after Korean war, animosity and fear still linger

SEOUL, South Korea — On both sides of the world's most heavily armed border Thursday, solemn ceremonies will mark the 70th anniversary of the outbreak of a war that killed and injured millions, left..




WorldNews - Published





North: Kim suspended action against South for Korean impasse

SEOUL, South Korea (AP) — North Korea said Wednesday leader Kim Jong Un suspended a planned military retaliation against South Korea, in an apparent slowing of the pressure campaign it has waged..




WorldNews - Published





Real cause of North-South Korea crisis: Covid-19

As tensions rise between North and South Korea, attention has understandably focused on the role of the Dear Sister, Kim Yo Jong. The sibling of North Korea's Supreme Leader Kim Jong Un has emerged..




WorldNews - Published





South Korean activists launch leaflets into North amid tensions

A South Korean group has launched hundreds of thousands of leaflets by balloon across the border with North Korea, despite Pyongyang repeatedly warning it that it will retaliate against such actions...




WorldNews - Published





North Korea ready to send millions of leaflets to South

North Korea has millions of propaganda leaflets ready to send to the South by an aerial armada of balloons, it said Monday, heightening its rhetoric against Seoul after blowing up a liaison office. In..




WorldNews - Published





North Korea continues to present 'extraordinary' threat to region: Pentagon official

North Korea's activities in recent days have shown that Pyongyang continues to pose an "extraordinary" threat to the Asia-Pacific region, a senior Pentagon official said on Thursday.




Reuters - Published





South Korea's nuclear envoy visits U.S. as tensions flare with North Korea

South Korea's chief nuclear negotiator will hold talks with officials in Washington on Thursday amid flaring tensions with North Korea after Pyongyang blew up an inter-Korean liaison office and..




Reuters - Published




Defectors prepare packages to send to North Korea despite growing tensions

A North Korean defector-led group on Thursday prepared hundreds of plastic bottles stuffed with rice which they plan to float into North Korea, despite a legal challenge from South Korean authorities..




Reuters - Published




Timeline: From historic summit to building destruction, North Korea unsettles U.S.

North Korea on Tuesday blew up a building set up in 2018 in a border town as a joint liaison office to foster better ties with South Korea, the latest in a series of actions by Pyongyang that have..




Reuters - Published

Also reported by •Reuters India


U.S. urges North Korea to 'refrain from further counterproductive actions'

The United States responded to North Korea's blowing up of a joint liaison office with South Korea on Tuesday by saying it fully supports Seoul's efforts on inter-Korean relations and urging Pyongyang..




Reuters - Published




Kaesong liaison office: What does North Korea want?

Expert Ankit Panda pieces together the puzzle of why Pyongyang destroyed the Kaesong liaison office




BBC News - Published





North Korea blows up diplomatic office amid escalating tensions with South Korea

Pyongyang has warned Seoul it needs to stop defectors sending anti-North Korea leaflets across the border. Denuclearization talks are gridlocked.




USATODAY.com - Published





North Korea blows up liaison office on its side of border with South

North Korea blew up and destroyed an inter-Korean liaison office in its border city of Kaesong on Tuesday, South Korea said, after Pyongyang threatened to take action if defector groups push ahead with..




Reuters - Published

Also reported by •Reuters India


China says it hopes for peace and stability on Korean peninsula

China's foreign ministry said on Tuesday that Beijing hopes for peace and stability on the Korean Peninsula, amid escalating tensions between Seoul and Pyongyang.




Reuters - Published




South Korea's Moon urges North to keep peace deals, return to talks

South Korea's President Moon Jae-in urged North Korea on Monday to refrain from raising tension and return to dialogue, after threats trumpeted by state media in Pyongyang to cut ties and take military..




Reuters - Published




Why Trump's North Korea odyssey turned sour

Friday's second anniversary of the Singapore summit between Donald Trump and Kim Jong-un saw North Korea threaten to interfere in the US presidential election. The rebuff to Washington highlights not..




WorldNews - Published





South Korea says North Korea should honour agreements

South Korea's Unification Ministry on Sunday said North Korea should honour past agreements signed between the two countries, a day after Pyongyang warned of retaliatory measures against the south that..




Reuters India - Published

Also reported by •Reuters