Serbs
Ethnic group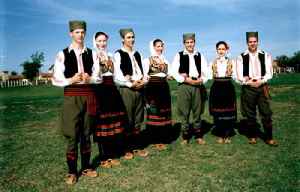 The Serbs are a nation and South Slavic ethnic group that formed in the Balkans. The majority of Serbs inhabit the nation state of Serbia, as well as the disputed territory of Kosovo, and the neighboring countries of Bosnia and Herzegovina, Croatia and Montenegro. They form significant minorities in North Macedonia and Slovenia. There is a large Serb diaspora in Western Europe, and outside Europe there are significant communities in North America and Australia.


EU peacekeepers warn Serb leader against dividing Bosnia's armed forces
The European Union peacekeeping force (EUFOR) in Bosnia warned the Serbian representative on Bosnia's presidency on Tuesday against saying anything to weaken the country's multi-ethnic armed forces..
Reuters - Published
Search this site and the web:
You Might Like