Montreal
City in Quebec, Canada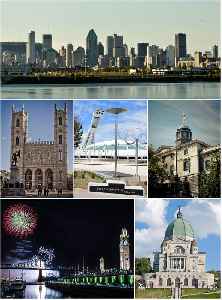 Montreal is the second-most populous city in Canada and most populous city in the Canadian province of Quebec. Founded in 1642 as Ville-Marie, or "City of Mary", it is named after Mount Royal, the triple-peaked hill in the heart of the city. The city is centred on the Island of Montreal, which got its name from the same origin as the city, and a few much smaller peripheral islands, the largest of which is Île Bizard. The city is situated 196 km (122 mi) east of the national capital Ottawa, and 258 km (160 mi) south-west of the provincial capital, Quebec City.


Watch: Massive anti-China protest outside Chinese Consulate in Toronto

A massive anti-China protest was held outside the Chinese Consulate in Canada's Toronto. The protest was organised on the 71st National Day of People's Republic of China. Members of Hong Kong, Tibetan,..
Credit: HT Digital Content Duration: 01:48
Published
Apartment searched over ricin White House letter

Police in Canada have been searching an apartment in a Montreal suburb that's linked to a woman arrested on suspicion of sending an envelope filled with ricin to the White House. Joe Davies reports.
Credit: Reuters Studio Duration: 00:36
Published
You Might Like



Woman pleads not guilty, denied bail over Trump ricin letter

BUFFALO (AP) — A woman charged with making threats against President Donald Trump by mailing a package containing ricin to the White House was ordered held without bail Monday by a judge in Buffalo..




WorldNews - Published





Canada statue of John A MacDonald toppled by activists in Montreal

Activists in Montreal have pulled down a statue of Canada's first prime minister Sir John A MacDonald, who was linked to cruel policies that killed many indigenous people in the late 19th Century...




WorldNews - Published

Also reported by •BBC News


Watch nearly eight minutes of Gotham Knights first gameplay footage

Warner Bros. Games Montreal debuted its new game set within Batman's world, Gotham Knights, at DC Comics' FanDome today, and the developers brought nearly eight minutes of gameplay footage for fans..




The Verge - Published





Here's your first look at Gotham Knights, the new game from WB Games Montreal

It's been a few years, but there's a new Batman game on the way. At the DC Fandome event we got our first look at the long-rumored Gotham Knights, which looks to channel the spirit of the beloved..




The Verge - Published





Kansas City Super Bowl star spends off-season treating COVID-19 patients on the front lines

The Kansas City Chiefs are set to defend their Super Bowl championship this NFL season, without the help of their starting lineman Laurent Duvernay-Tardif. The football star and medical school graduate..




CBS News - Published





Hirshhorn Suspends Jon Rafman Show After Allegations of Sexual Misconduct

The move follows the suspension of an exhibition of the artist's works at a Montreal museum earlier this month after several women accused him of sexual misconduct on Instagram.




NYTimes.com - Published





Trudeau silent for 20 seconds after being asked about Trump

MONTREAL — Canada's Prime Minister Justin Trudeau on Tuesday hesitated for 20 seconds before answering a question about President Trump's handling of protests gripping the United States...




WorldNews - Published





Canadian province of Quebec begins gradual reopening, except for city of Montreal

The province of Quebec, worst hit in Canada by the coronavirus, began gradually reopening its economy on Monday but pushed back plans for a restart in the city of Montreal, citing health concerns.




Reuters - Published





Air Canada sees job cuts with recovery taking 3 years or more

Air Canada will probably need at least three years to fully recover from the devastating impacts of the COVID-19 pandemic — with its top executive warning that the carrier will emerge from the crisis..




WorldNews - Published





Canadian province of Quebec, except Montreal, starts gradual reopening

The major Canadian province of Quebec, worst hit by the coronavirus, gradually began reopening its economy on Monday but pushed back plans for a restart in the city of Montreal, citing health concerns.




Reuters - Published





Canada's Quebec to ramp up inspections of homes for elderly after 31 die in Montreal facility

The Quebec government on Monday said it was putting the safety and general conditions of the province's 2,600 long-term care and nursing home facilities under the microscope following the deaths of 31..




Reuters - Published





Canadian GP put on hold as F1 hit by more disruption

The Canadian Grand Prix has been postponed as the coronavirus continues to impact the Formula 1 calendar. Montreal was due to host the first race of the disrupted 2020 schedule, but Covid-19 has seen..




WorldNews - Published





Canada's Prime Minister Justin Trudeau remains in isolation after wife recovers from virus

MONTREAL: Canadian Prime Minister Justin Trudeau said Sunday that he would remain in self-imposed isolation even though his wife, who had contracted the coronavirus, has recovered. Although Sophie..




WorldNews - Published





Canadian Grand Prix: Organisers 'realistic' over Montreal race on 14 June

Canadian Grand Prix organisers are "optimistic" but "realistic" over staging the race in Montreal as scheduled on 14 June.




BBC News - Published





Diving World Series: Britain's Noah Williams wins gold in Montreal

Britain's Noah Williams claims the first Fina Diving World Series gold medal of his career by winning the 10m platform title in Montreal.




BBC News - Published





Canada oil firm apologizes for using sexualized 'Greta' image

Montreal: A Canadian oil services company has apologized after an outcry over a sticker that showed their logo under a sexualized image targeting Swedish teen climate activist Greta Thunberg. The..




WorldNews - Published





Majority of Canadians reject paying for Harry, Meghan's security

MONTREAL: A clear majority of Canadians feel their country does not have to pay for security for Prince Harry and his wife Meghan Markle, who have settled in British Columbia. Seventy-seven per cent of..




WorldNews - Published





Couple kicked off flight for threatening wifi network name

A couple was kicked off a flight after cabin crew traced a threatening wifi hotspot name back to them. The delayed GoJet service, operating as a Delta connection flight, was due to fly from Detroit to..




WorldNews - Published





Daimler, BMW exiting North American car-sharing market, cutting in Europe

BMW AG and Daimler AG said Wednesday they plan to exit the North American car-sharing market, with the joint venture partners halting operations in Montreal, New York, Seattle, Washington, D.C., and..




Reuters - Published




Thierry Henry returns to MLS as Montreal Impact coach

MONTREAL (AP) — Thierry Henry is returning to Major League Soccer to coach Montreal Impact. Montreal says in a statement the...




WorldNews - Published





Ambush on mining company convoy kills 37 in Burkina Faso

OUAGADOUGOU, Burkina Faso – Gunmen attacked a convoy near a Canadian mining site in Burkina Faso, killing at least 37 people and wounding 60 others, the regional governor said late Wednesday...




WorldNews - Published





Lead in some Canadian water worse than US's Flint: report

Hundreds of thousands of Canadians have been unwittingly exposed to high levels of lead in their drinking water, with contamination in several cities consistently higher than they ever were in Flint,..




WorldNews - Published





Pedro Martinez thinks of Nationals as Expos, but knows 'it's not their duty' to promote Montreal past

The Hall of Fame pitcher played four seasons with Montreal, winning the NL Cy Young award in 1997.




USATODAY.com - Published





Trudeau's victory raises questions over the future of Canada's right

Liberal supporters trickled into the party headquarters in downtown Montreal on Monday night, apparently worried that they were about to witness an electoral comeuppance for Canadian prime minister..




WorldNews - Published





PM Trudeau greets supporters at metro station

Prime Minister Justin Trudeau greeted supporters at a subway station in Montreal Tuesday. Trudeau won a second term in Canada's national elections, despite a series of scandals that tarnished his image..




USATODAY.com - Published





Obama calls on Canada to reelect Trudeau

Former President Obama called on Canadian voters to reelect the country's embattled prime minister, Justin TrudeauJustin Pierre James TrudeauThe Hill's Morning Report - Dems to hit gas on impeachment..




WorldNews - Published





Finally World Series-bound, Washington Nationals put past failures behind them

The Washington Nationals have advanced to the first World Series in their franchise history, an odd and curious past that began in Montreal and landed just south of the Capitol in 2005.




USATODAY.com - Published





Greta: Grown-ups mock children because world view threatened

TORONTO – Swedish teenager Greta Thunberg said Friday she doesn't understand why grown-ups and world leaders would mock children and teens for acting on science, responding to jibes about her..




WorldNews - Published





Climate movement now 'too loud to handle' for Trump and critics, Greta Thunberg says

Teenage activist Greta Thunberg hit back at critics including U.S. President Donald Trump on Friday before she marched in a climate strike in Montreal, saying their mockery of children shows her..




Reuters - Published





Thousands of people plan to protest Friday for 'Earth Strike'. Here's what to know

Activists around the world, including Greta Thunberg in Montreal, planned to strike again to with a "General Strike to Save the Planet."




USATODAY.com - Published




Canada's Justin Trudeau to march with teen climate activist Greta Thunberg

Ottawa: Canadian Prime Minister Justin Trudeau announced he will take part in a climate action march led by Swedish teen activist Greta Thunberg -- as the environment emerges as a key election issue...




WorldNews - Published





Canada revokes consul position of supporter of Syria's Assad

Canada has revoked its approval of a diplomat in Montreal who is a supporter of Syrian President Bashir al-Assad, Foreign Minister Chrystia Freeland said on Wednesday.




Reuters - Published





Conservatives take lead in Canada election: Polls

MONTREAL: Conservatives led by rookie Andrew Scheer edged into the lead against beleaguered Prime Minister Justin Trudeau's Liberals, which shed support to smaller leftist rivals less than a month from..




WorldNews - Published





U.N. aviation agency head says open to meeting climate activist Greta Thunberg

The secretary general of the U.N. aviation agency said on Friday she is open to meeting with Swedish teenage activist Greta Thunberg, who will lead a Montreal climate protest next week in part..




Reuters - Published





First time in Montreal? Here are 5 things you should do

An increasing number of Americans are visiting Montreal, whose parks and restaurants resemble a slice of Europe in North America.




USATODAY.com - Published





Rafael Nadal roars to Rogers Cup title in Montreal

Rafael Nadal roared to the Rogers Cup title with a straight-sets victory over Daniil Medvedev but has decided to withdraw from Cincinnati. The Spaniard's 6-3 6-0 victory in Montreal marked a..




WorldNews - Published





Second-seed Thiem advances to Rogers quarterfinals with win over Cilic

MONTREAL — Second-seed Dominic Thiem has advanced to the quarterfinals of the Rogers Cup men's tennis tournament with a 7-6 (7), 6-4 win over Marin...




WorldNews - Published





Williams eases into Montreal third round

Three-time champion Serena Williams beats Elise Mertens in straight sets to reach the third round of the Rogers Cup in Montreal.




BBC News - Published





Rogers Cup: Rafael Nadal beats Dan Evans in Montreal, Kyle Edmund also out

British number two Dan Evans pushes Rafael Nadal close before going down in straight sets at the Rogers Cup.




BBC News - Published




Andy Murray and Feliciano Lopez win doubles opener at Rogers Cup

Andy Murray and Feliciano Lopez saved a match point before going on to beat Marcelo Melo and Lukasz Kubot in the first round of the Rogers Cup in Montreal. Murray and Lopez, who took a wildcard to..




WorldNews - Published





Edmund stays calm to win as Kyrgios argues about courtside towels

Kyle Edmund beats Nick Kyrgios in straight sets at the Rogers Cup in Montreal while Andy Murray wins his doubles opener.




BBC News - Published





Dan Evans through to main Rogers Cup draw in Montreal

Dan Evans beats Marcel Granollers to qualify for the main draw at the Rogers Cup in Montreal, but Heather Watson goes out in Toronto.




BBC News - Published





Airline asks two strangers to share hotel room with one bed after missing flight

An airline has been asked to apologise after offering two strangers who had missed their flights an overnight stay in a room with a single bed. Elizabeth Coffi Tabu, 71, had been due to return to Paris..




WorldNews - Published





Canadian groups appeal decision not to stay Quebec ban on religious symbols

Two Canadian civil liberties groups said on Tuesday they filed an appeal in a Montreal court to a Quebec judge's decision not to stay a provincial ban on the wearing of religious symbols by public..




Reuters - Published





Pozuelo, Altidore score in Toronto's 2-0 win over Montreal

MLS Capsules




USATODAY.com - Published





Airline group advocates more training for Boeing 737 Max

MONTREAL (AP) - A trade group representing hundreds of airlines pushed again for additional training on Boeing's 737 Max plane and for a coordinated effort to ensure the safe return of the aircraft..




WorldNews - Published





Netherlands and Canada launch pilot project on paperless travel

A pilot project that seeks to enable passengers to fly between the Netherlands and Canada using their mobile phones, instead of passports, was launched at the Montreal airport on Wednesday.




Reuters - Published





LEADING OFF: Pujols in St Louis, Judge back, Keuchel debut

LEADING OFF: Albert Pujols back in St. Louis, Aaron Judge returns to Yankees lineup, Dallas Keuchel makes season debut for Braves, Rays get go-ahead to explore playing games in Montreal




USATODAY.com - Published





The Ex-Rays: Tampa Bay gets OK from MLB to explore Montreal

The Tampa Bay Rays have been given the go-ahead by Major League Baseball to look into playing a split season in Montreal




USATODAY.com - Published





Rays to explore splitting home games between Tampa and Montreal

Major League Baseball has given the Tampa Bay Rays permission to explore the possibility of playing home games in Montreal.




USATODAY.com - Published