Georgia (U.S. state)
State in the southeastern United States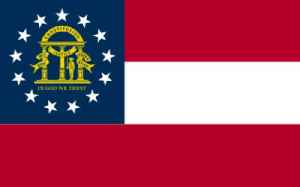 Georgia is a state in the Southeastern Region of the United States. Georgia is the 24th-largest in area and 8th most populous of the 50 United States. Georgia is bordered to the north by Tennessee and North Carolina, to the northeast by South Carolina, to the southeast by the Atlantic Ocean, to the south by Florida, and to the west by Alabama. Its 2019 estimated population was 10,617,423, according to the U.S. Census Bureau. Atlanta, a "beta(+)" global city, is both the state's capital and its largest city. The Atlanta metropolitan area, with an estimated population of more than 6 million people in 2019, is the 9th most populous metropolitan area in the United States and contains about 57% of Georgia's entire population.


T.I. to teach hip-hop class at Georgia college

Clifford Joseph Harris Jr., more commonly known as the rapper and actor T.I., has joined the faculty at Georgia's Clark Atlanta University to help teach a course about the hip-hop subgenre of trap..
Credit: Cover Video STUDIO Duration: 00:46
Published
3 Men Indicted on Murder Charges in Killing of Ahmaud Arbery

On Wednesday, a grand jury in Glynn County, Georgia, indicted the three white men accused of killing Ahmaud Arbery.
Credit: Cover Video STUDIO Duration: 01:07
Published
Reduced voting sites, heated races in NY and KY

New York, Kentucky were among the six states holding primaries Tuesday, with heated, key races and fewer polling sites due to social distancing restrictions. Lisa Bernhard has more.
Credit: Reuters Studio Duration: 02:20
Published
'He would love on anybody' -Rayshard Brooks' family

Rayshard Brooks' niece and cousin remembered him at his funeral in Atlanta, Georgia. Brooks was a Black man who was shot and killed by police outside a fast-food restaurant nearly two weeks ago.
Credit: Reuters Studio Duration: 01:09
Published
Trump opposed to removing Roosevelt statue in NYC

[NFA] U.S. President Donald Trump said on Monday he opposed removing the towering statue of Theodore Roosevelt from outside New York City's American Museum of Natural History. Colette Luke has more.
Credit: Reuters - Politics Duration: 02:06
Published
Boy told he would never walk takes first steps unaided

A boy who was told he would never walk has taken his first steps. in a video that has been viewed nearly eight million times online. Camden Brooks Hanson, five, has cerebellar atrophy, a degenerative..
Credit: PA - Press Association STUDIO Duration: 00:13
Published
Tyler Perry covering funeral expenses for Rayshard Brooks

Movie and TV mogul Tyler Perry will be covering funeral costs for the family of Rayshard Brooks, who was gunned down by police in Atlanta, Georgia on Friday.
Credit: Cover Video STUDIO Duration: 00:39
Published
Atlanta police release bodycam of struggle before fatal shooting of Rayshard Brooks

Atlanta's Police Department on Sunday released bodycamera and dashboard camera footage of the attempted arrest and fatal shooting of Rayshard Brooks outside a Wendy's in Georgia's capital on FridayView..
Credit: euronews (in English) Duration: 00:50
Published
Atlanta Police Chief Steps Down After Officer Shoots, Kills Black Man Sleeping In His Car

Reuters reports the police chief of Atlanta, Georgia, resigned on Saturday. Erika Shields submitted her resignation after protesters took to the streets hours after police shot and killed an unarmed..
Credit: Wochit News Duration: 00:35
Published
Who will Joe Biden pick as running mate?

Here are some of the nearly dozen candidates who are likely under consideration, as former Vice President Joe Biden faces fresh calls to choose a black woman as his running mate. Lisa Bernhard reports.
Credit: Reuters Studio Duration: 03:11
Published
Georgia officials report problems, long lines at some voting sites

Some voters experienced hours-long waits to cast ballots in Georgia on Tuesday as Democrats went to the polls to pick a nominee in a competitive U.S. Senate race and the upcoming presidential election,..
Credit: Reuters Studio Duration: 01:43
Published
Storm Cristobal makes landfall in Louisiana

Tropical Storm Cristobal brought heavy rains to the Southeastern United States over the weekend before making landfall in Louisiana late on Sunday. Gloria Tso reports.
Credit: Reuters Studio Duration: 01:18
Published
Defendant in Arbery killing used racial slur -investigator

**EDITORS NOTE: VIDEO CONTAINS OFFENSIVE LANGUAGE One of the white men charged in the Georgia killing of Ahmaud Arbery allegedly used a racial slur after shooting the unarmed black man, an investigator..
Credit: Reuters - Politics Duration: 02:20
Published
Killer Mike Speaks Out To Atlanta Protesters

Killer Mike spoke out to the people protesting George Floyd's death in Atlanta, Georgia. According to CNN, protests began peacefully but some protestors decided to become violent and vandalize..
Credit: Wochit News Duration: 00:32
Published
Who Are Biden's Top VP Prospects?

Joe Biden has started the vetting process to choose a running mate for the Democratic ticket. Reuters reports the process expected to wrap up by July. Who are some of the names on the list? Senator..
Credit: Wochit News Duration: 00:40
Published
U.S. college towns on edge with football season up in the air

In university towns across the country, local business owners face the unthinkable: A year of college football wiped off the calendar because of a pandemic that has torpedoed the economy and may..
Credit: Reuters Studio Duration: 01:54
Published
How Did Stacey Abrams Became A VP Candidate?

How did Stacey Abrams become a front runner to become Joe Biden's vice president? In 2018, Stacey Abrams ran for governor in Georgia. She became the first black woman in the US to win a gubernatorial..
Credit: Wochit News Duration: 00:38
Published
Three States Offer To Host RNC If Trump Pulls Out Of NC

Republicans in Georgia, Texas, and Florida are offering to host the party's national convention. That is if Donald Trump makes good on his threat to move the event from North Carolina. Trump has made..
Credit: Wochit News Duration: 00:41
Published
Second Immigrant Dies Of Novel Coronavirus COVID-19 In ICE Custody

A man in custody of the US Immigrations and Customs Enforcement agency died on Sunday. Business Insider reports 34-year-old Santiago Baten-Oxlag died of complications from COVID-19. The Guatemalan..
Credit: Wochit News Duration: 00:38
Published
Third suspect charged with murder of unarmed black jogger

Vic Reynolds, director of the Georgia Bureau of Investigations, on Friday said that William Bryan was arrested Thursday evening and charged with felony murder and attempt to commit false imprisonment..
Credit: Reuters Studio Duration: 00:29
Published
Biden Campaign Eyes 'Battleground' Map, Race Against Trump

(Reuters) - Democratic presidential candidate Joe Biden's campaign is betting that as many as 16 states could be up for grabs in November's election, with President Donald Trump's coronavirus..
Credit: Wochit News Duration: 00:32
Published
Biden Says He Wouldn't Vote For Himself If He Believed The Tara Reade Allegations

Former Vice President Joe Biden said he wouldn't vote for himself if he believed his accuser Tara Reade. Biden has encouraged people who believed Reade to vote with "their heart." Biden appeared on..
Credit: Wochit News Duration: 00:44
Published
Georgia's Governor Holds Small Approval Rating After Reopening The State

A Washington Post-Ipsos poll revealed Georgia Gov. Brian Kemp has low support from his constituents. According to Business Insider, people were not happy about how he handled the coronavirus pandemic..
Credit: Wochit News Duration: 00:32
Published
DOJ weighs hate crime charges in death of Ahmaud Arbery

The U.S. Justice Department is weighing whether to file hate crime charges against two white men in the killing of Ahmaud Arbery, an unarmed black man who was gunned down while jogging in the small..
Credit: Reuters Studio Duration: 01:11
Published
You Might Like



Jimmy John's fires all employees involved in 'dough noose' video

Jimmy John's fired all employees involved in a now viral video showing employees playing with a noose made out of dough at a Georgia location.




USATODAY.com - Published





Coronavirus: How 'three musketeers' helped Georgia fight virus

Georgia has recorded fewer than 1,000 infections and only 15 deaths among its 3.7 million people.




BBC News - Published





Tiafoe tests positive for Covid-19 and withdraws from All-American Team Cup

Frances Tiafoe is the latest tennis player to contract coronavirus and withdraws from the All-American Team Cup in Georgia.




BBC News - Published





'John Lewis: Good Trouble' Review: Past Progress, and More to Come

A profile of the civil rights leader and longtime Georgia congressman has an urgent message.




NYTimes.com - Published





Police in Georgia sued for taking down wrong man

A Black man in Georgia is accusing police of violating his civil rights, saying a white officer slammed him to the ground and broke his wrist in the mistaken belief that there was a warrant for his..




USATODAY.com - Published





Georgia governor signs hate crime law in wake of Ahmaud Arbery shooting

Georgia's governor signed a hate crime law Friday, weeks after Ahmaud Arbery was shot by armed white men in what many called a modern-day lynching.




USATODAY.com - Published




This curious dolphin tried to befriend some feisty dogs on a boat in Isle of Hope, Georgia

This dolphin just wanted to make friends with a few dogs on a boat in Isle of Hope, Georgia, but they were not as excited.




USATODAY.com - Published





These are America's best small cities, according to BestCities.org rankings

Reno, Nevada, edged out Naples, Florida; Santa Fe, New Mexico; and Savannah, Georgia in a study rating small American cities.




USATODAY.com - Published





Ahmaud Arbery: Three men indicted for killing Black man

Ahmaud Arbery was gunned down as he was jogging through a neighborhood in Georgia in February. Three men have been indicted on murder and other charges for his death. ......




WorldNews - Published

Also reported by •BBC News


Three Georgia men indicted on felony murder, malice charges in Ahmaud Arbery case

Travis McMichael, Gregory McMichael and William "Roddie" Bryan Jr. were indicted four months after Ahmaud Arbery was shot and killed on Feb. 23.




USATODAY.com - Published




Man sues Georgia police for excessive use of force after wrongfully arresting him

"I was getting ready to put my hands behind my back," Smith said in the video. "He forcibly picked me up."  




USATODAY.com - Published





'You broke my wrist': Georgia man sues police for excessive force

A 47-year-old Black man is suing the City of Valdosta and Valdosta Police for excessive force after being body slammed in a case of mistaken identity.  




USATODAY.com - Published





Martin Luther King Jr's daughter: 'I know the pain of growing up without a father'

Rev Bernice A King was speaking at Rayshard Brooks' funeral in Atlanta, Georgia.




BBC News - Published





Confederate obelisk removed from Georgia square

A Confederate monument has been removed from a town square near Atlanta amid cheers from the watching crowd. As midnight approached on the eve of Juneteenth, the obelisk glorifying the Lost Cause was..




USATODAY.com - Published





How Fox News Terrorized Viewers With George Floyd Protests And Led To Psychosis

Article by WN.Com Correspondent Dallas Darling At least gun-toting Trump supporters did not attack George Floyd protesters in Hutchinson, Kansas, which just happened in New Mexico and Ohio, Texas,..




WorldNews - Published





Protest updates: Friday is Juneteenth; Pennsylvania cop fired for 'racist' email; Georgia nonprofit raises $250K for Garrett Rolfe

Friday is Juneteenth. Pennsylvania police officer fired for 'racist' email. Rayshard Brooks' funeral set for Tuesday. Latest protest news.




USATODAY.com - Published




Teen raises big cash for black businesses

Georgia teen raises $160K for black-owned businesses. One Atlanta store owner is the first recipient of a check and is grateful for a community that is giving back and building young role models. (June..




USATODAY.com - Published





Georgia's Redcoat Band will no longer play 'Tara's Theme' from 'Gone With the Wind' after games

The Redcoat Band at the University of Georgia will no longer play 'Tara's Theme' from 'Gone With the Wind,' a longtime postgame tradition.




USATODAY.com - Published





Atlanta police officer charged with murder in shooting death of Rayshard Brooks

A fired Atlanta police officer has been charged with felony murder and another officer faces lesser charges in the shooting death last week of Rayshard Brooks in the parking lot of a fast-food..




WorldNews - Published

Also reported by •Reuters


Republican Leaders Condemn a G.O.P. Congressional Candidate's Racist Facebook Videos

Marjorie Taylor Greene, a Georgia Republican who won a primary on June 9, was criticized for comments she made in videos uncovered by Politico.




NYTimes.com - Published





Charging decision to be announced in Atlanta police shooting death of Rayshard Brooks

A Georgia county prosecutor is set to announce on Wednesday whether a fired Atlanta police officer will face criminal charges in the shooting death of Rayshard Brooks in the parking lot of a Wendy's..




Reuters - Published




Ramzan Kadyrov denies Georgia journalist murder plot

Details of the alleged murder plot first emerged on Monday, but the story dates back to July last year, when presenter Giorgi Gabunia sparked a row between Russia and Georgia. Live on Georgia's main..




WorldNews - Published

Also reported by •BBC News


Trump says he met with families of victims of recent police violence

U.S. President Donald Trump on Tuesday said he met with the relatives of victims of recent police and other violence, including the family of Ahmaud Arbery, the unarmed black Georgia man who was killed..




Reuters - Published




Georgia protesters march to state Capitol

Protesters brought calls for changes to Georgia's laws regarding use of force and voting to the General Assembly on Monday, as lawmakers debated over a bill requiring heavier penalties for hate crimes...




USATODAY.com - Published





Supreme Court grants federal job protections to gay, lesbian, transgender workers

The rulings came in three cases involving two gay men and a transgender woman from Georgia, New York and Michigan.




USATODAY.com - Published





'March on Georgia' protest honors Rayshard Brooks, demands end to systemic racism, voter suppression

A "March on Georgia" demanding an end systemic racism in the criminal justice system and voter suppression in the state was underway in Atlanta.




USATODAY.com - Published




The Rising Trump Lawyer Battling to Reshape the Electorate

He's argued against affirmative action at Harvard and abortion in Georgia. Now he has a leading role as Republicans push a new wave of voting measures across the U.S.




NYTimes.com - Published





Autopsy shows Rayshard Brooks shot twice in back; death ruled homicide

ATLANTA, Georgia — A black man who died in a shooting after getting into a confrontation with two white police officers during an arrest was shot twice in the back, according to a ruling by a medical..




WorldNews - Published





Suspect killed by Atlanta police after struggle

Authorities in the U.S. state of Georgia said Saturday a man was shot and killed in a late night struggle with Atlanta police outside a fast food restaurant after he failed a field sobriety test and..




USATODAY.com - Published





How coronavirus wreaked havoc on Georgia elections process during primary

The myriad issues surrounding Georgia's primary election quickly became a topic of national conversation.




USATODAY.com - Published





The media's vital role in safeguarding elections

On Tuesday, voters in Georgia went to cast their ballots in primary elections, but many of them found that they could not—or not without a long wait. Voters in the Atlanta area, in particular, faced..




WorldNews - Published





'We're just going to have a catastrophe': US faces November election fiasco

The alarm bells have been going off for months, but the election fiasco in Georgia on Tuesday made it clear: America is ill-prepared to hold a fair presidential vote in November, and is dangerously..




WorldNews - Published





Georgia Havoc Raises New Doubts on Pricey Voting Machines

Long before this week's election chaos, experts had warned Georgia about its over $100 million voting system, saying paper ballots were simpler and safer.




NYTimes.com - Published





Georgia Democrat Jon Ossoff wins nomination to run for U.S. Senate after chaotic vote

Georgia Democrat Jon Ossoff has clinched his party's nomination for a U.S. Senate seat representing the state, three years after narrowly losing a special House election for a district that had been a..




Reuters - Published




Georgia to send doctors to Armenia to fight coronavirus

Georgia will send doctors to Armenia to help fight the coronavirus and will provide its neighbour with 10,000 diagnostic tests free of charge, Georgian officials said on Thursday.




Reuters - Published





AP Top Stories June 11 A

Here's the latest for Thursday June 11th: Arizona becoming coronavirus hotspot; Yosemite National Park to reopen; Jon Ossoff wins Georgia Democratic Senate primary; Jefferson Davis statue toppled in..




USATODAY.com - Published





Georgia's election mess offers a stark warning for November

Georgia's tumultuous primary elections on Tuesday offer a grim preview of what could happen in November if states move to voting by mail and polling places are sharply reduced due to concerns about the..




Reuters - Published