Scandinavia
Region in Northern Europe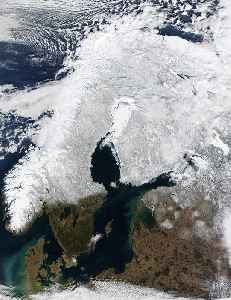 Scandinavia is a region in Northern Europe, with strong historical, cultural, and linguistic ties. The term Scandinavia in local usage covers the three kingdoms of Denmark, Norway, and Sweden. The majority national languages of these three, belong to the Scandinavian dialect continuum, and are mutually intelligible North Germanic languages. In English usage, Scandinavia also sometimes refers to the Scandinavian Peninsula, or to the broader region including Finland and Iceland, which is always known locally as the Nordic countries.


Why is Norway the land of electric cars?
We look at how the Scandinavian country is streets ahead of others when it comes to electric cars.
BBC News - Published
Guaido confirms Oslo mediation to settle crisis
Venezuelan National Assembly President Juan Guaido on Thursday said he sent delegates to Norway to join an attempt by Oslo to mediate in the Venezuela crisis, but denied talks were under way with..
WorldNews - Published
Best Cruises To Take If You Are Retired
If you're retired and are looking to unwind, you may want to think about taking a cruise. Business Insider compiled a list of convenient and luxurious cruise options that may appeal to retirees. Their..
Credit: Wochit News Duration: 00:56Published
Thousands stranded as SAS pilots go on strike
Pilots at SAS have gone on strike over pay and conditions, leaving thousands of travelers stranded at airports in Norway, Sweden and Denmark. Julian Satterthwaite reports.
Credit: Reuters Studio Duration: 00:55Published
Lawyer requests Moroccan state compensation for families of murdered Scandinavian women
A lawyer for the family of a Danish tourist who was found killed last year along with a Norwegian hiker, on Thursday asked the Moroccan state to guarantee compensation payments for the families of the..
Reuters - Published
Search this site and the web:
You Might Like