Kellyanne Conway
American strategist and pollster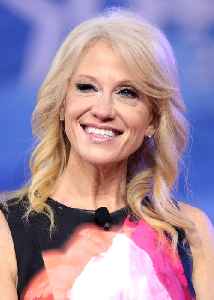 Kellyanne Elizabeth Conway is an American pollster, political consultant and pundit who served as counselor to the president in the administration of Donald Trump from 2017 to 2020. She was previously Trump's campaign manager, having been appointed in August 2016; Conway is the first woman to have run a successful U.S. presidential campaign. She has previously held roles as campaign manager and strategist in the Republican Party, and was formerly president and CEO of the Polling Company / WomanTrend.


Kayleigh McEnany tests positive for COVID-19

[NFA] White House Press Secretary Kayleigh McEnany is the latest White House staffer to test positive for the coronavirus, following an outbreak that has also infected the president, the first lady,..
Credit: Reuters - Politics Duration: 02:06
Published
Teen Daughter Blabs On TikTok About Mom Kellyanne Conway's COVID-19 Status

Former White House adviser Kellyanne Conway failed to get in front of her own story on Friday. That's because her own daughter, Claudia Conway, broke the news on her TikTok account that her mother had..
Credit: Wochit News Duration: 00:35
Published
Trump doctor's rosy COVID-19 assessment disputed

[NFA] White House doctor Sean Conley said Saturday President Trump 'is doing very well' but a source reveals the president's health remains in jeopardy a day after being hospitalized with a COVID-19..
Credit: Reuters - Politics Duration: 02:36
Published
You Might Like



Stars and Scars -- You Be the Judge

Trump's been acting crazy this week ... some say it's the steroids, and some say it's just him, and Kellyanne Conway's in a holy war with daughter Claudia. So we gotta ask ...




TMZ.com - Published





Claudia Conway Beefs with Kellyanne on TikTok, Seemingly Grounded

Kellyanne Conway confronted her daughter over her recent viral posts about COVID in their family (and at the White House), and based on this video ... we're thinking the teenager's in timeout. Claudia..




TMZ.com - Published





Trump tweets "Going well" after being flown to Walter Reed for COVID-19 treatment

President Trump was flown to Walter Reed National Military Medical Center Friday night, out of what the White House called "an abundance of caution." Mr. Trump is said to be doing well, despite being..




CBS News - Published





Covid 19 coronavirus: Kellyanne Conway tests positive for virus, daughter Claudia reacts furiously

Kellyanne Conway, until recently a senior adviser to Donald Trump, has become the latest person in the US President's orbit to test positive for the coronavirus.Conway revealed her diagnosis on Twitter..




New Zealand Herald - Published

Also reported by •TMZ.com


Former White House counselor Kellyanne Conway tests positive for COVID-19

Kellyanne Conway said her symptoms are mild and she is "feeling fine." She said she has begun to quarantine.




USATODAY.com - Published





Kellyanne Conway says she tested positive for COVID-19

The former counselor for President Donald Trump tweeted that she is "feeling fine" and has mild symptoms.




CBS News - Published

Also reported by •NYTimes.com


Conway echoes 'law and order' amid Kenosha unrest

Top White House aide Kellyanne Conway echoed President Donald Trump's "law and order" stance on the unrest in Kenosha, Wisconsin following a police shooting that left a Black man seriously injured...




USATODAY.com - Published





RNC Night 3 takeaways: Pence calls Biden a 'Trojan horse' for the radical left, Kellyanne Conway touts Trump's record

Mike Pence slammed Joe Biden, saying his proposals would leave Americans unsafe and vulnerable, calling him "a Trojan Horse to the radical left."




USATODAY.com - Published





Kellyanne Conway says in RNC speech that "Trump helped me shatter a barrier in politics"

Just days after Kellyanne Conway announced she will leave the White House at the end of the month, she spoke at the Republican National Convention. Conway, President Trump's 2016 campaign manager,..




CBS News - Published





Kellyanne Conway to speak at RNC ahead of White House departure: What to know about her

Conway said she will be leaving the White House at the end of the month, likely making her RNC speech her final public address as a senior counselor.




USATODAY.com - Published





What to Watch for at R.N.C.: Two of Trump's Most Faithful Allies Will Headline

Vice President Mike Pence and Kellyanne Conway, President Trump's former campaign manager and longtime adviser, will speak during tonight's convention.




NYTimes.com - Published





How to Watch the Republican Convention

Vice President Mike Pence, his wife, Karen Pence, and Kellyanne Conway will all speak during the event's third night.




NYTimes.com - Published





Did Claudia Conway, Daughter Of Trump's Personal Advisor Kellyanne, Just Rescue Her Mother From A Cult?

Article by WN.Com Correspondent Dallas Darling "If parents wish to preserve childhood for their own children, they must conceive of parenting as an act of rebellion against culture." -Neil Postman..




WorldNews - Published





Kellyanne Conway is leaving the White House.




NYTimes.com - Published

Also reported by •CBS News •New Zealand Herald


Kellyanne Conway leaving Trump administration by end of month

Longtime Trump adviser Kellyanne Conway has announced she's leaving the administration to spend more time with her family. CBS News White House correspondent Paula Reid joins CBSN with the latest.




CBS News - Published

Also reported by •WorldNews


Kellyanne Conway can quit because she has resources to care for her family. Many of us don't.

The risk this pandemic presents to wealthy, white women and their families is minimal compared to poor families and families of color.




USATODAY.com - Published





Claudia Conway Still Wants Emancipation Despite Kellyanne Conway Resigning

Kellyanne Conway's abrupt resignation from The White House may not be enough to save her family, because her daughter still wants to be emancipated ... she fiercely wants it. 15-year-old Claudia Conway..




TMZ.com - Published





Top Trump aide Kellyanne Conway to leave White House post

White House counselor Kellyanne Conway said Sunday night she would step down at the end of August to focus on her family. The announcement comes as President Trump prepares for the first night of the..




CBS News - Published

Also reported by •New Zealand Herald


Chief of Staff Mark Meadows on Trump's RNC speech, stimulus talks and Kellyanne Conway's departure

White House Chief of Staff Mark Meadows joined "CBS This Morning" to discuss the upcoming Republican National Convention and the status of stimulus talks with Congressional Democrats. Plus, he..




CBS News - Published





Kellyanne Conway: Key moments from her White House career

The president's adviser has announced she is stepping down from her role at the end of August.




BBC News - Published





AP Top Stories August 24 A

Here's the latest for Monday August 24th: Louisiana prepares for possible twin hurricanes; 3 major wildfires in Northern California; Republican National Convention ready to start; Kellyanne Conway..




USATODAY.com - Published





Kellyanne Conway resigns as senior White House advisor

Ms Conway says she is stepping down at the end of August to give her children "less drama, more mama".




BBC News - Published

Also reported by •New Zealand Herald


Kellyanne Conway is leaving her job at the White House to focus on family; George Conway stepping away from Lincoln Project

Kellyanne Conway said she is leaving the White House at the end of the month, and George Conway is also stepping back from the Lincoln Project.




USATODAY.com - Published





Kellyanne Conway's Daughter Claudia Pushing For Emancipation

Kellyanne and George Conway's daughter says she's reached her breaking point and wants to be emancipated from her parents. As you know by know, 15-year-old Claudia Conway has been in a TikTok war with..




TMZ.com - Published





Kellyanne Conway says Trump should resume coronavirus briefings because 'people want information'

Recent polling shows most Americans do not trust coronavirus information from Trump.




USATODAY.com - Published





Kellyanne Conway's 15-year-old daughter tweets just like her anti-Trump father

Kellyanne Conway's teen daughter, Claudia Conway, has recently taken to Twitter, and clearly she's a chip off her ol' dad's block. While her mother Kellyanne is sycophantic counselor to Donald Trump,..




WorldNews - Published





Kellyanne Conway's teen daughter hopes to help 'educate' with TikToks opposing Trump, supporting Black Lives Matter

White House counselor Kellyanne Conway's 15-year-old daughter is making waves with anti-Trump TikTok videos.




USATODAY.com - Published





Kellyanne Conway Defends Donald Trump's Use Of 'Kung Flu'

White House counselor Kellyanne Conway responded to recent criticisms of President Donald Trump's use of the phrase "kung flu" in...




WorldNews - Published





Conway defends Trump's use of Twitter

White House Counselor Kellyanne Conway says President Donald Trump is the most "prolific user" of Twitter and should not be fact checked. (May 27)  




USATODAY.com - Published





Trump doing well after president's valet tests positive for virus: Conway

U.S. President Donald Trump is doing well and is very healthy, White House adviser Kellyanne Conway told Fox News on Thursday, after a U.S. military official who worked at the White House was found to..




Reuters - Published





G20 leaders weigh supply chains, worker protections: White House adviser

The leaders of the G20 nations on Thursday discussed ways to try to have minimal disruption to global supply chains and how to protect workers amid the coronavirus pandemic, White House adviser..




Reuters - Published




George Conway donates maximum amount to Joe Biden's campaign

The conservative lawyer and husband of senior adviser to President Trump, Kellyanne Conway, tweeted that he donated the maximum amount to Biden's campaign.




USATODAY.com - Published





When America's Oddest Political Couple Fights, Those Sparks Are Real

The public struggles of White House adviser Kellyanne Conway and her husband, George T. Conway III, are not shtick, friends say, and they are not having fun.




NYTimes.com - Published





Kellyanne Conway jabs at Congress and the Bidens.

Her comments are part of a defense by Republicans that argues President Trump's interest in investigating the younger Biden's work in Ukraine was reasonable.




NYTimes.com - Published





Kellyanne Conway says Martin Luther King Jr. would have opposed Donald Trump's impeachment

Kellyanne Conway's comments to NBC News came the day before the Senate impeachment trial of President Donald Trump is expected to begin.




USATODAY.com - Published





Trump might raise Burisma hacking with Putin: White House

U.S. President Donald Trump may discuss the reported hacking of Ukrainian energy firm Burisma the next time he talks to Russian President Vladimir Putin, White House adviser Kellyanne Conway told..




Reuters - Published




White House adviser: Trump could still renegotiate Iran nuclear deal

U.S. President Donald Trump is confident he could still renegotiate a new nuclear deal with Tehran, White House adviser Kellyanne Conway said on Monday, a day after Iran announced it would retreat..




Reuters - Published




'Saturday Night Live' imagines film about Kellyanne Conway, her husband in 'Marriage Story' spoof

"Saturday Night Live" is imagining a film on the marriage of President Donald Trump's senior adviser Kellyanne Conway and her husband, George Conway.




USATODAY.com - Published





Trump plots his defense following the historic rebuke he hopes to foil

Washington (CNN)Historic? Yes. Rebuke? Not so much. The House Judiciary Committee's vote Friday passing articles of impeachment against President Donald Trump was meant as extraordinary repudiation...




WorldNews - Published





George Conway takes a jab at his wife over impeachment inquiry on Twitter

George Conway, husband of senior adviser to Donald Trump, Kellyanne Conway, has been a vocal critic of Trump, despite his wife's prominent position.




USATODAY.com - Published





Is Kellyanne Conway the 'Anonymous' White House author? No, says George Conway

The question was first raised on Twitter by John Dean, of Watergate fame, who knows a thing or two about White House intrigue.




USATODAY.com - Published





U.S.-China trade deal close, White House says, after negotiators speak by phone

The United States and China are close to agreement on the first phase of a trade deal, White House adviser Kellyanne Conway said on Tuesday, after top negotiators from the two countries spoke by..




Reuters - Published





China trade deal close, sticking points remain: White House adviser

The United States and China are close to agreement on the first phase of a trade deal, White House adviser Kellyanne Conway said on Tuesday, but three of the biggest sticking points remain.




Reuters - Published





Full transcript of "Face the Nation" on November 24, 2019

On this "Face the Nation" broadcast, we sit down with Counselor to the President Kellyanne Conway to talk impeachment. We also discuss the ongoing probe with Reps. Jim Himes and Kelly Armstrong.




CBS News - Published





Conway: White House ready to "go on offense" in impeachment trial

"Defense will go on offense if there is a Senate trial," White House counselor Kellyanne Conway told "Face the Nation" Sunday




CBS News - Published





Kellyanne Conway says White House preparing for Senate impeachment trial

Counselor to the president Kellyanne Conway says the White House is preparing for a Senate trial, but speculates that House Democrats won't vote to impeach the president.




CBS News - Published