Burkina Faso
Country in Africa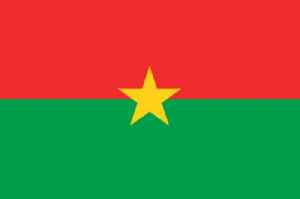 Burkina Faso is a landlocked country in West Africa. It covers an area of around 274,200 square kilometres (105,900 sq mi) and is surrounded by six countries: Mali to the north; Niger to the east; Benin to the southeast; Togo and Ghana to the south; and Ivory Coast to the southwest. The July 2018 population estimate by the United Nations was 19,751,651. Burkina Faso is a francophone country, with French as the official language of government and business. Roughly 40% of the population speaks the Mossi language. Formerly called the Republic of Upper Volta (1958–1984), the country was renamed "Burkina Faso" on 4 August 1984 by then-President Thomas Sankara. Its citizens are known as Burkinabé. Its capital is Ouagadougou.


Christians seek refuge after deadly Burkina attacks
Concerned about a rise in violence against Christians in Burkina Faso, Pastor Jacques Ouedraogo changed the time of his Sunday service as a precaution. He believes this is what saved his life.
Reuters - Published
'Safe haven' for fleeing families hit by attacks in Burkina Faso
DAKAR (Thomson Reuters Foundation) - Deadly attacks on Christians in a "safe haven" for thousands fleeing violence in Burkina Faso mark a new phase of crisis, the United Nations said on Thursday, as..
Reuters - Published
Burkina Faso ex-president offers to return to broker peace deal
Blaise Compaore led successful negotiations with armed groups in the past, but the government has no plans to allow him to return to the country.
Credit: Al Jazeera STUDIO Duration: 02:32Published
Fleeing violence in Mali, Fulani displaced in Burkina Faso
Intercommunal violence is spreading across the Sahel.
Credit: Al Jazeera STUDIO Duration: 01:42Published
Burkina Faso attack: Church attackers still unknown
Burkina Faso is a Muslim-majority country but all of its presidents have so far been Christian.
Credit: Al Jazeera STUDIO Duration: 02:23Published
UNSC discusses Sahel violence
The G5 Joint Force was set up by the Sahel countries - Chad, Mali, Mauritania, Burkina Faso and Niger - two years ago, but it's still barely operational, lacking funding and key equipment.
Credit: Al Jazeera STUDIO Duration: 02:21Published
Hostages Freed From Burkina Faso Praise Fallen French Soldiers
According to a report by Reuters, on Saturday, three hostages freed by French commandos from militants in Burkina Faso arrived in Paris, expressing sorrow at the death of two French soldiers in the..
Credit: Wochit News Duration: 00:46Published
Hostages Freed In Burkina Faso Offer Condolences For Fallen French Commandos
According to Reuters, hostages freed by French commandos from militants in Burkina Faso offered their condolences on Saturday to the families of the two French soldiers killed in the rescue operation...
Credit: Wochit News Duration: 00:35Published
Dior lights up Marrakech with fashion show and floating candles
Around an enormous outdoor runway lit with dozens of floating tealights, French label Christian Dior crisscrossed cultures and continents at its first fashion show in Morocco on Monday (April 29), with..
Credit: Reuters Studio Duration: 00:59Published
Mali conflict turning into multistate ethnic cleansing
The peacekeeping mission in Mali is already the deadliest in UN history and the violence is getting worse and spreading into Burkina Faso and Niger.
Credit: Al Jazeera STUDIO Duration: 02:40Published
Four Catholics killed in another Burkina Faso church attack
OUAGADOUGOU, May 14 (Reuters) - Unidentified assailants killed four Catholics and destroyed a statue of the Virgin Mary in northern Burkina Faso, a bishop said on Tuesday, the third deadly attack..
WorldNews - Published
Also reported by •Reuters
France to honour troops slain in Burkina Faso hostage raid
France will on Tuesday pay its final respects to two commandos killed during a raid to rescue two French hostages in the Sahel region of Africa last week.
France 24 - Published
Search this site and the web:
You Might Like