Burkina Faso
Country in Africa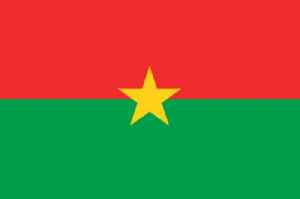 Burkina Faso is a landlocked country in West Africa. It covers an area of around 274,200 square kilometres (105,900 sq mi) and is surrounded by six countries: Mali to the north; Niger to the east; Benin to the southeast; Togo and Ghana to the south; and Ivory Coast to the southwest. The July 2018 population estimate by the United Nations was 19,751,651. Burkina Faso is a francophone country, with French as the official language of government and business. Roughly 40% of the population speaks the Mossi language. Formerly called the Republic of Upper Volta (1958–1984), the country was renamed "Burkina Faso" on 4 August 1984 by then-President Thomas Sankara. Its citizens are known as Burkinabé. Its capital is Ouagadougou.


Jihadists kill 17 civilians in raid north of Burkina Faso, says Defence Minister
Jihadist fighters killed 17 civilians in a night-time raid on a village in the troubled north of Burkina Faso, Defence Minister Cheriff Sy said Wednesday.
France 24 - Published
Search this site and the web:
You Might Like