Milwaukee
Largest city in Wisconsin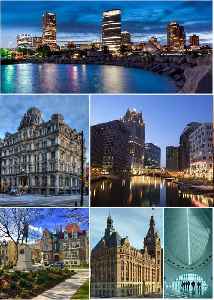 Milwaukee is the largest city in the state of Wisconsin and the fifth-largest city in the Midwestern United States. The seat of the eponymous county, it is on Lake Michigan's western shore. Ranked by its estimated 2014 population, Milwaukee was the 31st largest city in the United States. The city's estimated population in 2017 was 595,351. Milwaukee is the main cultural and economic center of the Milwaukee metropolitan area which had a population of 2,043,904 in the 2014 census estimate. It is the second-most densely populated metropolitan area in the Midwest, surpassed only by Chicago. Milwaukee is considered a Gamma global city as categorized by the Globalization and World Cities Research Network with a regional GDP of over $105 billion.


Giants acquire C Kratz from Brewers for depth behind Posey
The San Francisco Giants acquired veteran catcher Erik Kratz from the Brewers on Sunday, sending minor league infielder C.J. Hinojosa to Milwaukee
USATODAY.com - Published
Reds' Scooter Gennett injures leg, sent for scan
Cincinnati Reds All-Star second baseman Scooter Gennett injured his right leg while fielding a grounder against Milwaukee and was helped off the field
USATODAY.com - Published
'For the first time' Wisconsin to host DNC
The Democratic Party on Monday picked Milwaukee, Wisconsin, to host the 2020 nominating convention to formally select its candidate for U.S. president, four years after Hillary Clinton narrowly lost..
Credit: Reuters Studio Duration: 01:34Published
Tom Perez says Wisconsin to host DNC
Democratic National Convention Chair Tom Perez said on Monday he was "thrilled to announce" Milwaukee, Wisconsin would host the DNC "for the first time" in 2020. Rough Cut (no reporter narration).
Credit: Reuters Studio Duration: 01:12Published
Milwaukee to Host 2020 Democratic National Convention
The convention will run from July 13-16.
Credit: Newsy Studio Duration: 00:43Published
Democrats, Milwaukee, and the 2020 Convention
According to Business Insider, Democrats have chosen Milwaukee, Wisconsin as the location to host their 2020 national convention. The Democratic National Committee's decision will take the party to the..
Credit: Wochit News Duration: 00:35Published
Are the Bucks the Favorites in the Eastern Conference?
Milwaukee survived its first test after the All-Star break by beating the Celtics. Despite having never won a playoff series in this era, are the Bucks the favorites to come out of the Eastern..
Credit: Sports Illustrated Duration: 01:23Published
Stricker named U.S. captain for 2020 Ryder Cup
New U.S. Ryder Cup captain Steve Stricker says
Credit: Reuters - Sports Duration: 00:51Published
Freezing Temperatures Put a Stop To Mail Delivery
The frigid temeratures rocking serveal parts of the nation has put a stop to mail deilivery. Business Insider reports that Amazon and UPS are suspending package deliveries in several states due to the..
Credit: Wochit News Duration: 00:43Published
Lopez's 3-pointers have become a key for NBA-best Bucks
Big man, big range: Lopez's 3-point propensity has become a major key for NBA-leading Milwaukee
USATODAY.com - Published
Joel Embiid, 76ers outduel Giannis Antetokounmpo, Bucks in thriller
Joel Embiid scored 40 points and had fun playing the villain in Milwaukee as the 76er withstood a career-high 52 points from Giannis Antetokounmpo.
USATODAY.com - Published
Missing 2-year-old found dead after nationwide search, police believe
Two-year-old Noelani Robinson appears to have been found dead in Minnesota, Milwaukee police said Saturday.
USATODAY.com - Published
Bucks, down 20 at half, run away to beat Heat 113-98
Milwaukee comeback: Down 20 at the break, Bucks run wild in the second half and beat Heat 113-98
USATODAY.com - Published
Nationwide search launched for missing girl whose mother was killed in Wisconsin
Milwaukee police announced Friday a $5,000 reward for information that results in the return of missing 2-year-old Noelani Noelani.
USATODAY.com - Published
You Might Like