Tornado
Violently rotating column of air that is in contact with both the earth's surface and a cumulonimbus cloud in the air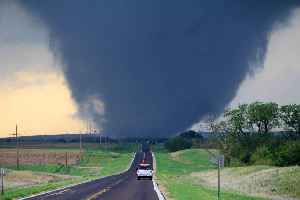 A tornado is a rapidly rotating column of air that is in contact with both the surface of the Earth and a cumulonimbus cloud or, in rare cases, the base of a cumulus cloud. The windstorm is often referred to as a twister, whirlwind or cyclone, although the word cyclone is used in meteorology to name a weather system with a low-pressure area in the center around which, from an observer looking down toward the surface of the earth, winds blow counterclockwise in the Northern Hemisphere and clockwise in the Southern. Tornadoes come in many shapes and sizes, and they are often visible in the form of a condensation funnel originating from the base of a cumulonimbus cloud, with a cloud of rotating debris and dust beneath it. Most tornadoes have wind speeds less than 110 miles per hour (180 km/h), are about 250 feet (80 m) across, and travel a few miles before dissipating. The most extreme tornadoes can attain wind speeds of more than 300 miles per hour (480 km/h), are more than two miles (3 km) in diameter, and stay on the ground for dozens of miles.


You Might Like
Your Thursday Briefing
Coronavirus, Tornadoes, N.F.L. Draft: Here's what you need to know.
NYTimes.com - Published
Dozens Are Killed as Tornadoes and Severe Weather Strike Southern States
The storm carved a destructive path across six states on Sunday and Monday, causing widespread damage and cutting power to tens of thousands of customers.
NYTimes.com - Published
What You Need to Know Today: Coronavirus, Anthony Fauci, Tornadoes
Coronavirus, Anthony Fauci, Tornadoes: Here's what you need to know.
NYTimes.com - Published
What we know about the tornadoes that killed at least 22 people in Nashville, Middle Tennessee
Tornadoes killed multiple people in Tennessee as violent storms roared through the state late Monday and early Tuesday morning.
USATODAY.com - Published
Tornado hits downtown Nashville, killing at least seven in Tennessee
NASHVILLE, Tenn. — Tornadoes ripped across Tennessee early Tuesday, shredding at least 40 buildings and killing at least seven people. One of the twisters caused severe damage in downtown Nashville...
WorldNews - Published
Several Dead in Winter Storm as Tornadoes and Squalls Pummel U.S.
Officials warned of floods, hail and snow as the vast storm moved east.
NYTimes.com - Published
Snow, Tornadoes and Freezing Rain Are Coming to a Wide Swath of the Country
More than 60 million people were under winter weather advisories and warnings, according to the National Weather Service.
NYTimes.com - Published
'Tornado' near Manchester damages cars and roofs
Independent - Published
Freak Greek storm kills six tourists
Thessaloniki — Tornadoes and violent hailstorms killed six tourists in northern Greece late on Wednesday, police said. Dozens more were injured when strong winds hit the region of Halkidiki, near the..
WorldNews - Published
AP Top Stories June 17 A
Here's the latest for Monday June 17th: Iran says it's boosting uranium enrichment levels; Trump says strong economy drawing migrants to US; Mexico puts troops on routes used by migrants; Tornadoes in..
USATODAY.com - Published