Catalonia
Autonomous community in northeastern Spain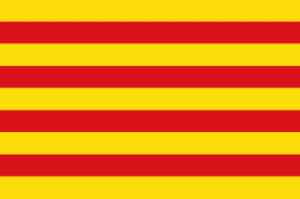 Catalonia is an autonomous community on the northeastern corner of Spain, designated as a nationality by its Statute of Autonomy. Catalonia consists of four provinces: Barcelona, Girona, Lleida, and Tarragona. The capital and largest city is Barcelona, the second-most populated municipality in Spain and the core of the fifth most populous urban area in the European Union. It comprises most of the territory of the former Principality of Catalonia. It is bordered by France (Occitanie) and Andorra to the north, the Mediterranean Sea to the east, and the Spanish autonomous communities of Aragon to the west and Valencia to the south. The official languages are Catalan, Spanish, and the Aranese dialect of Occitan.


Catalan politician suspects Spain tapped phone

A leading Catalonian separatist politician says he believes the Spanish state spied on him using Pegasus software, which has been linked to political surveillance elsewhere. Lucy Fielder reports.
Credit: Reuters - Politics Duration: 01:21
Published
Stay home, lockdown or not: Catalan chief pleads

The leader of the Spanish region of Catalonia called on residents of an area that has seen a surge in coronavirus cases to stay at home, despite a ruling by a judge who threw out a mandatory lockdown..
Credit: Reuters - Politics Duration: 02:03
Published
Coronavirus latest: Spanish region makes wearing a mask mandatory

Wearing a mask will now be mandatory in Catalonia, where one county is already under lockdown due to coronavirus.View on euronews
Credit: euronews (in English) Duration: 01:38
Published
Barcelona president Bartomeu says Messi will end his career with Catalan club, dismissing earlier report

Barcelona president Josep Maria Bartomeu says Lionel Messi will end his career at the Catalan club, dismissing a report saying the Argentine won't renew his contract
Credit: Reuters - Sports Duration: 01:02
Published
Catalonia locks down 200,000 over coronavirus outbreak

People will not be allowed to enter or exit Segria zone, which includes Lleida city, after a sharp rise in infections.
Credit: Al Jazeera STUDIO Duration: 02:09
Published
Barcelona's opera performs for a leafy audience

Barcelona's Liceu opera house reopened its doors on Monday for the first time in over three months to hold a concert - exclusively for a quiet, leafy audience of nearly 2,300 house plants.
Credit: Reuters Studio Duration: 01:52
Published
You Might Like



Spain holidaymakers shocked by sudden change in quarantine rules

British holidaymakers returning from Spain have expressed their shock and frustration at the sudden change in travel quarantine rules. Passengers arriving at Gatwick Airport on a flight from Barcelona..




WorldNews - Published





Coronavirus: Spain drives fears of European 'second wave'

Its Catalonia region closes its nightlife as other nations eye increases in new infections warily.




BBC News - Published





Coronavirus spike continues amid new Catalonia restrictions

The region has the worst of Spain's 150 new clusters, prompting France to consider border closures.




BBC News - Published





Top Catalan politician accuses Spain of 'political spying'

Pro-independence figure Roger Torrent claims the Spanish government targeted his phone with spyware.




BBC News - Published





Spain region orders lockdown as global infections gather pace

Shares Hundreds of thousands of Catalonia residents were ordered back into lockdown on Sunday as coronavirus cases spiked in the Spanish region and new figures showed infections accelerating in many..




WorldNews - Published





Coronavirus: Spain imposes local lockdown in Galicia

Galicia reinstates curbs on a coastal area, a day after Catalonia imposed a similar local lockdown.




BBC News - Published





Coronavirus: Catalonia tightens restrictions on 200,000 residents

Catalonia enforced a new lockdown on more than 200,000 people on Saturday, after several new outbreaks of the coronavirus were detected. Residents in Segria, which includes the city of Lleida in..




WorldNews - Published





Coronavirus Spain: Catalonia locks down area of 210,000 people

The Spanish region re-imposes restrictions on an area west of Barcelona after a surge in infections.




BBC News - Published





Spanish cat tests positive for coronavirus

A cat belonging to a family in the Spanish region of Catalonia tested positive for the novel coronavirus, the professor who conducted an autopsy on the pet said on Friday.




Reuters - Published





Beaches open in Barcelona as Spain decides on next steps of lockdown exit

The Spanish government will decide on Friday in which regions bars, restaurants and places of worship will open under the next phase of a gradual exit from the coronavirus lockdown, although it looked..




Reuters - Published





Catalan separatists use coronavirus crisis to argue for independence

Catalan separatists have used the coronavirus crisis as a fresh motive to argue for independence from Spain, some bluntly saying the pandemic would have caused fewer deaths had the wealthy northeastern..




Reuters - Published





Locked down Catalans mark St. George's Day with roses on balconies

Stuck at home due to the coronavirus lockdown, inhabitants of Spain's Catalonia region kept up St. George's Day traditions on Thursday with roses on balconies and book-sharing online.




Reuters - Published





Spain considers summer school for quarantined children, coronavirus deaths rise

Spain reported another substantial increase in daily deaths from COVID-19 on Thursday, taking the overall toll to more than 19,000, but figures from the region of Catalonia suggest the true total could..




Reuters - Published





Spanish deaths from coronavirus exceed 19,000

Spain on Thursday reported a rise in its national toll of deaths from the coronavirus in the past day, but figures from the region of Catalonia indicated the real total so far could be several thousand..




Reuters - Published





Spain split between concern and relief as coronavirus lockdown eased

The construction sector across Spain and other industries in Catalonia and the Basque Country went back to work on Tuesday, after the government eased one of the world's toughest coronavirus lockdowns..




Reuters - Published





Rio Ferdinand recalls rejecting Barca move to remain at Man United

Barcelona: Former Manchester United and England defender Rio Ferdinand has revealed he turned down the chance to move to Barcelona in 2008, saying he believed it was too risky as the Catalan club were..




WorldNews - Published





Catalan leader highlights equipment crunch at stressed hospitals

Hospitals in Catalonia are at "maximum stress", with this week and next likely to be the worst experienced by the Spanish region during the coronavirus crisis, its leader told Reuters.




Reuters - Published





Hospitals are 'at maximum stress' in Spain's second worst-hit region by coronavirus

Hospitals in Catalonia, Spain's second worst-hit region by the coronavirus pandemic, are at "maximum stress", the regional leader Quim Torra told Reuters on Friday.




Reuters - Published





In about-turn, Catalonia seeks Spanish military help for coronavirus

The separatist government of Spain's Catalonia region abandoned its initial reluctance and asked the national military on Thursday for assistance in tackling the coronavirus.




Reuters - Published





Regional leader of Spain's Catalonia says he has coronavirus

The regional leader of Spain's Catalonia, Quim Torra, said on Monday that he had tested positive for the coronavirus and that he was going into self-isolation in a government building.




Reuters - Published




Spain's Catalonia requests regional lockdown over coronavirus

The regional government of Spain's Catalonia asked Spanish central authorities to help it block access by air, rail and water to guarantee the confinement of the whole region due to the coronavirus..




Reuters - Published





Spain's Catalonia limits mass events to 1,000 people due to coronavirus

The Spanish region of Catalonia imposed limits on holding large public events to stem the spread of the coronavirus epidemic, regional leader Quim Torra said on Wednesday.




Reuters - Published





One dead, 13 injured in explosion at Barcelona chemical plant

One person died and 13 others were injured in an explosion on Tuesday at a small chemical plant in Barcelona, local emergency services in Catalonia's regional capital said.




Reuters - Published





Jailed Catalan leader can't temporarily serve as EU lawmaker: EU court

A jailed Catalan separatist leader elected to the European Parliament while behind bars cannot serve as an EU lawmaker or enjoy immunity while his case is heard by the European Union Court of Justice,..




Reuters - Published




Thousands attend rally in France for exiled Catalan leader

Tens of thousands of Catalan independence supporters gathered in Perpignan, southern France, on Saturday at a rally in support of exiled former Catalan leader Carles Puigdemont, who called on the crowd..




Reuters - Published

Also reported by •France 24


Catalan party ties Spain's government stability to separatist drive

Catalan separatist party Esquerra Republicana de Catalunya (ERC) would help the Spanish government attain a stable majority in parliament and support its budget only if the region's independence drive..




Reuters - Published





'We will be independent,' Catalan regional leader says

Catalonia's regional leader Quim Torra told Reuters on Friday that he wants to agree on a date for an independence referendum as part of talks with the Spanish government, arguing that the region's..




WorldNews - Published

Also reported by •Reuters


Spain's PM meets Catalan separatist leader, sets out roadmap for talks

Spanish Prime Minister Pedro Sanchez met Catalonia's pro-independence regional leader on Thursday for the first time in over a year to outline an agenda for wider negotiations with the region that are..




Reuters - Published





Spain PM meets with separatist Catalan leader to mend ties

BARCELONA, Spain (AP) — The Spanish government and leaders of the Catalonia region will start formal talks this month in a bid to end one of the biggest political crises since Spain's return to..




WorldNews - Published





Spain to open Catalonia talks before regional election, reversing earlier position

Spain's government said on Thursday it will begin talks on resolving the Catalan political conflict before elections are held in the region, walking back an earlier decision to postpone the..




Reuters - Published





Spain's PM postpones talks on Catalonia until after regional election

Spanish Prime Minister Pedro Sanchez has decided to postpone talks with the northeastern restive region of Catalonia until after the region holds elections, the government said on Thursday.




Reuters - Published





In bid to reinvigorate independence drive, Spain's Catalonia gets set for snap regional election

BARCELONA (Reuters) - The pro-independence head of the Catalonian government said on Wednesday he planned to call a snap regional election in a move that could have a major impact on Spain's national..




WorldNews - Published

Also reported by •Reuters


Spain's restive Catalonia heads toward snap regional election

The pro-independence head of Catalonia's regional government said on Wednesday he planned to call a snap parliamentary election in the restive Spanish region, in a move that could have a major impact..




Reuters - Published





Catalan government chief says to call snap regional election

The pro-independence head of Catalonia's regional government said on Wednesday he planned to call a snap parliamentary election in Spain's restive region, a move that could further exacerbate..




Reuters - Published





Catalonia's Puigdemont appeals for help to repay costs of banned referendum

Catalonia's former leader Carles Puigdemont asked pro-independence supporters on Tuesday to donate money after Spanish authorities ordered him and 19 others to pay back 4.1 million euros of public..




Reuters - Published





Jailed Catalan separatist leader predicts new referendum

A Catalan separatist leader briefly released from prison to testify in the region's parliament said on Tuesday he was confident the northeastern Spanish region would eventually vote again on..




Reuters - Published





Spain's PM Sanchez to meet with Catalan leader Torra on February 6

Spain's Prime Minister Pedro Sanchez will meet with Catalonia' regional leader Quim Torra on February 6, government spokeswoman Maria Jesus Montero said on Tuesday.




Reuters - Published




Catalan leader stripped of lawmaker rights, protesters scuffle with police

Catalonia's parliament stripped the head of the region's pro-independence government of his rights as a regional lawmaker on Monday, angering supporters who scuffled with police outside the assembly.




Reuters - Published





Chemical factory in Spain's Tarragona on fire after blast

Fire broke out on Tuesday at a chemical factory in the Tarragona province of northeast Spain, most likely as a result of a chemical accident, Catalonia's civil defence agency said.




Reuters - Published




Explosion hits chemical factory in Spain's Tarragona province

Catalonia's civil defense agency said on Tuesday that an explosion at a factory in the province of Tarragona has caused a fire, adding it was probably the result of a chemical accident.




Reuters - Published





Spanish PM hopes to meet Catalan leader, Madrid to negotiate deficit targets

Spanish Prime Minister Pedro Sanchez said on Tuesday he wanted to meet Catalonia's pro-independence regional leader "as soon as possible" and hoped Madrid would start negotiations soon with the..




Reuters - Published





Spanish prime minister to meet with Catalan regional leader

Spain's Prime Minister Pedro Sanchez said on Tuesday he would seek to meet with Catalonia's regional leader Quim Torra "as soon as possible."




Reuters - Published





Fugitive Catalan leader Carles Puigdemont becomes EU legislator

Catalan leader Carles Puigdemont has taken his seat as a member of the European Parliament in Strasbourg despite facing an arrest warrant against him in Spain. The former Catalan president and new EU..




WorldNews - Published





Catalan separatists take seats as EU lawmakers, promise to push secession

Catalan separatist leaders Carles Puigdemont and Antoni Comin took their seats in the European Parliament on Monday, vowing to force their secessionist cause onto Europe's agenda just days after Spain..




Reuters - Published