Cologne
City in North Rhine-Westphalia, Germany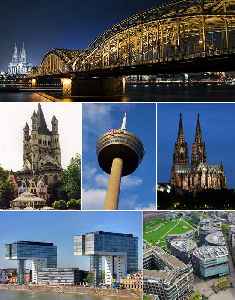 Cologne
(
kə-
LOHN
; German:
Köln
[kœln]
; Kölsch:
Kölle
[ˈkœlə]
Latin:
Colonia Claudia Ara Agrippinensium
is the largest city of Germany's most populous federal state of North Rhine-Westphalia and the fourth-most populous city in Germany. With slightly over a million inhabitants within its city boundaries, Cologne is the largest city on the Rhine and also the most populous city both of the Rhine-Ruhr Metropolitan Region, which is Germany's largest and one of Europe's major metropolitan areas, and of the Rhineland. Centered on the left bank of the Rhine, Cologne is about 45 kilometres southeast of North Rhine-Westphalia's capital of Düsseldorf and 25 kilometres northwest of Bonn. It is the largest city in the Central Franconian and Ripuarian dialect areas.
You Might Like
Berlin joins Cologne in closing bars, clubs as Germany toughens coronavirus response
Berlin and Cologne are to close all bars, clubs, cinemas, theaters and concert halls with immediate effect as Germany ramps up its efforts to slow the spread of the coronavirus.
Reuters - Published
Germany tells travelers from Italy, Switzerland and Austria to self-isolate
Germany on Saturday urged people returning from Italy, Switzerland and Austria to self-isolate for up to two weeks to help slow the spread of coronavirus, as Cologne closed all bars, nightclubs and..
Reuters - Published
Union Berlin beats Cologne 2-0, climbs to 10th in Bundesliga
Sebastian Andersson scored twice for promoted Union Berlin to beat Cologne 2-0 and climb to 10th in the Bundesliga on Sunday. The Swedish striker struck in both halves to give ......
WorldNews - Published
A World War II veteran's memories of a shot fired
Clarence Smoyer, a gunner with the U.S. Army's 3rd Armored Division, cannot forget his fateful tank battle in Cologne, Germany, and a young girl caught in the crossfire
CBS News - Published
WWII vet Clarence Smoyer awarded Bronze Star
On March 6, 1945 Clarence Smoyer, a Pershing tank gunner with the U.S. Army's 3rd Armored Division, helped to capture Cologne, Germany's third-largest city. His bravery under fire was chronicled in a..
CBS News - Published
Dortmund stage late comeback to beat FC Koln 3-1
Borussia Dortmund fought back to beat Cologne 3-1 away with late goals from substitute Achraf Hakimi and Paco Alcacer on Friday to make it two wins out of two in the Bundesliga this season. Advertising..
WorldNews - Published
Sancho makes Bundesliga history as Dortmund come from behind at Cologne
Lucien Favre's men got up and running by thrashing Augsburg 5-1 and Jadon Sancho led them to a 3-1 victory at Cologne in match two. Jadon Sancho made Bundesliga history as he inspired Borussia Dortmund..
WorldNews - Published
Cologne becomes first big German city to declare climate emergency
Cologne has become the first German city with a population of more than a million people to join the declaration movement. More than 700 cities around the world have recognized the urgency of the..
WorldNews - Published
Plane makes safe emergency landing at Israel's Ben Gurion airport
A plane coming from the German city of Cologne has made an emergency landing at Tel Aviv's Ben Gurion airport. Ground staff in Germany reported that tire pieces had been found on the runway after..
WorldNews - Published