Martin Luther King Jr.
American activist and leader in the civil rights movement (1929-1968)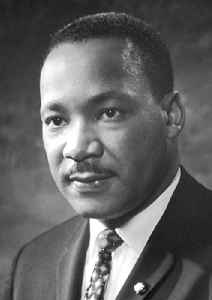 Martin Luther King Jr. was an American Christian minister and activist who became the most visible spokesperson and leader in the civil rights movement from 1955 until his assassination in 1968. King is best known for advancing civil rights through nonviolence and civil disobedience, inspired by his Christian beliefs and the nonviolent activism of Mahatma Gandhi.


Huge march commemorates Martin Luther King's 'dream' speech

Tens of thousands gathered at the Lincoln Memorial in the US capital which commemorates a 1963 civil rights march.
Credit: Euronews English Duration: 01:30
Published
Thousands march for racial equality in Washington

Thousands of people took part in a march in Washington on Friday to denounce racism, on the anniversary of the march in 1963 where civil rights leader Martin Luther King Jr made his historic "I Have a..
Credit: Reuters Studio Duration: 02:27
Published
MLK III calls for justice at march on Washington

Civil rights leader Martin Luther King Jr's son, Martin Luther King III, spoke to a crowd gathered in Washington to denounce racism and protest police brutality and said that his father would "want us..
Credit: Reuters Studio Duration: 02:07
Published
John Hume hailed as Ireland's Martin Luther King

Current SDLP leader Colum Eastwood, who represents the Foyle seat Mr Hume heldfor two decades, said the island had lost its most significant andconsequential political figure of the 20th century. As he..
Credit: PA - Press Association STUDIO Duration: 01:00
Published
Rep. Lewis praised by 3 presidents at funeral

[NFA] Former U.S. Presidents Barack Obama, George W. Bush and Bill Clinton were among those who spoke passionately about late civil rights icon and U.S. Congressman John Lewis at his funeral in a..
Credit: Reuters - Politics Duration: 02:23
Published
John Lewis crosses Alabama bridge one final time

[NFA] A caisson bore the body of the lawmaker and civil rights icon who marched across the Edmund Pettus Bridge in 1965 and was met with a bloody police crackdown that drew national awareness to the..
Credit: Reuters - Politics Duration: 01:19
Published
You Might Like



Martin Luther King III: Trump has no moral compass

Martin Luther King Jr's oldest son has said that President Donald Trump does not have the moral compass to unify the United States. Martin Luther King III told RTÉ that Donald Trump is "not a unifier"..




WorldNews - Published





Danny Glover cries after hearing MLK Jr. speech from April 3, 1968

On this week's episode of "The Takeout" with CBS News chief White House correspondent Major Garrett, actor Danny Glover gets emotional while remembering the words Martin Luther King Jr. spoke just one..




CBS News - Published





Impact of the 2020 March on Washington for racial justice

Fifty-seven years after Martin Luther King Jr.'s "I Have a Dream" speech at the March on Washington, the families of Black Americans shot or killed by police officers joined civil rights activists for..




CBS News - Published




57 years after Martin Luther King Jr.'s "I Have A Dream" speech, thousands converge in D.C. for another March on Washington

The families of George Floyd, Breonna Taylor, Eric Garner and Jacob Blake joined Reverend Al Sharpton and Martin Luther King III at the Lincoln Memorial on Friday.




CBS News - Published





Meet the young women leading the modern fight for civil rights

The civil rights movement of the 1960s had giants like John Lewis and MLK at its helm. Today's movement is characterized by young female activists commanding the microphone in a way they never have..




CBS News - Published





Thousands gather for 2020 March on Washington

The march took place on the 57th anniversary of Martin Luther King Jr.'s "I Have a Dream" address, hours after President Trump delivered his Republican convention speech.




CBS News - Published

Also reported by •USATODAY.com


Thousands turn out for 57th anniversary of the March on Washington

Fifty-seven years after Dr. Martin Luther King Jr. delivered his "I Have a Dream" speech at the first March on Washington, thousands gathered once again at the nation's capital to demand racial justice..




CBS News - Published





A Racial Justice March in Washington Hopes to Build on Its 1963 Inspiration

The Commitment March on Friday recalls the March on Washington and the Rev. Dr. Martin Luther King Jr.'s "I Have a Dream" speech. But backers plan more than a commemoration.




NYTimes.com - Published





Today in History for August 28th

Highlights of this day in history: Martin Luther King, Jr. gives his 'I Have a Dream' speech; Clashes mar the 1968 Democratic National Convention in Chicago; Black teen Emmett Till abducted and killed..




USATODAY.com - Published




MLK, Malcolm X and Kwame Nkrumah's daughters discuss racial justice

The daughters of Martin Luther King, Malcolm X and Kwame Nkrumah discuss Black Lives Matter.




BBC News - Published





750 mile march marks the anniversary of MLK Jr's 'I Have A Dream Speech'

This group is marching 750 miles from Milwaukee to arrive in Washington DC on the 57th anniversary of MLK's "I Have A Dream" speech.




USATODAY.com - Published




5 things you didn't know about the March on Washington and MLK's 'I Have a Dream' speech

As thousands gather in Washington, D.C. for the 57th anniversary of the March on Washington here are five things you didn't know about the march.




USATODAY.com - Published




March on Washington: 15 photos of the historic march on anniversary of MLK's 'I Have a Dream' speech

On August 28, thousands of people will gather to commemorate the anniversary of the March on Washington. Here are 10 iconic photos from past marches.




USATODAY.com - Published




Dr. Bernice King Says Police System Built on Slavery Must be Dismantled

Martin Luther King Jr.'s daughter, Dr. Bernice King, is convinced that modern-day policing is structured after brutal slave tactics used for centuries in this country ... and needs to be completely..




TMZ.com - Published





Obamas make burritos for MLK service project

The first family visited the DC Central Kitchen to help make meals for the homeless.




CBS News - Published





Biden honors MLK: "Fighting the fight again" on voting rights

Remembering lawmakers involved in passing the landmark 1965 Voting Rights Act, Vice President Joe Biden urged the audience at the National Action Martin Luther King Day breakfast to work to restore the..




CBS News - Published





Martin Luther King on JFK murder: "Shocking"

Nov. 23, 1963: CBS News correspondent Ray Moore interviews Dr. Martin Luther King Jr. about his reaction to the news of President John F. Kennedy's murder.




CBS News - Published





'Thirty miles a day': They're walking 750 miles to arrive in DC on 57th anniversary of MLK's 'I Have A Dream' speech

The march, which hopes to bring awareness to racial inequity and police brutality, began Tuesday in Milwaukee with about 20 people.




USATODAY.com - Published




The Voting Rights Act was signed 55 years ago. Black women led the movement behind it

Long before Dr. King came to Selma, Black women like Amelia Boynton Robinson, Diane Nash and Marie Foster registered, and educated Black voters.




USATODAY.com - Published




Martin Luther King III: John Lewis reunited with MLK on other side

Martin Luther King III imagines the sweet reunion between his parents and Rep. John Lewis on the other side.  




USATODAY.com - Published





Civil rights icon, MLK Jr. adviser C.T. Vivian to be remembered in private funeral in Atlanta

Long-time civil right advocate C.T. Vivian, who died of natural causes July 17 at the age of 95, will be remembered in a private funeral in Atlanta.




USATODAY.com - Published




Civil rights icon C.T. Vivian remembered in Georgia state capitol, taken to Martin Luther King Jr.'s tomb

A day before C.T. Vivian will be remembered in a private funeral, his casket was taken to the tomb of close friend and colleague Martin Luther King Jr.




USATODAY.com - Published




Bernice King: 'My hope lies in a new generation'

Dr Martin Luther King Jr's daughter urges anti-racism activists to utilise this 'very important moment'.




BBC News - Published





Funeral for C.T. Vivian, civil rights advocate and adviser to Martin Luther King Jr., scheduled for Thursday

Vivian, who died of natural causes July 17, participated in the Freedom Rides and had a civil rights career that spanned more than six decades.




USATODAY.com - Published




Remembering John Lewis, Rights Icon and 'American hero'

People paid great heed to John Lewis for much of his life in the civil rights movement. But at the very beginning — when he was just a kid wanting to be a minister someday — his audience didn't..




WorldNews - Published





The US loses two icons of the civil rights movement in one day

(CNN)Two towering figures of the American civil rights movement died Friday, a major loss for a nation still grappling with protests and demands for racial equality decades after their struggle. John..




WorldNews - Published





C.T. Vivian, civil rights giant and field general for MLK, dead at 95

C.T. Vivian was a close associate of the Rev. Dr. Martin Luther King Jr. and a prominent leader in the nonviolent struggle for racial justice.  




USATODAY.com - Published

Also reported by •NYTimes.com


Rev. C.T. Vivian: The civil rights icon's life in pictures

The civil rights leader and former aide to Rev. Martin Luther King, Jr. died on July 17, 2020 in Atlanta.  




USATODAY.com - Published





Trump Says He Will Create a Statuary Park Honoring 'American Heroes'

The executive order includes John Adams, Harriet Tubman and Martin Luther King Jr. among those who would be honored. So would Billy Graham, Antonin Scalia and Ronald Reagan.




NYTimes.com - Published





A Teacher Held a Famous Racism Exercise in 1968. She's Still at it.

The day after Rev. Dr. Martin Luther King Jr. was assassinated, Jane Elliott carried out the 'Blue Eyes, Brown Eyes' exercise in her classroom. Now, people are returning to her work.




NYTimes.com - Published





Don't wait for Congress. Start police reform in 20 cities with largest black populations.

Remember Martin Luther King Jr.'s 'urgency of now.' Turn today's momentum into a movement that calls on mayors, prosecutors, council members to act.




USATODAY.com - Published





Martin Luther King III on a Pivotal Wave of Black Lives Matter Protests

Mr. King, the oldest son of Martin Luther King Jr., talked about what his father might have thought of the current protests for racial justice, and why this movement may be different than past ones.




NYTimes.com - Published





Martin Luther King Jr's daughter: 'I know the pain of growing up without a father'

Rev Bernice A King was speaking at Rayshard Brooks' funeral in Atlanta, Georgia.




BBC News - Published





From Policing to Climate Change, a Sweeping Call for a 'Moral Revolution'

A coalition modeled after the Rev. Dr. Martin Luther King Jr.'s Poor People's Campaign released an ambitious agenda to help the working poor fight systemic racism and inequality.




NYTimes.com - Published





Thomas Freeman, Debate Coach With Broad Influence, Dies at 100

His Texan Southern University team rose to national prominence, and Martin Luther King Jr., Barbara Jordan and Denzel Washington all learned from him.




NYTimes.com - Published




Fox News apologizes for on-air graphic showing market reaction to violence against black men

The graph showed positive stock market changes after Martin Luther King Jr.'s assassination and the police killings of Michael Brown and George Floyd.




USATODAY.com - Published





Hong Kong's last British governor likens city's democrats to Mandela, King

The last British colonial governor of Hong Kong said the city's democrats are on the same side of history as Nelson Mandela and Martin Luther King, and blamed Chinese President Xi Jinping for..




Reuters - Published





Al Sharpton announces march in Washington on anniversary of historic demonstration

Sharpton announced a march on Washington on August 28, the anniversary of the March on Washington where MLK made his famous "I Have a Dream" speech.




USATODAY.com - Published





We've reached the 'mad emperor' stage, and it's terrifying to behold

Writing from a Birmingham jail, Martin Luther King Jr famously told his anxious fellow clergymen that his non-violent protests would force those in power to negotiate for racial justice. "The time is..




WorldNews - Published





'A riot is the language of the unheard': MLK's powerful quote resonates amid George Floyd protests

In 1967, Martin Luther King Jr. said the worsening economic and social conditions that black Americans face must be condemned as equally as riots.




USATODAY.com - Published