National Assembly (Venezuela)
Parliament of Venezuela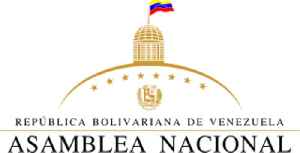 The National Assembly is the de jure legislature for Venezuela that was first elected in 2000. It is a unicameral body made up of a variable number of members, who were elected by a "universal, direct, personal, and secret" vote partly by direct election in state-based voting districts, and partly on a state-based party-list proportional representation system. The number of seats is constant, each state and the Capital district elected three representatives plus the result of dividing the state population by 1.1% of the total population of the country. Three seats are reserved for representatives of Venezuela's indigenous peoples and elected separately by all citizens, not just those with indigenous backgrounds. For the 2010-2015 period the number of seats was 165. All deputies serve five-year terms. The National Assembly meets in the Federal Legislative Palace in Venezuela's capital, Caracas.


Guaido confirms Oslo mediation to settle crisis
Venezuelan National Assembly President Juan Guaido on Thursday said he sent delegates to Norway to join an attempt by Oslo to mediate in the Venezuela crisis, but denied talks were under way with..
WorldNews - Published
Venezuela crisis: Juan Guaido says authorities want to 'close down' National Assembly
[Venezeula], May 15 (ANI): Venezuelan opposition leader Juan Guaido has accused the country's authorities of trying to close down the National Assembly after the security forces prevented him from..
WorldNews - Published
Venezuela's Guaido says intelligence agents have detained his deputy
Venezuelan opposition leader Juan Guaido said on Wednesday that intelligence agents had detained his deputy, the first arrest of a lawmaker since Guaido tried to spark a military uprising last week to..
Credit: Reuters Studio Duration: 01:40Published
Maduro Says Venezuela Is Ready for International Aid
Venezuelan leaders have used relief distribution to score political points.
Credit: Newsy Studio Duration: 01:07Published
Search this site and the web:
You Might Like