South Carolina
State in the southeastern United States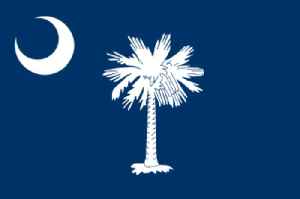 South Carolina is a state in the Southeastern United States and the easternmost of the Deep South. It is bordered to the north by North Carolina, to the southeast by the Atlantic Ocean, and to the southwest by Georgia across the Savannah River.


Lindsey Graham And Jaime Harrison Are Nearly Tied

Former state legislator Jaime Harrison is challenging GOP Sen. Lindsey Graham. He is hoping to take Lindsey Graham's spot for US Senate in South Carolina. Graham is one of the most high-profile..
Credit: Wochit News Duration: 00:36
Published
GOP running short on time to defend Senate majority

Republicans are running short on time, money and options to stop Democrats from winning a majority of seats in the U.S. Senate, in an election that is now only two weeks away. This report produced by..
Credit: Reuters - Politics Duration: 02:17
Published
Sally's rains wreak havoc on southeastern U.S.

The storm washed out bridges and roads in Florida and threatened flash floods in North Carolina. This report produced by Zachary Goelman.
Credit: Reuters - Politics Duration: 01:30
Published
Chadwick Boseman laid to rest in South Carolina

Chadwick Boseman was laid to rest near his South Carolina hometown on the 3rd of September.
Credit: Cover Video STUDIO Duration: 00:49
Published
COVID-19 Has Killed at Least 4 Teachers Since the Start of the School Year

The most recent death was 28-year-old Demetria Bannister of South Carolina, who died on Monday.
Credit: Cover Video STUDIO Duration: 01:01
Published
Anguished search for son who vanished at border

The parents of a 12-year-old Guatemalan boy named Gustavo, who struggles to speak, has deformed limbs and suffered a machete attack, sent their son to the United States alone amid turmoil in Mexico...
Credit: Reuters - Politics Duration: 03:00
Published
2020 Election Takes Final Sprint

The 2020 Election is in its final stretch. Traditionally the launch of the presidential race's intense final stages. President Donald Trump and Joe Biden will begin trying to mobilize voters. Biden has..
Credit: Wochit News Duration: 00:48
Published
Nikki Haley: 'America is not a racist country'

The daughter of Indian immigrants, former U.S. Ambassador to the U.N. and former South Carolina Governor Nikki Haley said the topic of racism in America is "personal" for her, as she pledged her..
Credit: Reuters Studio Duration: 02:46
Published
You Might Like



Senator Lindsey Graham skips final debate in South Carolina amid battle to keep seat

Republican Senator Lindsey Graham is skipping the final debate in South Carolina Wednesday to focus on confirming Judge Amy Coney Barrett to the Supreme Court. Polls show Graham is in a tight race with..




CBS News - Published





Are govt machinery inept and incapable to file plea in time, asks SC




IndiaTimes - Published





SC frowns at inordinate delay by govt authorities in filing appeals




IndiaTimes - Published





Oracle founder donated $250,000 to Graham PAC in final days of TikTok deal

Photo by Tom Williams-Pool/Getty Images Oracle CEO Larry Ellison donated $250,000 to a super PAC supporting Sen. Lindsey Graham's (R-SC) reelection campaign as his company closed in on a coveted..




The Verge - Published





SC questions 21-year delay to arrest dowry death accused




IndiaTimes - Published





SC appoints Justice Lokur to monitor steps to curb stubble burning




IndiaTimes - Published





SC: Stay on proceedings must not exceed 6 months




IndiaTimes - Published





Democratic Senate candidates rake in money in Arizona, Kentucky, Maine and South Carolina.

Democratic candidates in competitive Senate races saw another surge in donations from July to September.




NYTimes.com - Published





SC appoints retired judge to monitor stubble burning in Punjab, Haryana, UP

The bench said that the new committee, which will monitor the stubble burning and take preventive steps, will get assistance from chief secretaries of all states.




DNA - Published





SC seeks AG's assistance on plea against MP HC bail condition of victim tying Rakhi to molester




IndiaTimes - Published





SC notice to Google, Whatsapp and Amazon on data security in UPI




IndiaTimes - Published





SC closes case filed by Iltija against detention of her mother & former CM Mehbooba Mufti




IndiaTimes - Published





Republic TV's plea not maintainable: Maha police to SC




IndiaTimes - Published





2 key Bodo accord mediators move SC, seek scrapping of governor's rule in BTC

Coronated Bodo prince Prithviraj Narayan Dev Mech and IIT graduate Thulunga Basumatary — two mediators of the Bodo peace accord signed in January — have moved the Supreme Court, seeking scrapping..




IndiaTimes - Published





New Orleans, Charleston, other Southern tourist destinations warily welcome back visitors

Cities including New Orleans; Asheville, N.C.; Charleston, S.C. depend on tourism, but COVID-19 has left some residents uneasy about visitors.




USATODAY.com - Published





Several Senate seats on the line in election, South Carolina Democrat raises record $57 million

Early voters are already heading to the polls, and will help decide a series of important U.S. Senate races. Ed O'Keefe reports on some of those races with just three weeks to go until Election Day.




CBS News - Published





Certain media reporting in pending cases forbidden, may amount to contempt, AG tells SC




IndiaTimes - Published





SC ex-judge Lokur: Sedition law being 'weaponised'




IndiaTimes - Published





Jaime Harrison's Stunning Haul

A Senate challenger in South Carolina breaks a fund-raising record: This is your morning tip sheet.




NYTimes.com - Published





Govt awaits recommendations for 4 vacancies in SC; 3 HCs without regular chief justices




IndiaTimes - Published





The top 10 performances from college football in Week 6

Running backs from North Carolina, Texas A&M and South Carolina are among the explosive performers from Week 6.




USATODAY.com - Published





Lindsey Graham in debate forum: Black people can go anywhere in South Carolina if they're 'not liberal'

"I can say without any doubt, you can be an African American and go to the Senate, you just have to share the values of our state," Graham said.




USATODAY.com - Published





Lindsey Graham Says Young Black People, Immigrants Can Go Anywhere if They're Conservative

It's a breathtaking comment ... Senator Lindsey Graham said South Carolina cops don't pose any problems for Black people and immigrants ... as longs as they're of the conservative persuasion. Graham..




TMZ.com - Published





'A miracle': How trainers' quick actions saved JV football player during a game

Two athletic trainers were on hand at a JV football game last week in South Carolina when a player collapsed. Their actions helped save his life.




USATODAY.com - Published





SC refuses to cancel CLAT 2020 or stay counselling process




IndiaTimes - Published





SC seeks NCPCR reply over its letter on sending children in care homes back to their families




IndiaTimes - Published





SC raps govt for 'nonsensical' affidavit on Tablighi coverage




IndiaTimes - Published





Rape accused can't access complaint before trial: SC




IndiaTimes - Published





Protesters can't block roads or public spaces, rules SC




IndiaTimes - Published





SC grants 10 days to Centre to file additional affidavit on plea to ban disinfection tunnels




IndiaTimes - Published





Mere inclusion in merit list does not confer right to appointment, says SC




IndiaTimes - Published





No person or group of persons can block public places to express dissent: SC on Shaheen Bagh protests

The Supreme Court on Wednesday said that no person or group of persons can block public places or carriageways to demonstrate or express dissent. The SC verdict came on a number of petitions seeking..




IndiaTimes - Published





English only way to uplift poor: Andhra to SC




IndiaTimes - Published





The Supreme Court revived a South Carolina law requiring a witness's signature on absentee ballots.

The majority, overturning lower courts' rulings that the requirement burdened the right to vote during a pandemic, made an exception for ballots cast before it acted and received within two days.




NYTimes.com - Published





Hathras incident horrible, says SC; directs UP govt to inform on steps to protect witnesses




IndiaTimes - Published





Hathras rape case: UP govt files affidavit, says SC should monitor CBI probe

The UP govt on Tuesday filed an affidavit in the SC, urging the apex court to monitor a CBI probe into the alleged gang-rape and murder of a girl in Hathras. The state govt, in its affidavit, also..




IndiaTimes - Published





Supreme Court restores witness requirement for South Carolina ballots

The high court restored a requirement that absentee ballots in South Carolina be signed by a witness.




CBS News - Published

Also reported by •NYTimes.com •USATODAY.com


Sen. Lindsey Graham and Jaime Harrison neck-and-neck in South Carolina Senate race

A new poll shows Republican Senator Lindsey Graham and Democratic challenger Jaime Harrison neck-and-neck in the Senate race in South Carolina. Jamie Lovegrove, a political reporter for The Post and..




CBS News - Published





Tejpal sexual assault case: Why can't witnesses be examined via video-conferencing, asks SC




IndiaTimes - Published





SC rejects plea seeking uniform compensation for people affected by violence




IndiaTimes - Published





SC adjourns to Oct 15 hearing on sexual harassment case against former Tehelka editor Tarun Tejpal




IndiaTimes - Published





Hathras case: Victim's family seeks SC monitored probe, refuses to undergo narco test

Speaking to Zee News, the victim's mother accused the District Magistrate (DM) of constantly pressurizing the family to change their statement.




DNA - Published





SC allows father to take four-year-old son back to US




IndiaTimes - Published





State of mind to commit crime must be visible to prove offence of abetment: SC




IndiaTimes - Published





Still Grieving Chadwick Boseman, Brother, Son, Superstar

To his brothers and his hometown in Anderson, S.C., the "Black Panther" actor, who died in August at age 43, was a friend who tried his best. "His best was incredible," his brother Kevin said.




NYTimes.com - Published





Teen asks SC to nix bail of 'rapist' dad




IndiaTimes - Published





SC: Can't cite pandemic to deny workers overtime




IndiaTimes - Published





Boeing will consolidate Dreamliner production in South Carolina as demand drops

Boeing is planning to consolidate production of its 787 Dreamliner planes at it's facility in North Charleston, South Carolina, a blow to its manufacturing center in Puget Sound. ......




WorldNews - Published





Tim Scott defends Trump's 'stand by' comments: 'He misspoke'

'If he doesn't correct it,' he added about Trump's edict to the white-supremacist Proud Boys, 'I guess he didn't misspeak.' Republican Senator Tim Scott of South Carolina defended..




WorldNews - Published





Parliamentary amendments to provisions of emergency are product of experiences: SC




IndiaTimes - Published