Ken Jennings
American game show contestant and writer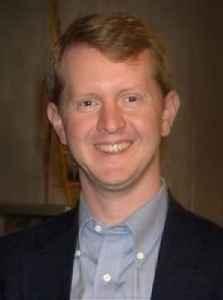 Kenneth Wayne Jennings III is an American game show contestant and author. Jennings holds the record for the longest winning streak on the U.S. game show Jeopardy! with 74; no other contestant has exceeded 20. He also held the record for the highest average correct responses per game in Jeopardy! history with 35.9 during his original run and 33.1 overall now as of 2019. That record is currently in danger of being broken by James Holzhauer -- no other contestant had exceeded 30. Jennings is also the second highest-earning contestant in American game show history. In 2004, Jennings won 74 consecutive Jeopardy! games before he was defeated by challenger Nancy Zerg on his 75th appearance. His total earnings on Jeopardy! are $3,196,300, consisting of $2,520,700 over his 74 wins, a $2,000 second-place prize in his 75th appearance, a $500,000 second-place prize in the Jeopardy! Ultimate Tournament of Champions, a $100,000 win for second-place prize in the Jeopardy! Battle of the Decades, as well as half of a $300,000 prize in the IBM Challenge, when he competed against Watson. Jennings defeated Brad Rutter in that IBM Challenge, finishing second to the computer while Rutter finished third.


James Holzhauer tops $1 million in record time on "Jeopardy!"
"Jeopardy!" champion Ken Jennings took 33 games in 2004 to reach $1 million, according to fan website thejeopardyfan.com
CBS News - Published
Ken Jennings 'gobsmacked' by 'Jeopardy!' champ James Holzhauer: 'It's absolutely insane'
"This is something I would have thought was just impossible..." "Jeopardy!" icon Ken Jennings said of champ James Holzhauer.
USATODAY.com - Published
Ken Jennings On 'Jeopardy!' Champion James Holzhauer's Strategy
James Holzhauer is the Jeopardy! champion currently putting the limits of a 30-minute game show to the test, and the show's most famous contestant has plenty to say about his current run. Ken..
Credit: Wochit News Duration: 00:32Published
'Jeopardy!' contestant James Holzhauer wins again, inches closer to Ken Jennings' record
As of Tuesday, contestant James Holzhauer had earned $566,660. This puts the professional sports gambler behind only 'Jeopardy!' legend Ken Jennings in total winnings.
USATODAY.com - Published
Search this site and the web:
You Might Like