Daytona Beach, Florida
City in Florida, United States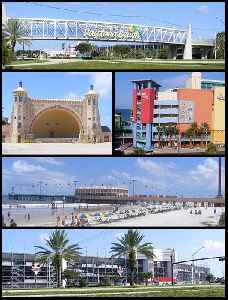 Daytona Beach is a city in Volusia County, Florida, United States. It lies approximately 51 miles (82.1 km) northeast of Orlando, 86 miles (138.4 km) southeast of Jacksonville, and 265 miles (426.5 km) northwest of Miami. As of the 2010 U.S. Census, it had a population of 61,005. It is a principal city of the Deltona–Daytona Beach–Ormond Beach metropolitan area, which was home to 600,756 people as of 2013. Daytona Beach is also a principal city of the Fun Coast region of Florida.


Daytona Beach shooting: Rap video stunt ends in tragedy

Shocking aerial footage shows a 200-people crowd gathering in Daytona Beach, Florida, in defiance of social distancing rules. A shooting also occurred nearby, sending several people to..
Credit: ODN Duration: 01:47
Published
You Might Like
Vicki Wood, Who Broke Car-Racing Gender Barriers, Dies at 101
A trailblazer in a macho world, she burned up the sand at Daytona Beach, clocking in at more than 150 miles per hour.
NYTimes.com - Published
Daytona Beach crowds block road, force closures as 5 injured in shooting
At least five people were treated for gunshot wounds after a large crowd blocked State Road A1A in Daytona Beach, Florida.  
USATODAY.com - Published
Dining, defiance, Daytona graduation: News from around our 50 states
How the COVID-19 pandemic is affecting every state
USATODAY.com - Published
During Daytona Beach spring break, coronavirus reaction varies from shrugs to fear
Tourism fallout from the coronavirus pandemic is taking its toll on spring break business at Daytona Beach in Florida.
USATODAY.com - Published
Trump serves as grand marshal for Daytona 500
President Trump served as the grand marshal for the Daytona 500 auto race and gave the command for drivers to start their engines in Daytona Beach, Florida on Sunday. (Feb. 17)  
USATODAY.com - Published
'Daytona Beach Serial Killer' Suspect Is Arrested
Police say evidence tied a man to at least four deaths between 2005 and 2016 in Daytona Beach and West Palm Beach.
NYTimes.com - Published
Also reported by •CBS News
'A serial killer off the streets': Florida man charged in woman's death linked to slayings of three others
A man arrested in the 2016 death of a woman in Palm Beach has also been genetically linked to the slayings of three women in Daytona Beach.
USATODAY.com - Published
DNA leads to arrest of "Daytona Serial Killer" suspect
Police say a man they arrested in a 2016 South Florida murder is also linked to three other killings 200 miles away
CBS News - Published
Rain, big crash help long-shot Justin Haley win NASCAR Cup Series race at Daytona
Weather forced NASCAR to end the Coke Zero Sugar 400 early, giving Justin Haley the victory in just his third Cup Series start.
USATODAY.com - Published
The Latest: Dillon starts Big One, takes out Daytona leaders
Leader Austin Dillon wrecked nearly half the field at Daytona International Speedway
USATODAY.com - Published
NASCAR at Daytona 2019: Schedule, lineup, TV and weather for Coke Zero Sugar 400
All the information you need to get ready for Saturday night's Coke Zero Sugar 400 at Daytona, the 18th race in the NASCAR Cup Series.
USATODAY.com - Published
Five questions to be answered during second half of the NASCAR Cup Series season
Saturday's Cup race at Daytona marks the midpoint of the season. It also marks the time in which playoff positioning moves to the forefront.
USATODAY.com - Published
Fireworks finale: Daytona prepares for last race in July
The July race at Daytona International Speedway is a one-of-a-kind celebration at NASCAR's most famous track
USATODAY.com - Published