KOSPI
Stock market index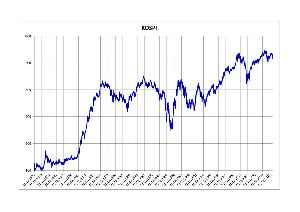 The Korea Composite Stock Price Index or KOSPI (코스피지수) is the index of all common stocks traded on the Stock Market Division—previously, Korea Stock Exchange—of the Korea Exchange. It is the representative stock market index of South Korea, like the S&P 500 in the United States.


Equities on downward swing, Reliance cracks by 1.8 pc

Equity benchmark indices closed marginally lower on Friday in line with Asian peers following a record contraction in economic data from the United States. The BSE SandP Sensex was down by 129 points..
Credit: ANI Duration: 01:17
Published
Sensex cracks by 335 points but pharma stocks outperform

Equity benchmark indices swung nearly 1 per cent lower during the afternoon session on July 30 ahead of the expiry day of monthly futures and options contracts. At the closing bell, the BSE S and P..
Credit: ANI Duration: 01:29
Published
Equity indices continue upward journey, LandT among top gainers

Equity benchmark indices swung upward for the fourth consecutive day on Tuesday with buying across several counters. The BSE SandP Sensex closed 519 points or 1.49 per cent higher at 35,430 while the..
Credit: ANI Duration: 01:10
Published
You Might Like



Shares Mixed in Asia After Wall Street Advance

Shares were mixed in Asia on Thursday, with the region's biggest market in Tokyo closed for a four-day weekend. Benchmarks rose in Hong Kong, Sydney and Shanghai but fell in Seoul and Taiwan. The..




WorldNews - Published





Asia markets slip as virus outbreaks mute hopes for rebound

TOKYO (AP) — Markets were mostly lower in Asia on Tuesday as expanding coronavirus outbreaks dimmed hopes for a global recovery, despite an overnight rally in tech shares that pushed the Nasdaq..




WorldNews - Published





Asian Shares Advance Following Upbeat U.S. Jobs Report

Tokyo's Nikkei 225 index picked up 0.3% to 22,211.89, while the Shanghai Composite index jumped 1% to 3,121.74. In South Korea, the Kospi gained 0.4% to 2,142.74, and Australia's S&P/ASX 200 rose..




WorldNews - Published





Asian Shares Advance, Tracking Wall Street Tech Rally

Asian shares were higher on Tuesday, recovering from some early losses as regional markets tracked a late rally on Wall Street led by technology shares. Japan's benchmark Nikkei 225 added 0.5% to..




WorldNews - Published




Asia Shares Skid After Wall Street Rout as Virus Cases Rise

Asian shares were moderately lower Friday after an overnight rout on Wall Street as investors were spooked by reports of rising coronavirus cases in the U.S. Fear that a so-called "second wave," is..




WorldNews - Published





Asian Shares Mostly Fall Over Pandemic, U.S. Trade Worries

Asian shares were mixed Thursday as worries about the pandemic's damage to the global economy swirled with glimmers of hope about some regions reopening gradually to business as usual. Comments by..




WorldNews - Published





Asian shares rise, echoing Wall St optimism on virus battle

TOKYO (AP) — Asian shares rose Tuesday, echoing the rally on Wall Street, amid a few glimmers of hope that the coronavirus pandemic could be slowing. Japan's benchmark Nikkei 225 gained 2.0% to..




WorldNews - Published





Asian stocks rise after Wall Street health-care-led rally

Asian shares surged Tuesday after a rally in U.S. stocks, mostly spurred by health care companies' announcements of developments that could aid in the coronavirus outbreak. Japan's benchmark Nikkei..




WorldNews - Published





Japan, China Shares Rise as Investors Bet on Stimulus Measures

The major Asia-Pacific stock indexes finished mixed but mostly higher on Friday – once again led by a sharp rise in Japan while Australia suffered another beat down. The theme remained the same...




WorldNews - Published





Asian Shares Drop as Virus Fears Grip Markets Again

Asian shares slipped Friday as fears about the virus outbreak once again dominated financial markets. Japan's benchmark Nikkei dived 2.7% to finish at 20,749.75. Australia's S&P/ASX 200 lost 2.8% to..




WorldNews - Published





Asian Shares Mostly Up After Signing of China-U.S. Trade Pact

Share prices were mostly higher Thursday in moderate trading in Asia after the U.S. and China signed a preliminary trade agreement that investors hope will bring better relations between the two..




WorldNews - Published





Asian shares rise ahead of US-China 'Phase 1' trade deal

TOKYO (AP) — Asian shares mostly followed Wall Street higher on Tuesday amid optimism that a trade deal between the U.S. and China will be a boon for the regional economy. Japan's benchmark Nikkei..




WorldNews - Published





Asian Shares Mostly Lower as U.S.-China Deal Optimism Fades

Asian shares were mostly lower Wednesday after Wall Street logged fresh record highs as investor optimism faded about an interim U.S.-China trade deal announced last week. Japan's benchmark Nikkei..




WorldNews - Published





Asian shares rise after Wall Street rally on China reports

TOKYO (AP) — Asian shares rose Tuesday following a rally on Wall Street that sent the major indexes to record highs, cheered by surprisingly strong economic reports out of China. Japan's benchmark..




WorldNews - Published




Asian shares mixed as Fed leaves rates unchanged

TOKYO (AP) — Asian shares were mixed Thursday after a wobbly day on Wall Street following the Federal Reserve announcement it would leave interest rates unchanged. Japan's benchmark Nikkei 225..




WorldNews - Published





Asian stocks pulled higher by Wall St jobs rally but China caution prevails

SYDNEY: Asian stocks edged up on Monday, catching some of Wall Street's momentum after surprisingly strong US jobs data although regional gains were capped by concerns about China's economy due to the..




WorldNews - Published





Asian markets mixed after US shares forge new highs

BEIJING (AP) — Shares were mostly higher in Asia on Wednesday after a fresh set of record highs on Wall Street, spurred by encouraging signs on trade talks between the U.S. and China. Japan's..




WorldNews - Published





SoftBank stock falls after terrible earnings report

Hong Kong (CNN Business)Shares in SoftBank fell as much as 4% in Tokyo on Thursday after the company reported worse than expected losses for the third quarter. Japan's broader Nikkei (N225) was mostly..




WorldNews - Published





Tech stocks rally in Asia after news that a Huawei reprieve could come soon

Hong Kong (CNN Business)Asian markets edged up on Monday, following last week's gains on Wall Street as well as news of a potential reprieve for Huawei. South Korea's Kospi (KOSPI) rose 1.2%,...




WorldNews - Published





Asian shares fall back after China reports economy weakened

BANGKOK (AP) — Share prices retreated in Asia after China reported Friday that its economy grew at an annual rate of 6.0% in the latest quarter. The Shanghai Composite index gave up early gains,..




WorldNews - Published





Stocks close slightly lower after choppy day on Wall Street

BANGKOK (AP) — Shares were mixed in Asia on Tuesday after a wobbly day of trading on Wall Street. Japan's Nikkei 225 index jumped 1.8% to 22,194.94 as Tokyo reopened from a public holiday and..




WorldNews - Published





Asian shares mostly higher after rise on Wall Street

TOKYO (AP) - Asian shares were mostly higher Wednesday, cheered by a rise on Wall Street amid some signs of easing tensions between the U.S. and China on trade issues. Japan's benchmark Nikkei 225 rose..




WorldNews - Published





Asian Shares Advance After Fed Signals U.S. Rate Cut Likely

Shares rose Thursday in Asia, tracking gains on Wall Street after Federal Reserve Chairman Jerome Powell suggested the U.S. central bank is ready to cut interest rates for the first time in a decade...




WorldNews - Published





Asian markets mixed, pausing ahead of Fed chief testimony

TOKYO (AP) — Asian shares were mixed Wednesday in cautious trading ahead of closely watched congressional testimony by the U.S. Federal Reserve chairman. Japan's benchmark Nikkei 225 edged down..




WorldNews - Published





Asian shares advance ahead of Trump-Xi meet at Osaka G-20

BANGKOK — Shares were mostly higher in Asia on Monday as investors watched for movement in the China-U.S. trade dispute ahead of a meeting between Presidents Donald Trump and Xi Jinping planned for..




WorldNews - Published





Asian shares up on trade optimism as Trump hints of Xi talks

TOKYO — Asian shares were mostly higher Wednesday on optimism about trade after President Donald Trump said he will talk with the Chinese leader later this month in Japan. Japan's benchmark Nikkei..




WorldNews - Published





Asian shares mostly higher as investors look ahead to Fed

TOKYO — Asian shares were mostly higher Monday amid a wait-and-see attitude about the direction of interest rates and the trade dispute between the U.S. and China. Japan's benchmark Nikkei 225 gained..




WorldNews - Published





Asian shares skid after technology sell-off hits Nasdaq

BANGKOK (AP) — Shares were mostly lower in Asia on Tuesday after a tumultuous session for tech shares on Wall Street. Japan's Nikkei 225 index shed 0.1% to 20,384.43, while Hong Kong's Hang Seng..




WorldNews - Published