Colorado Avalanche
Hockey team of the National Hockey League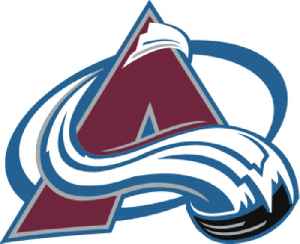 The Colorado Avalanche, known colloquially as the Avs, are a professional ice hockey team based in Denver, Colorado. They are members of the Central Division of the Western Conference of the National Hockey League (NHL). The Avalanche are the only team in their division not based in the Central Time Zone; the team is situated in the Mountain Time Zone. Their home arena is Pepsi Center. Their general manager is Joe Sakic.


Rantanen scores OT winner, Avs beat Flames 3-2 in Game 4
Mikko Rantanen scored 10:23 into overtime after tying the game with a goal late in regulation and the Colorado Avalanche rallied for a 3-2 win over the Calgary Flames on Wednesday night to take a 3-1..
USATODAY.com - Published
Avs defenseman Cale Makar scores playoff goal in NHL debut
Colorado Avalanche defenseman Cale Makar scored a playoff goal in his NHL debut during Game 3 against Calgary, his favorite childhood team
USATODAY.com - Published
Makar shines in NHL debut, Avs beat Flames 6-2 for 2-1 lead
Nathan MacKinnon scored twice in the first period and set up newly signed rookie Cale Makar's first NHL goal in his debut as the Colorado Avalanche routed the Calgary Flames 6-2 to take a 2-1 lead in..
USATODAY.com - Published
From Frozen Four to NHL playoffs: Cale Makar signs with Avs
The Colorado Avalanche have signed defenseman Cale Makar to a three-year deal a day after his Massachusetts squad lost in the Frozen Four championship game
USATODAY.com - Published
MacKinnon scores in OT, Avalanche beat Flames to even series
Nathan MacKinnon scored 8:27 into overtime and the Colorado Avalanche tied their first-round series with the Calgary Flames at a game apiece with a 3-2 win
USATODAY.com - Published
Grubauer shines down the stretch to propel Avs into playoffs
Goaltender Philipp Grubauer has stepped in and helped save the Colorado Avalanche season
USATODAY.com - Published
You Might Like