Judy Garland
American actress, singer and vaudevillian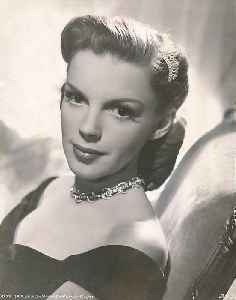 Judy Garland was an American actress, singer, and dancer. During a career that spanned 45 years, she attained international stardom as an actress in both musical and dramatic roles, as a recording artist, and on the concert stage. Respected for her versatility, she received an Academy Juvenile Award, a Golden Globe Award, a Special Tony Award, and was the first woman to win the Grammy Award for Album of the Year for her 1961 live recording Judy at Carnegie Hall.


You Might Like
Today in History for June 22nd
Highlights of this day in history: France falls to Nazi Germany on what becomes a day of several key events during World War II; Joe Louis knocks out Max Schmeling in their boxing rematch; Entertainers..
USATODAY.com - Published
Renee Zellweger wins best actress Oscar for 'Judy'
Renee Zellweger was crowned best actress at the Oscars on Sunday for her portrait of Hollywood legend Judy Garland in "Judy," a biographical drama exploring the singer's personal and professional..
Reuters - Published
What the new Judy Garland biopic and 'Sid & Judy' documentary tell us about her life
Fifty years after Judy Garland's death, the biopic "Judy" and Showtime documentary "Sid & Judy" answer these burning questions about the star's life.
USATODAY.com - Published
Zellweger shrugs off 'Judy' Oscar talk
At the London premiere of new biopic "Judy," star Renee Zellweger says she didn't think of winning an Oscar while prepping for the part and is happy that the film celebrates Judy Garland's life. (Oct...
USATODAY.com - Published
Samsung foldable phone, 'Judy' hits theaters, Global Climate Strike: 5 things to know Friday
Samsung's foldable phone goes on sale across the country, "Judy" hits theaters nationwide and more things to start your Friday morning right.
USATODAY.com - Published
Renee Zellweger opens up about being 50, playing Judy Garland: 'I am at a really cool age'
Renee Zellweger is back on the big screen as an Oscar contender in 'Judy,' in which she connected with the music and life of Judy Garland.
USATODAY.com - Published
"Sunday Morning" Full Episode 9/22
This week "Sunday Morning," hosted by Jane Pauley, features Michelle Miller chatting with the stars of the hit series "God Friended Me." Plus: Tracy Smith interviews film composer John Williams and..
CBS News - Published
Renée Zellweger on playing Judy Garland
Lee Cowan interviews Oscar-winning actress Renée Zellweger, who after years off-screen is back, starring as Judy Garland struggling to make a career comeback in London as she battled addiction, in the..
CBS News - Published
Zellweger 'emotional' about TIFF standing ovation
Renee Zellweger says the Toronto International Film Festival response to her movie "Judy," in which she plays legendary actress Judy Garland, was an "overwhelming" experience. (Sept. 20)  
USATODAY.com - Published
Toronto 2019: Renee Zellweger gets standing ovation for Judy Garland role
The actress's performance as Judy Garland is warmly received at the Toronto Film Festival.
BBC News - Published
Renée Zellweger lived with Judy Garland in her head for two years. Why it made her cry
Renée Zellweger was consumed with getting into character as tragic Judy Garland, a star whose vulnerability would "make you cry."
USATODAY.com - Published