Bangkok
Capital of Thailand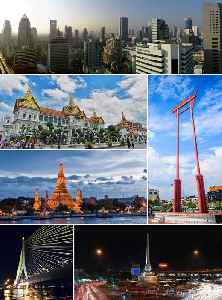 Bangkok is the capital and most populous city of Thailand. It is known in Thai as Krung Thep Maha Nakhon or simply Krung Thep. The city occupies 1,568.7 square kilometres (605.7 sq mi) in the Chao Phraya River delta in central Thailand and has a population of over eight million, 12.6 percent of the country's population. Over fourteen million people lived within the surrounding Bangkok Metropolitan Region at the 2010 census, making Bangkok the nation's primate city, dwarfing Thailand's other urban centres in both size and importance to the national economy.


Thai protesters mock government with cartoon song

Hundreds of young protesters took to the streets of Bangkok on Sunday running around the city's Democracy Monument and singing a cartoon theme with modified lyrics as they called on the government to..
Credit: Reuters Studio Duration: 01:15
Published
CM Soren attends wedding of archer Deepika Kumari in Ranchi

Jharkhand Chief Minister Hemant Soren on June 30 attended wedding ceremony of ace archer Deepika Kumari in Ranchi. She exchanged wedding vows with exceptional archer Atanu Das who created hat-trick of..
Credit: ANI Duration: 02:29
Published
Bangkok's heritage spaces under threat

There is growing concern in Thailand of the erosion of Bangkok's heritage by rapid urbanisation
Credit: Al Jazeera STUDIO Duration: 02:34
Published
Thai stray dogs get free haircuts as lockdown eases

Volunteer dog groomer Kriengkai Thatwakorn is happy to be returning to dog shelters across Thailand to provide free hair cuts for stray dogs, after a domestic travel ban was lifted amid an easing in..
Credit: Reuters Studio Duration: 01:30
Published
You Might Like



Thai gay activists raise Pride flags in Bangkok

The rally in Thailand's capital is the latest in a series of youth-led pro-democracy protests.




BBC News - Published





Philippine shares lag as vaccine view lifts Asia

The Philippines trailed gains for Asia's emerging stock and currency markets on Tuesday, as a surge in local coronavirus cases gnawed at investor sentiment while others cheered promising data for..




WorldNews - Published





AP Top Stories July 18 P

Here are the top stories for Saturday, July 18: John Lewis, lion of civil rights and Congress, dies at 80; Arrivals for second day of EU summit; Thousands hold anti-government rally in Bangkok; Heavy..




USATODAY.com - Published





Asia Today: Thailand lets in some foreigners, opens schools

BANGKOK (AP) — Thailand has begun a fifth phase of relaxations of COVID-19 restrictions, allowing the reopening of schools and high-risk entertainment venues such as pubs and massage parlors that had..




WorldNews - Published





How to plan the most unforgettable bachelor party in Bangkok

Take your friends...




WorldNews - Published





Asian shares mixed as US reports surging virus cases

BANGKOK — Shares were mixed Monday in Asia as China and South Korea reported lower numbers of new coronavirus cases, while new infections in the U.S. and worldwide surged sharply. Tokyo, Hong Kong..




WorldNews - Published





Thai exile's kidnapping sparks protests over "missing" critics

Protests flared in Bangkok on Monday against the suspected kidnapping of a Thai activist in Cambodia which has reignited protests against Thailand's military-royalist elite, with some online..




Reuters - Published





Wuhan to test all residents after handful of new infections

BANGKOK (AP) — Authorities in the Chinese city where the coronavirus pandemic began were moving forward Wednesday with efforts to test all 11 million residents for the virus within 10 days after a..




WorldNews - Published





Plastic piles up in Thailand as pandemic efforts sideline pollution fight

Thailand began the year with a ban on single-use plastic bags that Bangkok office worker Nicha Singhanoi hoped would cut back the waste that puts her country among the world's top five choking the..




Reuters India - Published

Also reported by •Reuters


Clawing back normality: Bangkok cat cafe reopens after virus shutdown

As Thailand's capital cautiously reopens many restaurants shuttered over coronavirus fears, the feline "employees" of the Caturday Cafe are back at work.




Reuters - Published





North Korea praises China for getting the pandemic under control

Bangkok: North Korea leader Kim Jong Un sent a personal message to Chinese President Xi Jinping praising what he described as China's success in getting its coronavirus epidemic under control. The..




WorldNews - Published





Thailand's pet groomer reopens as new coronavirus cases slow

Chewy and Miley, both two-year-old Schnauzer dogs, are getting their hair cut at a groomer in Bangkok for the first time since the new coronavirus outbreak began in Thailand in January.




Reuters - Published





Bangkok reopens with stylists in scrubs, plastic screens between diners

Businesses reopening in Bangkok on Monday after weeks of near lockdown were taking intense precautions to prevent new outbreaks of the coronavirus.




Reuters - Published





Bangkok's street food hub of Chinatown comes alive as lockdown eases

Thailand has loosened restrictions on some businesses after progress in containing the coronavirus, bringing life back to the streets, including the hawker-food heaven of Bangkok's Chinatown.




Reuters - Published





Stylist gives free haircuts to Thai health workers

A hair stylist in Thailand is boosting the morale of frontline medical workers fighting the new coronavirus by giving free haircuts at hospitals in Bangkok. (May 1)  




USATODAY.com - Published





Thailand's coronavirus medics feel strain even as cases decline

For Bangkok nurse Kanjana Kamoun, the coronavirus Intensive Care Ward is not only where she works all day, it is where she thinks she is when she wakes up in the middle of the night, anxious and..




Reuters - Published





Young Thais join 'Milk Tea Alliance' in online backlash that angers Beijing

Young Thais have banded together to pillory the Chinese embassy in Bangkok over a feud with Thai celebrities, part of a growing online movement to show solidarity with Taiwan and Hong Kong that has..




Reuters - Published





Thai grocery trucks get new life from coronavirus shutdown

Cries of "Food, here comes the food," echoed through a Bangkok neighbourhood as Wannapa Yarnsarn's truck arrived with everything from mangoes and dried chillies to fresh pork for sale.




Reuters - Published





Thailand reports 34 new coronavirus cases, one more death

Thailand on Tuesday reported 34 new coronavirus cases and a death of a 52-year old Thai female bus driver in Bangkok.




Reuters - Published

Also reported by •WorldNews


Thais queue for booze before 10-day alcohol ban in Bangkok

People queued to buy wine, beer and spirits in Bangkok on Thursday after the Thai capital announced a 10-day ban on alcohol sales to try to limit social activities before the traditional new year and..




Reuters - Published





Asian shares mostly higher, lockdown feud drags Tokyo lower

BANGKOK (AP) — Shares were mostly higher in Asia on Thursday though Japan's benchmark fell as local leaders sparred with Prime Minister Shinzo Abe's government over measures to contain the..




WorldNews - Published





Accused of 'piracy', U.S. denies diverting masks bound for Germany

The United States had no knowledge of a shipment of face masks bound for Germany that officials in Berlin have accused it of diverting from an airport in Bangkok, a spokeswoman for the U.S. embassy in..




Reuters - Published





Goodbye, green: Bangkok laments park closures in virus battle

For many residents of bustling Bangkok, a daily walk or run through central Lumpini Park is considered a sanity saver, and especially these days as most people remain indoors during the coronavirus..




Reuters - Published





Bangkok to close parks as Thailand's coronavirus cases rise

The Thai capital of Bangkok will close all parks as it tightens measures to rein in a coronavirus pandemic by limiting people's movements, a city hall spokesman said on Wednesday.




Reuters - Published





Last flight to Bangkok: 'If I die, I want to die in my country'

As airlines worldwide cut flights due to the coronavirus outbreak, the last service from Singapore to Bangkok departed on Saturday with only a few dozen passengers, mostly Thai citizens desperate to..




Reuters - Published




Thai nationals take last flight from Singapore to avoid being stranded

As airlines worldwide cut flights due to the coronavirus outbreak, the last service from Singapore to Bangkok departed on Saturday with only a few dozen passengers, mostly Thai citizens desperate to..




Reuters - Published





Thailand reports 50 new coronavirus infections for total of 322

Thailand reported 50 new coronavirus infections, taking its tally to 322, a health official said on Friday, with the majority located in Bangkok, the capital.




Reuters - Published





Two bombs explode outside Thai government office in Yala, wounding 18

Bangkok: Two bombs exploded in front of a government office in Thailand's insurgency-hit southern Yala province on Tuesday, wounding 18 people, a security official said. The explosions took place in..




WorldNews - Published





Asian markets in turmoil again

Asian shares plunged, then recovered slightly as Friday the 13th brought still more turmoil to markets reeling from uncertainty over the coronavirus crisis. Benchmarks in Japan, Thailand and India sank..




WorldNews - Published





Student spends $20k to make class on time

Karen Ji spent 16 days in Bangkok to get around Australia's ban on arrivals from mainland China.




BBC News - Published





Passenger plane lands in Moscow after being diverted over cracked window - RIA

A Boeing-777 passenger plane landed safely at Moscow's Vnukovo airport on Friday after it was forced to turn around en route to Bangkok because of a cracked cockpit window, the RIA news agency cited..




Reuters - Published





Asian markets slump as new coronavirus cases jump outside China

BANGKOK — Shares skidded in Asia on Monday after reports of a surge in new virus cases outside China. The decline followed a sell-off Friday on Wall Street. South Korea's Kospi 180721, -3.19%..




WorldNews - Published





Hundreds join protest against ban of opposition party in Thailand

Hundreds of students and supporters held a protest in Bangkok on Saturday against a court decision dissolving Thailand's second largest opposition party, less than a year after an election that ended..




Reuters - Published





Kuwait Airways under scrutiny after refusal to fly Israeli from London Heathrow

The Lawfare Project has filed a new complaint again Kuwait Airways for continued discrimination after Orna Schneider, an Israeli woman, was barred from traveling from London Heathrow to Bangkok..




WorldNews - Published





Thai court orders popular opposition party dissolved

BANGKOK (AP) — Thailand's Constitutional Court on Friday ordered the popular opposition Future Forward Party dissolved, declaring that it violated election law by accepting a loan from its leader...




WorldNews - Published





Thai police arrest gunman for killing ex-wife at shopping mall

A man killed his ex-wife and wounded another person at a shopping center in Bangkok on Tuesday, police said, just 10 days after a mass shooting at another mall in Thailand's northeast.




Reuters - Published





Round trip to Bangkok will now cost you just Rs 13,000

The cheapest return fare on flight from Mumbai departing to Bangkok this week was Rs 12,300 and from Delhi Rs 13,400. In comparison, a Mumbai-Bagdogra was Rs 13,500 and Delhi-Bagdogra Rs 11,000. Ditto..




IndiaTimes - Published





Gunman kills ex-wife at Bangkok shopping mall days after mass shooting

A man killed his ex-wife and wounded another person at a shopping center in Bangkok on Tuesday, police said, 10 days after a mass shooting at another mall in Thailand's northeast.




Reuters - Published




Thai villagers turn to court in protest over Mekong dam in Laos

Villagers along the Mekong River have asked a court in Bangkok on Friday to slow down Thai purchases of electricity from a hydropower dam in Laos, which they say has harmed their livelihoods since it..




Reuters - Published





SpiceJet Bangkok-Delhi passenger tests negative for Coronavirus




IndiaTimes - Published





Thailand to help virus-hit tourism with tax cuts and loans

BANGKOK — Thailand will introduce a package of measures next month to help its tourism industry, reeling from the outbreak of 2019-nCov coronavirus, Deputy Prime Minister Somkid Jatusripitak said on..




WorldNews - Published





Israel's El Al Airlines suspends Hong Kong flights over coronavirus

El Al Israel Airlines is suspending its Hong Kong flights and will be reducing flights on its Bangkok route in the wake of the coronavirus outbreak, the company said on Wednesday.




Reuters - Published




Not just Chinese travellers staying away as virus shakes Asian tourism

As a driver of one of Thailand's renowned "tuk tuk" motorised rickshaws, Amonchai Laodoungdee is used to busy days ferrying tourists around Bangkok, but on Tuesday he waited for four hours at a..




Reuters - Published




Thai soldier kills at least 17 in shooting rampage

BANGKOK — A Thai soldier killed at least 17 people and wounded more than 20 in a shooting rampage on Saturday in the city of Nakhon Ratchasima in the north east of Thailand and is still at large in a..




WorldNews - Published

Also reported by •BBC News


At least 12 killed after soldier opens fire in shopping centre in Thailand

The Thai soldier opened fire on the shopping centre in the city of Korat, north of Bangkok At least 12 people have been killed and 'many' have been injured after a soldier went on a shooting..




WorldNews - Published





Bottles for blessings: Thai Buddhist temple recycles plastics into robes

At a Buddhist temple south of Bangkok, a monk watches as a machine presses down on thousands of water bottles, before a giant bale of crushed plastic rolls out with a thud.




Reuters - Published





Thailand sees apparent success treating coronavirus with drug cocktail

Thai doctors have seen success in treating severe cases of the new coronavirus with combination of medications for flu and HIV, with initial results showing vast improvement 48 hours after applying the..




WorldNews - Published





China sends two flights to bring back Wuhan citizens from Thailand and Malaysia

China's aviation authority has dispatched two Xiamen Airlines flights to bring back Wuhan citizens to the Chinese city from Bangkok in Thailand and Kota Kinabalu in Malaysia, it said on its website on..




Reuters - Published