Keith Richards
British songwriter, guitarist of The Rolling Stones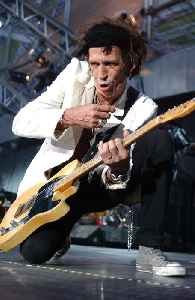 Keith Richards is an English musician, singer, and songwriter, best known as the co-founder, guitarist, secondary vocalist, and co-principal songwriter of the Rolling Stones. Rolling Stone magazine called Richards the creator of "rock's greatest single body of riffs" on guitar and ranked him fourth on its list of 100 best guitarists in 2011, and the magazine lists fourteen songs that Richards wrote with the Rolling Stones' lead vocalist Mick Jagger on its "Rolling Stone's 500 Greatest Songs of All Time" list.


Nasa names moving rock on Mars after Rolling Stones
Nasa has honoured the Rolling Stones by naming a small Martian rock after the London band. The US space agency decided to call the golf ball-sized rock 'Rolling Stones Rock' after it appeared to move..
WorldNews - Published
Mick Jagger in top form as Rolling Stones kick off tour at Soldier Field
Jagger was a whirling dervish on the expansive, no-gimmicks stage, getting in more miles than a marathoner as he took full advantage of an 80-foot-or-so runway leading to a smaller auxiliary stage. The..
WorldNews - Published
Ronnie Wood sketches the hands of Rolling Stones
The guitarist turns artist with a new collection of four prints, each depicting the hands of one of his bandmates. Rough cut (no reporter narration).
Credit: Reuters Studio Duration: 01:16Published
The Bittersweet Symphony dispute is over
Richard Ashcroft says Mick Jagger and Keith Richards have relinquished their claim on the song.
BBC News - Published
On This Day: 10 May 1967
In 1967, crowds greeted Mick Jagger and Keith Richards outside court as they faced drug possession charges. (May 10)
USATODAY.com - Published
Keith Flint funeral: Prodigy thanks fans for 'our brother Keef's' send-off
Thousands lined the streets of Braintree, Essex, for the funeral of the late musician.
BBC News - Published
Search this site and the web:
You Might Like