Midwestern United States
One of the four census regions of the United States of America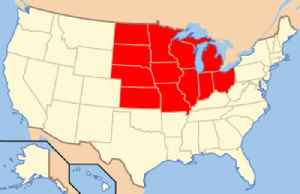 The Midwestern United States, also referred to as the Middle West, or simply the Midwest, is one of four census regions of the United States Census Bureau. It occupies the northern central part of the United States. It was officially named the North Central Region by the Census Bureau until 1984. It is located between the Northeastern United States and the Western United States, with Canada to its north and the Southern United States to its south.


US COVID-19 Resurgence Is Coming To South, Midwest

A resurgence in coronavirus infections has rocked the US South and West. It is now making its way to Midwestern states, according to reports at CNN. Anthony Fauci is the head of the National Institute..
Credit: Wochit News Duration: 00:31
Published
You Might Like



Schools Debate Closing as Students and Staff Test Positive

As schools in the South and the Midwest reopen this week, officials must decide what steps to take as staff members and students test positive.




NYTimes.com - Published





Live Coronavirus Updates: Tracking Global News, Cases and Deaths

Hard-hit Florida faces hurricane season. The virus is picking up speed in the Midwest, and in other states that thought they had already seen the worst of it.




NYTimes.com - Published





After Plummeting, the Virus Soars Back in the Midwest

States like Missouri, Illinois and Wisconsin are riding a frustrating seesaw during the pandemic, with new coronavirus cases rising again after apparent progress.




NYTimes.com - Published





Video shows Minnesota tornado, damage

Severe storms in parts of the Midwest produced at least one powerful tornado that damaged farms and killed one person and injured two others in western Minnesota. (July 9)  




USATODAY.com - Published





Remnants of Cristobal to merge with another storm, wallop upper Midwest with rain, wind

The remnants of what was Tropical Storm Cristobal walloped portions of the Midwest on Tuesday, unleashing downpours and bringing gusty winds.  




USATODAY.com - Published





Michigan governor largely rescinds lockdown, retailers to reopen

Michigan Governor Gretchen Whitmer on Monday moved to further reopen the Midwest state's economy, largely rescinding a stay-at- home order in place since March and allowing retailers and restaurants to..




Reuters - Published




Exclusive: Poll signals strengthening support for Biden over Trump in three battleground states

((This April 22 story has been corrected to remove references to Midwest in headline, paragraphs 1,7 and 10))




Reuters - Published




More U.S. states make plans to reopen; California holds firm

More states in the U.S. South and Midwest signaled readiness on Wednesday to reopen their economies in hopes the worst of the coronavirus pandemic had passed, but California's governor held firm to..




Reuters - Published




Midwest states to partner on reopening economies

Wisconsin's governor and six others in the Midwest say they'll coordinate on reopening their economies. The other states are Michigan, Ohio, Minnesota, Illinois, Indiana and Kentucky. (April 16)  




USATODAY.com - Published





U.S. Midwest governors to coordinate reopening economies battered by coronavirus

Governors of seven U.S. mostly Midwestern states on Thursday said they will work in close coordination to reopen their economies battered by efforts to contain the coronavirus, echoing similar moves..




Reuters - Published





Seven governors in U.S. Midwest to work together to reopen their economies

Governors in seven U.S. Midwest states on Thursday said they will work in close coordination to reopen their economies battered by efforts to contain the coronavirus, echoing similar moves made by 10..




Reuters - Published





U.S. Midwest exploring cooperation around reopening as coronavirus eases: Illinois officials

U.S. Midwest governors are talking about regionally cooperating to reopen their economies as the coronavirus pandemic begins to ease, echoing a similar approach being taken by states on the East and..




Reuters - Published





U.S. Death Toll – 20,000 – Overtakes Italy's as Midwest Braces

The U.S. death toll from the coronavirus eclipsed Italy's for the highest in the world at over 20,000, as Chicago and other cities across the Midwest braced for a potential surge in victims and moved..




WorldNews - Published





Holdout States Resist Calls for Stay-at-Home Orders: 'What Are You Waiting For?'

A small number of states in the Midwest and the South are under growing pressure to order all residents to stay at home to fight the coronavirus.




NYTimes.com - Published





Severe storms, tornadoes likely to erupt in Midwest

In all, nearly 30 million people may be at risk for severe thunderstorms at some point today, AccuWeather said.




USATODAY.com - Published




U.S. forecasters see widespread spring flooding but less than 2019

U.S. government forecasters predict widespread flooding this spring in 23 states from the Northern Plains to the Gulf Coast, particularly in parts of North Dakota, South Dakota and Minnesota, but not..




Reuters - Published





Mideast states must share more information on coronavirus cases: WHO

The World Health Organization (WHO) said on Wednesday that Middle East states needed urgently to offer more information about coronavirus cases to help bolster the fight against the disease across the..




Reuters - Published




Mideast states not communicating enough about virus: WHO

The World Health Organization (WHO) said on Wednesday that some information about coronavirus cases was being "insufficiently communicated" by Middle East states.




Reuters - Published





Midwest farmers face a crisis. Hundreds are dying by suicide.

More than 450 farmers killed themselves across nine Midwestern states from 2014 to 2018. Meanwhile, calls to Farm Aid's crisis hotline soar.




USATODAY.com - Published





On the trail: Biden launches biggest ad blitz of his campaign, Sanders attacks amid 'bloodbath' warning

U.S. Democratic presidential candidates Joe Biden and Bernie Sanders campaigned in the Midwest on Saturday, as the two prepare for a showdown in Michigan, Missouri and four other nominating contests..




Reuters - Published





On the trail: Biden calls for Democratic unity, warns against 'bloodbath,' Sanders attacks

U.S. Democratic presidential candidates Joe Biden and Bernie Sanders campaigned in the Midwest on Saturday, as the two prepare for a showdown in Michigan, Missouri and four other nominating contests..




Reuters - Published





On the trail: Sanders goes on attack, Biden warns against 'bloodbath' fight as next contests loom

U.S. Democratic presidential candidates Joe Biden and Bernie Sanders will campaign in the Midwest on Saturday, as the two prepare for a showdown in Michigan, Missouri and four other nominating contests..




Reuters - Published




On the trail: Sanders and Biden turn to the Midwest as next round of contests loom

U.S. Democratic presidential candidates Joe Biden and Bernie Sanders will campaign in the Midwest on Saturday, as the two prepare for a showdown in Michigan, Missouri and four other nominating contests..




Reuters - Published





Bernie Sanders Cancels Mississippi Rally, Shifting Focus to Michigan

The decision suggests that the Sanders campaign is largely ceding another Southern state to Joseph R. Biden Jr. and going all-in on the Midwest instead.




NYTimes.com - Published





Super Tuesday triumph for Biden sets up one-on-one battle against Sanders

A resurgent Joe Biden rolled to victories across the South, Midwest and New England on the biggest day of voting in the U.S. Democratic presidential nomination campaign, setting up one-on-one battle..




Reuters - Published




Moderate Klobuchar's 'stealth campaign' for U.S. presidency comes to an end

Amy Klobuchar, a U.S. senator from Minnesota whose wit and straightforward Midwestern style won key endorsements and bolstered her long-shot campaign, is ending her bid for the Democratic presidential..




Reuters - Published




After rising from relative obscurity to become a viable White House candidate, Pete Buttigieg ends his campaign

The mayor of a mid-size Midwestern town rose from relative political obscurity to become a viable candidate for the White House.




USATODAY.com - Published





Chicago dodges heavy snow but the Midwest may see some of the biggest snowfalls this season

A blast of bitter cold air from Canada will send temperatures plummeting as far south as Atlanta. Meanwhile, Chicago dodged heavy snow.  




USATODAY.com - Published





Snow: ✅ Sled: ✅ Thrills: ✅ You Get the Picture.

Other parts of the country groan at the arrival of snow, but some people in the Midwest cheer for it. Sledding is the rare pursuit that has changed little in decades.




NYTimes.com - Published





Chicago could see biggest snow of the season as winter storm targets Midwest, Northeast

A winter storm will bring snow to portions of the Plains, Midwest and Northeast this week, likely disrupting travel and closing schools.




USATODAY.com - Published




WA cop arrested over fatal shooting

A police officer has been arrested as a suspect after a troubled Aboriginal woman was shot dead in Western Australia's Mid West region last year.




SBS - Published





Airport worker stays positive in Midwest cold snap

Midwest airport worker says layers and being mentally prepared helps him deal with the bitter cold. Wind chills were around minus 20 degrees in Milwaukee Friday morning. (Feb. 14)  




USATODAY.com - Published





Klobuchar stops in Cedar Rapids on eve of caucus

Democratic presidential candidate Amy Klobuchar plays up her Midwestern roots during a campaign stop in Cedar Rapids on the eve of the Iowa caucuses (Feb. 2)  




USATODAY.com - Published





Klobuchar claims path to the White House is through the Midwest.

Senator Amy Klobuchar summed up her final pitch with a geographic appeal.




NYTimes.com - Published





Winter Storm That Dumped Snow in the Midwest Is Headed for the Northeast

Temperatures in the Twin Cities area are expected to fall below zero Saturday night, while parts of New Jersey can expect to see several inches of snow, meteorologists said.




NYTimes.com - Published





Winter storm slams Midwest

The National Weather Service says a winter storm will create hazardous travel conditions from the Plains into the Northeast through the weekend. (Jan. 17)  




USATODAY.com - Published





Busch beer drinkers get $1 back for every inch of snow in seven Midwest cities with Snow Day promotion

Busch will reduce beer prices by $1 per inch of snow in seven select cities including Des Moines, Iowa and Green Bay, Wisconsin through March 21.




USATODAY.com - Published





'Hazardous' travel ahead: Weekend winter storm to wallop Midwest and Northeast with snow and ice

A winter storm will dump snow and ice across a wide swath of the northern U.S. on Friday and into the weekend.  




USATODAY.com - Published





11 dead as tornadoes, heavy rain, wicked winds lash southern US, Midwest

A devastating round of storms that included several tornadoes led to the deaths of 11 people in the southern U.S. and Midwest over the weekend.




USATODAY.com - Published




Storms sweep southern US, Midwest as death toll rises to 11

HOUSTON: Severe storms sweeping across southern portions of the US and up into the Midwest were blamed on Saturday in the deaths of at least 11 people, including two first responders, as high winds,..




WorldNews - Published





Starbucks adds new Almondmilk Honey Flat White and Coconutmilk Latte to the permanent menu

Starbucks' new Almondmilk Honey Flat White and Coconutmilk Latte are now available nationwide while the new Oatmilk Honey Latte is a Midwest drink.




USATODAY.com - Published





Mysterious drones are flying around the Midwest, Great Plains and no one has answers

Various companies and government agencies have come forward claiming the drones don't belong to them including Amazon.




USATODAY.com - Published