Philadelphia
Largest city in Pennsylvania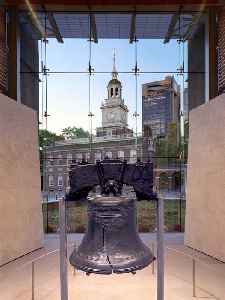 Philadelphia, colloquially Philly, is the largest city in the U.S. state of Pennsylvania, and the sixth-most populous U.S. city with a 2019 estimated population of 1,584,064. Since 1854, the city has had the same geographic boundaries as Philadelphia County, the most populous county in Pennsylvania and the urban core of the eighth-largest U.S. metropolitan statistical area, with over 6 million residents as of 2017. Philadelphia is also the economic and cultural anchor of the greater Delaware Valley, located along the lower Delaware and Schuylkill Rivers, within the Northeast megalopolis. The Delaware Valley's population of 7.2 million ranks it as the eighth-largest combined statistical area in the United States.


Who Is Kristen Welker - Moderator Of Third Presidential Debate

On Thursday, Joe Biden and Donald Trump will face off in the final debate. Kristen Welker, a veteran NBC News journalist, will moderate this debate. Welker will become the second Black woman to..
Credit: Wochit News Duration: 00:27
Published
Trump and Biden to headline dueling town halls

[NFA] The two U.S. presidential candidates will field questions from voters in two different televised events at the same time, in a slot that was meant to hold their second presidential debate. This..
Credit: Reuters - Politics Duration: 02:20
Published
Louisville anti-racism protesters defy curfew

[NFA] Demonstrators decried a grand jury decision not to charge three officers for killing Breonna Taylor, marching through the streets of Louisville despite a curfew. This report produced by Zachary..
Credit: Reuters - Politics Duration: 02:02
Published
Biden's Biggest Gaffe Yet

In a campaign speech in Philadelphia Joe Biden made a major gaffe. The NY Post reports that Biden said that 200 million people have died of the coronavirus in the US. That's nearly two-thirds of the..
Credit: Wochit News Duration: 00:37
Published
You Might Like



Joe Biden prepares for final debate as Obama hits the campaign trail

Democratic nominee Joe Biden has no public events scheduled Wednesday as he prepares for Thursday's second and final presidential debate. Meanwhile, former President Barack Obama will make his first..




CBS News - Published





Watch live: Obama holds first in-person campaign event in Philadelphia

Former President Obama is appearing at a drive-in rally in Philadelphia on Wednesday evening.




CBS News - Published





Suburban Philadelphia women on the 2020 debates, coronavirus pandemic and stimulus

Less than two weeks out from Election Day, Anthony Mason checks in with six women from the all-important Philadelphia suburbs to hear how they're feeling about the pandemic, President Trump's COVID-19..




CBS News - Published





Barack Obama to hold first in-person event for Biden

Former President Barack Obama is returning to Philadelphia on Wednesday for his first in-person 2020 campaign event for Joe Biden In 2016, the man known as one of the Democratic Party's strongest..




WorldNews - Published





Donald Trump has a problem: White women in Pennsylvania

2020 Elections Donald Trump has a problem: White women in Pennsylvania White women helped propel him to victory in 2016. Now they're rethinking things. "TRUTH PEACE NO TRUMP" modifies a Trump-Pence..




WorldNews - Published





For Trump, city where 'bad things happen' looms large

When President Donald Trump told the world that "bad things happen in Philadelphia," it was, in part, a blunt assessment of his party's struggles in the nation's sixth-most populous city. For..




WorldNews - Published





Trump, Biden shower ad money on Phoenix, Philadelphia, Florida's I-4 corridor in final stretch

During September, Biden outspent Trump 2-to-1 on TV ads in North Carolina and Florida, 3-to-1 in Michigan and 4-to-1 in Pennsylvania.




USATODAY.com - Published





Biden reiterates in Philadelphia town hall that he does not want to ban fracking

Democratic presidential contender and former Vice President Joe Biden on Thursday again said he won't ban fracking




USATODAY.com - Published





Trump and Biden to face off in rival live televised events instead of presidential debate

President Donald Trump and Democratic nominee Joe Biden will face off in rival live televised events in lieu of the second presidential debate. The candidates will appear on separate networks at the..




WorldNews - Published





Lil Uzi Vert in Neighborhood Paintball War, Friends Busted by Cops

Lil Uzi Vert took a paintball match to the streets of his hometown, but the fun didn't last long -- cops ended up busting his friends. Law enforcement sources tell TMZ ... the Philly-based rapper and..




TMZ.com - Published





Donald Trump, Joe Biden to hold competing town halls Thursday instead of a debate

After a canceled debate, Trump will meet with voters at an NBC town hall in Miami while Biden does the same at an ABC event in Philadelphia.




USATODAY.com - Published





2020 election live updates: Trump and Biden to hold dueling town halls; Barrett to face third day of questions

NBC News announced it will host a town hall with Trump in Miami on Thursday. Biden had already scheduled an ABC News town hall from Philadelphia.




USATODAY.com - Published





Former Philadelphia Officer Charged With Murder in 2017 Shooting

Eric Ruch Jr.'s killing of Dennis Plowden, an unarmed Black man, after a high-speed chase was unjustified, a grand jury found.




NYTimes.com - Published





Theft at Philadelphia election machine warehouse as early voting gets underway

Jonathan Lai, a reporter at The Philadelphia Inquirer, joins CBSN's "Red & Blue" to discuss an ongoing investigation into items stolen from an election warehouse there, plus what early voting looked..




CBS News - Published





As Trump Sows Doubts on Mail, Democrats Push More In-Person Voting

In Philadelphia, officials are encouraging voting in person. In Wisconsin, there are ballot-return events in city parks. They reflect an unease over President Trump's war on mail-in voting.




NYTimes.com - Published





Doc Rivers will take over as new Sixers coach, days after parting ways with Clippers

Just three days after parting ways with the Los Angeles Clippers, coach Doc Rivers will join Philadelphia as the new Sixers coach.




USATODAY.com - Published





Laptop, USBs stolen from Philadelphia election machine warehouse

City commissioner "confident that this incident will not in any way compromise the integrity of the election."




CBS News - Published





Rep. Dwight Evans Says Trump Lost Pennsylvania with Philly 'Bad Things' Diss

Congressman Dwight Evans says President Trump was out of line with his jab at Philadelphia, and thinks that lashing out is gonna backfire on him come Election Day. The U.S. Representative went to bat..




TMZ.com - Published





Official slams 'completely inaccurate' Trump claim about Philly voting as campaign threatens lawsuit

"There are no poll watchers yet. They literally do not exist right now," said Kathy Boockvar, Pennsylvania secretary of state.




USATODAY.com - Published





Philadelphia man charged with murder of a Black transgender woman, adding to 'epidemic of violence' in 2020

The National Center for Transgender Equality in August reported that transgender homicides this year had already surpassed the 2019 total of 27.




USATODAY.com - Published




Suburban Philly women on Trump, Biden, the pandemic and mail-in voting

Less than 40 days out from Election Day, Anthony Mason checks in with six women from the all-important Philadelphia suburbs to hear what matters to them the most, how they feel about the pandemic..




CBS News - Published





Lasagna the Fat Cat Adopted as Stouffer's Sweetens the Pot

Lasagna, the fat cat that was abandoned last weekend, has a new home, and Stouffer's has some delicious gifts for the new owners!!! The 29 pound -- that's right -- was dumped at a Philadelphia animal..




TMZ.com - Published





Will 2020 presidential election results be delayed in Pennsylvania?

Pennsylvania law prevents election officials from processing mail-in ballots before election day. A Philadelphia official calls for change to avoid delayed results.




CBS News - Published





Joe Biden calls Donald Trump's US Supreme Court push 'abuse of power'

Biden, speaking Sunday in Philadelphia, accused Trump of exercising "raw political power" by attempting to "ram" through his court choice amidst a bitterly fought election campaign. ......




WorldNews - Published





As Supreme Court Fight Heats Up, Biden Urges Republican Senators to 'Follow Your Conscience'

The Democratic nominee, speaking in Philadelphia, said the Senate should wait until after the election to decide on the nominee to replace Justice Ruth Bader Ginsburg.




NYTimes.com - Published





Comcast to provide Wi-Fi to low-income students through local community centers

Photo: Comcast Comcast is launching a program to provide free Wi-Fi in community centers as part of an effort to improve internet access for students in low-income areas, the company said Thursday...




The Verge - Published





One key county in Pennsylvania braces for huge increase of mail-in ballots

Bucks County, outside of Philadelphia, is the fourth largest in Pennsylvania. Like the rest of the state, it is bracing for a massive increase in mail-in ballots. Major Garrett sees how officials are..




CBS News - Published





Russia covid vaccine: 15 scientists write letter voicing their concern

A group of scientists sent a formal letter to the Lancet on Monday outlining doubts about the accuracy of early data on Russia's COVID-19 vaccine, one of the authors said, adding further fuel to a..




WorldNews - Published





'Our democracy is deeply imperiled': how democratic norms are under threat ahead of the US election

Last month Barack Obama returned to the political stage to deliver a speech about the future of the nation. He did it standing in the Museum of the American Revolution in Philadelphia against the..




WorldNews - Published





How arrests in Philly schools dropped by 84% in 5 years

During the 2013-2014 school year, nearly 1,600 children were arrested for things such as bringing knives to school, but a diversion program changed that.




CBS News - Published





Philadelphia House Fire: 2 Children, 1 Teenager and 1 Adult Found Dead

The victims were 9, 11, 17 and 35 years old, officials said.




NYTimes.com - Published





8/15: CBSN AM

Suspect surrenders in Philly officer shootout; Labor Day travel forecast




CBS News - Published





Coronavirus live updates: Philly mayor blasted for dining indoors; Australia falls into first recession in 28 years; 184K US deaths

Australia falls into recession. Uber to require mask selfie verification to some riders. Maryland businesses to reopen on Friday. Latest COVID news.




USATODAY.com - Published




Philadelphia mayor apologizes after viral photo shows him dining indoors in Maryland despite city ban

Kenney apologized in a tweet Monday, explaining that he felt "the risk was low because the county he visited had fewer than 800 COVID-19 cases."




USATODAY.com - Published




Rare photos of the March on Washington

Philadelphia photographer Jack T. Franklin's images of a historic moment in American history




CBS News - Published





Democratic convention: Obama to blast Trump's 'reality show'

On Wednesday night, Mr Obama will unleash possibly his most scathing attack yet about Mr Trump, speaking from the Museum of the American Revolution in Philadelphia. According to pre-released excerpts..




WorldNews - Published





Google wants to expand its Internet service

The Silicon Valley company announced it wants to expand Google Fiber, its ultra fast Internet service, to 34 more cities in eight states. At this point, Google hasn't targeted four of the largest U.S...




CBS News - Published





CBS Evening News, August 16, 2020

Trump administration accused of election interference over changes to Postal Service; Philadelphia music academy continues with online lessons during pandemic




CBS News - Published




Philadelphia music academy continues with online lessons during pandemic

Philadelphia's All City Orchestra Summer Academy continued to give music lessons throughout the pandemic. A group of 90 middle and high school students received online instruction from professional..




CBS News - Published





War surgeon saved lives under pressure

As a trauma surgeon in Iraq and Afghanistan, Former U.S. Navy Capt. Joseph Rappold kept young soldiers alive under dangerous conditions. Now at Temple University School of Medicine, he says, nothing..




CBS News - Published





Historic Philadelphia music program teaches young students virtually

The 90 students at the All City Orchestra Summer Academy have found a way to keep practicing, despite the quarantine. Jim Axelrod reports.




CBS News - Published





Pair allegedly punched Pennsylvania theme park worker over mask requirement, police say

Two people allegedly assaulted a children's theme park employee Sunday near Philadelphia after the teen reminded them of the park's mask requirement.




USATODAY.com - Published





Storm Isaias to become hurricane as it moves up US East Coast

Tropical Storm Isaias is expected to batter the coast of North and South Carolina on Monday, and will likely regain hurricane strength as it moves up the United States East Coast towards major cities..




WorldNews - Published





Overlooked No More: Roland Johnson, Who Fought to Shut Down Institutions for the Disabled

He survived 13 years of neglect and abuse, including sexual assault, at the notorious Pennhurst State School and Hospital outside Philadelphia before emerging as a champion for the disabled.




NYTimes.com - Published





AP Top Stories July 31 A

Here's the latest for Friday, July 31st; No new deal for coronavirus relief; Hurricane could approach South Florida; More protests in Portland as federal agents prepare to withdraw; Big fire in..




USATODAY.com - Published





2 MLB games postponed, Marlins deal with virus

Baseball fans in Philadelphia say sports teams should wait longer to hit the field, this after two major league games scheduled for Monday were postponed after more than a dozen Miami Marlins players..




USATODAY.com - Published





Penn Museum to Relocate Skull Collection of Enslaved People

The Philadelphia museum, which reopens on July 28, plans to relocate parts of the collection to storage from a private classroom.




NYTimes.com - Published





New York Yankees game vs. Philadelphia Phillies postponed after coronavirus outbreak

The New York Yankees and Philadelphia Phillies will not play their game scheduled for Monday in Philadelphia. Marlins also postponed theirs.




USATODAY.com - Published





Miami Marlins postpone game vs. Baltimore Orioles amid COVID-19 outbreak in clubhouse

The team remains in Philadelphia to continue undergoing testing, with the outbreak spreading throughout the clubhouse to at least 12 people.




USATODAY.com - Published





The Trump administration rejects human rights principles at home and abroad

By Trudy Rubin Last week, Mike Pompeo came to the National Constitution Center in Philadelphia to release a yearlong State Department study on the U.S. approach to human rights. You might think the..




WorldNews - Published