Philadelphia
Largest city in Pennsylvania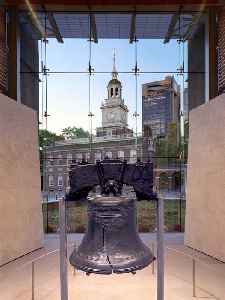 Philadelphia, colloquially Philly, is the largest city in the U.S. state of Pennsylvania, and the sixth-most populous U.S. city with a 2019 estimated population of 1,584,064. Since 1854, the city has had the same geographic boundaries as Philadelphia County, the most populous county in Pennsylvania and the urban core of the eighth-largest U.S. metropolitan statistical area, with over 6 million residents as of 2017. Philadelphia is also the economic and cultural anchor of the greater Delaware Valley, located along the lower Delaware and Schuylkill Rivers, within the Northeast megalopolis. The Delaware Valley's population of 7.2 million ranks it as the eighth-largest combined statistical area in the United States.


Tropical Storm Isaias batters U.S. Northeast

[NFA] Tropical Storm Isaias raced up the U.S. East Coast on Tuesday, generating tornadoes and knocking out power, and a twister in North Carolina killed at least one person when it obliterated a mobile..
Credit: Reuters - Politics Duration: 01:03
Published
Storm Isaias brushes off Florida, heads up East Coast

Isaias, downgraded from a hurricane but still a powerful tropical storm, moved along Florida's eastern coast on Sunday, bringing strong winds but no longer posing a storm surge threat. This report..
Credit: Reuters - Politics Duration: 00:57
Published
Four injured and over 100 left homeless as fire engulfs Pennsylvania apartments

At least four people were injured and more than 100 left homeless after a fireat an apartment building in Pennsylvania. Three fire engines attended theblaze in North Coventry Township, about 35 miles..
Credit: PA - Press Association STUDIO Duration: 00:38
Published
Malik B., Founding Member Of 'The Roots,' Is Dead At 47

Rapper, singer, and founding member of The Roots, Malik Abdul Basit has died. He was 47. According to CNN, Basit performed under the name Malik B. He was a devout Muslim. Basit was part of the..
Credit: Wochit News Duration: 00:34
Published
Marlins' season halted due to COVID-19 outbreak

Major League Baseball has postponed all Miami Marlins games through Sunday after four additional players tested positive for COVID-19, bringing the total number of cases within the club to 17 over the..
Credit: Reuters - Politics Duration: 01:41
Published
Huge crowd confronts federal cops in Portland

[NFA] Federal law enforcement in military fatigues fired tear gas to disperse protesters in the streets of Portland, Oregon, which local news described as the largest demonstration in over 50 nights of..
Credit: Reuters - Politics Duration: 01:43
Published
Trump plans to send federal agents to major cities

[NFA] President Donald Trump on Monday said he plans to send law enforcement personnel to some major Democratic-led U.S. cities, as a federal crackdown on anti-racism protests including the use of..
Credit: Reuters - Politics Duration: 02:09
Published
Here's Looking At You? DHS Used Aircraft, Drones To Surveil BLM Protests

Gizmodo reports the Department of Homeland Security deployed aircraft in Dayton, Ohio, New York City, Buffalo, and Philadelphia, among other cities. The drones and aircraft were taking footage of..
Credit: Wochit News Duration: 00:35
Published
Biden: Trump Has No Plan For Economy Except To Hang An 'Open For Business' Sign

Democratic presidential candidate Joe Biden will discuss plans to safely reopen a US economy ravaged by the coronavirus pandemic. Reuters reports Biden will speak on the issue when he visits the..
Credit: Wochit News Duration: 00:34
Published
One city's police reform values 'social currency'

Crime in Camden, New Jersey - a city of 74,000 on the Delaware River east of Philadelphia - has dropped since it dissolved its police force and rebuilt it in 2013 with a focus on community engagement...
Credit: Reuters Studio Duration: 03:02
Published
Biden on COVID-19 recovery plan: 'There's no guidance'

Former Vice President Biden on Thursday participated in a roundtable discussion in Philadelphia that included small business owners, to discuss his plans on re-opening the economy safely during the..
Credit: Reuters Studio Duration: 01:49
Published
Newlyweds join Black Lives Matter protest

Eyewitness video showed footage of a married couple joining protesters moments after saying 'I do' in Philadelphia, Pennsylvania on Saturday (June 6).
Credit: Reuters Studio Duration: 00:31
Published
You Might Like



Storm Isaias to become hurricane as it moves up US East Coast

Tropical Storm Isaias is expected to batter the coast of North and South Carolina on Monday, and will likely regain hurricane strength as it moves up the United States East Coast towards major cities..




WorldNews - Published





Overlooked No More: Roland Johnson, Who Fought to Shut Down Institutions for the Disabled

He survived 13 years of neglect and abuse, including sexual assault, at the notorious Pennhurst State School and Hospital outside Philadelphia before emerging as a champion for the disabled.




NYTimes.com - Published





AP Top Stories July 31 A

Here's the latest for Friday, July 31st; No new deal for coronavirus relief; Hurricane could approach South Florida; More protests in Portland as federal agents prepare to withdraw; Big fire in..




USATODAY.com - Published





2 MLB games postponed, Marlins deal with virus

Baseball fans in Philadelphia say sports teams should wait longer to hit the field, this after two major league games scheduled for Monday were postponed after more than a dozen Miami Marlins players..




USATODAY.com - Published





Penn Museum to Relocate Skull Collection of Enslaved People

The Philadelphia museum, which reopens on July 28, plans to relocate parts of the collection to storage from a private classroom.




NYTimes.com - Published





New York Yankees game vs. Philadelphia Phillies postponed after coronavirus outbreak

The New York Yankees and Philadelphia Phillies will not play their game scheduled for Monday in Philadelphia. Marlins also postponed theirs.




USATODAY.com - Published





Miami Marlins postpone game vs. Baltimore Orioles amid COVID-19 outbreak in clubhouse

The team remains in Philadelphia to continue undergoing testing, with the outbreak spreading throughout the clubhouse to at least 12 people.




USATODAY.com - Published





The Trump administration rejects human rights principles at home and abroad

By Trudy Rubin Last week, Mike Pompeo came to the National Constitution Center in Philadelphia to release a yearlong State Department study on the U.S. approach to human rights. You might think the..




WorldNews - Published





Philly DA: Fed. agents could face prosecution

Philadelphia's top prosecutor has warned that federal law enforcement officers will be charged criminally if they unlawfully assault or arrest somebody in the city. (July 21)  




USATODAY.com - Published





Rev. Jesse Jackson: John Lewis and a lifetime of 'good trouble' changed America forever

Democracy was not born in Philadelphia in 1787. It was born, with John Lewis as midwife, in Selma, Alabama, in 1965.




USATODAY.com - Published





Flight delay melee: Spirit passengers arrested after kicking and punching employees and tossing phones, food and shoes at them

Three Philadelphia women who were mad about a flight delay were arrested at Fort Lauderdale Airport after kicking and throwing items at Spirit staff.




USATODAY.com - Published





Philadelphia city officials say Eagles won't be allowed to have fans in stands this season

Spectators will not be permitted in the stands at Philadelphia Eagles home games this season, city officials said Tuesday.




USATODAY.com - Published





Philadelphia cancels New Years parade, all large public events through February 2021

Philadelphia's 2020 Thanksgiving Day and 2021 New Years Day Mummers parades are the latest big events to be canceled because of COVID-19.  




USATODAY.com - Published





Today in History for July 13th

Highlights of this day in history: Live Aid concerts held in London and Philadelphia; A French revolutionary is stabbed in his bath; Civil War draft riots erupt in New York; A power blackout hits the..




USATODAY.com - Published




Pence brings 'law and order' message to Philly

Vice President Mike Pence told Philadelphia police officers that President Donald Trump "backed the Blue" and that presumptive Democratic nominee Joe Biden would cut funding for police if he wins the..




USATODAY.com - Published





Study suggests fathers are more likely to be referred for nutrition, exercise counselling

PHILADELPHIA : Overweight, obese men who are fathers are more likely to be referred for nutrition or exercise counselling as compared to the men without children, suggests a new study published by..




WorldNews - Published





How the Philadelphia Police Tear-Gassed a Group of Trapped Protesters

On June 1, SWAT teams turned a protest march in Philadelphia into chaos. We went to the site, interviewed witnesses and analyzed dozens of videos to reconstruct what happened.




NYTimes.com - Published





In surprise move, Pennsylvania Supreme Court will hear Bill Cosby's appeal

PHILADELPHIA — In a stunning decision that could test the legal framework of #MeToo cases, Pennsylvania's highest court says it will review the trial decision to let five other accusers testify at..




WorldNews - Published





Delbert Africa, 74, Convicted in Radical Group's Clash With Police, Dies

As a member of Move, he spent four decades in prison and was released in January. His beating by Philadelphia police officers in 1978 was captured on television.




NYTimes.com - Published





Basketball brings protesters and police together

Stephania Ergemlidze brings her basketball hoop to Black Lives Matter protests in Philadelphia to help alleviate tensions between protestors and the police.




USATODAY.com - Published





Bride and groom join protest moments before marrying

Dr. Kerry-Anne Gordon and Michael Gordon celebrated their wedding side by side with fellow protestors in Philadelphia.




USATODAY.com - Published





Newlyweds celebrate their wedding during Philadelphia protest over the death of George Floyd

Kerry-Anne and Michael Gordon joined a crowd of protesters in Philadelphia wearing their full wedding attire after tying the knot on Saturday.  




USATODAY.com - Published





Your coronavirus need-to-know: Philly mayor tells residents to stop flushing face masks; Fauci talks schools reopening

We are bringing you the top headlines on COVID-19 from the US and around the world.




USATODAY.com - Published





One-on-one with police deputy seeks to ease tensions of George Floyd protests

Stephania Ergemlidze and her friends brought a basketball hoop to downtown Philadelphia during anti-racism protests in effort to ease tensions.




USATODAY.com - Published





Controversial statue of former Philadelphia mayor Frank Rizzo removed after George Floyd protests

Sculptor of controversial Frank Rizzo statue asked Philadelphia mayor Jim Kenney that it be removed after protests




USATODAY.com - Published




Statue of Frank Rizzo, Former Philadelphia Mayor, Is Removed After Protests

Demonstrators had tried to topple the statue of the former mayor and police commissioner, who once urged voters to "vote white."




NYTimes.com - Published





Joe Biden speaks in Philadelphia: Read his remarks

The delayed Pennsylvania primary election is today, when Republican and Democratic voters choose their parties' nominees. The presidential choices are all but made already: Republican President..




WorldNews - Published





'I won't fan the flames of hate': Joe Biden to address George Floyd protests in Philadelphia speech

Former Vice President Joe Biden's remarks come after days of protests across the nation following the death of George Floyd.




USATODAY.com - Published





Joe Biden to Address Floyd Killing and Protests in Philadelphia Speech

With protests and the coronavirus roiling the nation, how Mr. Biden handles the coming weeks could define his candidacy, and there is a sense of increasing urgency among his allies to see him leading..




NYTimes.com - Published





Philadelphia SUV crash kills 2, injures 8 — including 5 children

Two people were killed and eight others injured in Philadelphia on Monday when a speeding SUV went out of control and flipped over several times.  




USATODAY.com - Published





George Floyd protests continue for seventh night: Authorities in DC respond with tear gas; National Guard deployed to Chicago, Philadelphia

Ben Crump, the attorney for the family of George Floyd, called for peace on Monday: "Let's take a breath to heal our country."




USATODAY.com - Published




Nasdaq keeps Philadelphia trading floor closed due to protests

Nasdaq Inc said it postponed Monday's planned reopening of its PHLX options trading floor in Philadelphia, which had been closed because of the coronavirus pandemic, due to the demonstrations over the..




Reuters - Published




Exclusive: Philadelphia's new voting machines under scrutiny in Tuesday's elections

When Pennsylvania holds primary elections on Tuesday, some election security advocates will be watching closely to see if more than 2,000 new voting machines acquired last year by Philadelphia and two..




Reuters - Published




Protest Photos from Across the USA

George Floyd's death continued to resonate far beyond Minneapolis, where he died. In, Boston, Philadelphia, New York, Ferguson, Mo., Portland, Ore., Los Angeles and countless other cities,..




NYTimes.com - Published





100 years ago, Philadelphia chose a parade over social distancing during the 1918 Spanish flu – and paid a heavy price

St. Louis succeeded but Philadelphia failed to limit deaths in the century-old forerunner to our coronavirus.




USATODAY.com - Published





Hyderabad company, University of Philadelphia ink deal to accelerate work on novel vaccine against Coronavirus




IndiaTimes - Published





Meek Mill And Girlfriend, Milan Harris, Welcome Son Together

May 6, 2020 - 8:39 pm by The baby was born on Meek's 33rd birthday. Meek Mill got a special gift for his birthday! The Philly rapper's girlfriend, Milan Harris, gave birth to their son on Wednesday..




WorldNews - Published





MMA fighter grapples with uncertain future

Philadelphia's Kyle Daukaus is one of thousands of regional MMA fighters with a murky professional future amid the coronavirus pandemic. His gym is shut down and he trains with his brother out of his..




USATODAY.com - Published





Here's the Blue Angels' view as they flyover Philadelphia to salute health care heroes

This is what it looked like in a Blue Angels' cockpit as the Navy's flight demonstration squadron flew over Philadelphia to salute health care heroes.




USATODAY.com - Published





Military planes salute NYC, Philly medical workers

Jets from Navy's Blue Angels and the Air Force's Thunderbirds flew over New York City, Philadelphia and other cities in a tribute to the medical personnel, first responders and other essential workers..




USATODAY.com - Published





The pandemic will kill more Americans than died in Vietnam

(CNN)We've reached a horrible place, where dead bodies are being transported to Philadelphia's medical examiner in the back of an open pickup truck. More than 47,000 have now died of coronavirus in the..




WorldNews - Published





In CA: A Who's Who of Golden State leaders will help reopen California

Anyone who's anyone has been asked to help reopen California and rebuild an economy some experts say totters toward a depression. And I talk a Philadelphia transplant who began using his art to make..




USATODAY.com - Published





Glenna Goodacre, Created Vietnam Women's Memorial, Dies at 80

A sculptor and one of the few women to make large public monuments, she also commemorated the Irish famine in a massive bronze piece in Philadelphia.




NYTimes.com - Published





Air pollution has dropped by 30% in the Northeast, NASA says. Are coronavirus stay-at-home orders responsible?

Cities such as Washington, Philadelphia and New York are seeing significant improvement in air quality as people stay home because of the coronavirus.




USATODAY.com - Published




The Killer Virus of 1918: A Philadelphia Story

The brutal toll taken by the flu that claimed 20,000 lives in the city has not been forgotten as Philadelphia braces for the worst of the coronavirus pandemic.




NYTimes.com - Published





Vitriol and violence: A coronavirus death exposes paranoia in India

When Satyaki Mitra's father developed a mild fever in mid-March, the graduate student in Philadelphia wasn't especially worried. He told his 57-year-old father, living in the eastern Indian city of..




Reuters - Published





American Airlines flight attendant dies of coronavirus, elevating fears in the industry

Paul Frishkorn, a Philadelphia-based flight attendant, has died from coronavirus, fueling fears in a profession on the front lines of the pandemic.




USATODAY.com - Published





Coronavirus forces states to order nearly one in three Americans to stay home

Nearly one in three Americans was under orders on Sunday to stay home to slow the spread of the coronavirus pandemic as Ohio, Louisiana and Delaware became the latest states to enact broad..




Reuters - Published





Flights resume after FAA briefly halts New York airport arrivals after coronavirus case

The Federal Aviation Administration (FAA) temporarily halted flights arriving at New York City airports and Philadelphia on Saturday after a trainee at the New York Air Route Traffic Control Center..




Reuters - Published