Peshawar
City district in Khyber Pakhtunkhwa, Pakistan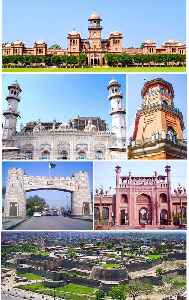 Peshawar is the capital of the Pakistani province of Khyber Pakhtunkhwa. Situated in the broad Valley of Peshawar near the eastern end of the historic Khyber Pass, close to the border with Afghanistan, Peshawar's recorded history dates back to at least 539 BCE, making it the oldest city in Pakistan and one of the oldest cities in the world. Peshawar was the capital of the ancient Kushan Empire, and was home to what may have been the tallest building in the ancient world, the Kanishka stupa. Peshawar was then sacked by the White Huns, before the arrival of Muslim empires. The city was an important trading centre during the Mughal era before serving as the winter capital of the Afghan Durrani Empire from 1757 until the city was captured by the Sikhs in 1818, who were then followed by the British in 1849.


Five militants, one police officer killed in Pakistan raid
Police and army commandos killed five Pakistani Taliban militants during an overnight siege at a house in the northwestern city of Peshawar, officials said on Tuesday.
Reuters - Published
Search this site and the web:
You Might Like