World Trade Center (1973–2001)
Complex of buildings in Lower Manhattan, New York City, United States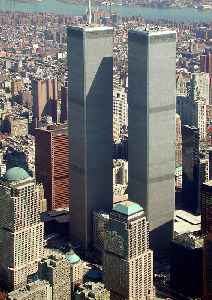 The original World Trade Center was a large complex of seven buildings in Lower Manhattan, New York City, United States. It opened on April 4, 1973 and was destroyed in 2001 during the September 11 attacks. At the time of their completion, the Twin Towers — the original 1 World Trade Center, at 1,368 feet (417 m); and 2 World Trade Center, at 1,362 feet (415.1 m) — were the tallest buildings in the world. Other buildings in the complex included the Marriott World Trade Center, 4 WTC, 5 WTC, 6 WTC, and 7 WTC. The complex was located in New York City's Financial District and contained 13,400,000 square feet (1,240,000 m2) of office space.


Rep. Ocasio-Cortez, others blast Trump for 9/11 video coupled with Rep. Omar's comments
President Donald Trump posted a video criticizing freshmen Rep. Ilhan Omar, using footage of the Twin Towers burning on 9/11 to denounce her recent comments about the attacks.
USATODAY.com - Published
Pelosi says Trump using 9/11 images for 'political attack' on Ilhan Omar
WASHINGTON (AP) — President Donald Trump has weighed in on the most recent controversy involving Rep. Ilhan Omar, retweeting video edited to suggest that the Minnesota Democrat was dismissive of the..
WorldNews - Published
Train named after Cornish 9/11 hero Rick Rescorla
Rick Rescorla evacuated more than 2,500 people from the World Trade Center during the 9/11 attacks.
BBC News - Published
Search this site and the web:
You Might Like