Falcon Heavy
Heavy-lift orbital launch vehicle made by SpaceX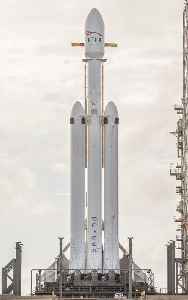 Falcon Heavy is a partially reusable heavy-lift launch vehicle designed and manufactured by SpaceX. It is derived from the Falcon 9 vehicle and consists of a strengthened Falcon 9 first stage as a central core with two additional first stages as strap-on boosters. Falcon Heavy has the highest payload capacity of any currently operational launch vehicle, and the third-highest capacity of any rocket ever to reach orbit, trailing the American Saturn V and the Soviet Energia.


SpaceX loses Falcon Heavy's center booster to the sea
SpaceX successfully landed all three of Falcon Heavy's boosters after its most recent launch, but it won't be able to reuse one of them. The company lost the core booster that landed on its drone ship..
WorldNews - Published
Search this site and the web:
You Might Like