ABBA
Swedish pop group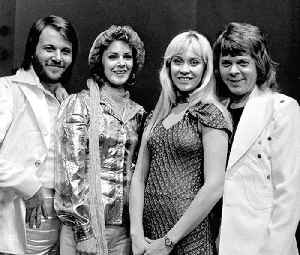 ABBA is a Swedish pop supergroup formed in Stockholm in 1972 by Agnetha Fältskog, Björn Ulvaeus, Benny Andersson, and Anni-Frid Lyngstad. The group's name is an acronym of the first letters of their first names. They became one of the most commercially successful acts in the history of popular music, topping the charts worldwide from 1974 to 1982. ABBA won the Eurovision Song Contest 1974, giving Sweden its first triumph in the contest. They are the most successful group to have taken part in the competition.


You Might Like
Sweden's MelFest: Why a national Eurovision show won global fans
Over its 60 year history, Melodifestivalen has had huge success with acts like Abba, Loreen and Mans Zelmerlow.
BBC News - Published
First Celebrity Crush: Saif Ali Khan
The young Saif Ali Khan had a thing for ABBA's Agnetha and the original Charlie's Angels. (Feb. 13)  
USATODAY.com - Published
Adam Lambert: 'Coming out is an act of defiance'
The pop star discusses sexuality, making Cher cry, and whether Queen could share a bill with Abba.
BBC News - Published
Ulvaeus shares 'happy and uncomplicated' world of 'Mamma Mia!'
Bjorn Ulvaeus wears original ABBA costume to appear at the launch of "Mamma Mia! The Party" in London; discusses what prompted the expansion of its universe. (Sept. 20)  
USATODAY.com - Published
Sweden is going cashless
The Swedish band ABBA has been singing about "Money, Money, Money" for years. But if you try to buy a ticket to the pop group's museum exhibition in Stockholm with cash, you're out of luck; it's one of..
CBS News - Published
Ivoryton Playhouse Does ABBA Proud In A Buoyant "MAMMA MIA!"
Ivoryton Playhouse Does ABBA Proud With A Buoyant "Mamma Mia!" By Don Church and Tony Schillaci, Critics On The Aisle, Out and Travelin' The Ivoryton Playhouse celebrates summer with the bouncy,..
WorldNews - Published
Dancing queen? Theresa May boogies to Abba in final days as British PM
Theresa May boogied away one of her last weekends as British prime minister, showing off some of her famously awkward dance moves to Abba hits such as "Dancing Queen" and "Mamma Mia" at a festival.
Reuters - Published
Theresa May filmed dancing and singing to Abba at black-tie music festival
Warning: This story contains explicit language
Independent - Published