Andhra Pradesh
State in southern India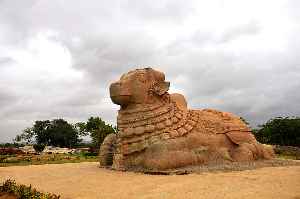 Andhra Pradesh is one of the 29 states of India. Situated in the south-east of the country, it is the seventh-largest state in India, covering an area of 162,970 km2 (62,920 sq mi). As per the 2011 census, it is the tenth most populous state, with 49,386,799 inhabitants. The largest city in Andhra Pradesh is Visakhapatnam. Telugu, one of the classical languages of India, is the major and official language of Andhra Pradesh.


EC writes to TDP, questions presence of EVM theft accused in Naidu's delegation
The Andhra Pradesh chief minister met Chief Election Commissioner Sunil Arora here and submitted a memorandum alleging that a large number of EVMs malfunctioned during polling in the state on Thursday..
DNA - Published
AP CM complains about EVM malfunctioning to EC
Sources said EC gave a patient hearing to Naidu but allayed his apprehensions and concerns by putting forth hard facts and statistics. On his allegation that around 30-40% of the EVMs in Andhra Pradesh..
IndiaTimes - Published
2 killed as TDP, YSRC cadre clash in Andhra
Violence broke out during elections in Andhra Pradesh on Thursday as clashes between TDP and rival YSR Congress Party (YSRCP) left two persons dead and scores wounded.
IndiaTimes - Published
Clashes mar polls in Andhra Pradesh; CM Chandrababu Naidu says 30% EVMs flawed
Technical glitches in Electronic Voting Machines (EVMs) at some polling booths as well as voter deletion cases marred the poll process.
DNA - Published
4 killed in Indian election violence as voting kicks off
NEW DELHI — At least four people were killed in clashes Thursday on the first day of polling in India's general elections, a six-week process that's seen as a referendum on Prime Minister Narendra..
WorldNews - Published
Andhra Pradesh: Clashes between TDP, YSRC workers; Jana Sena candidate smashes EVM after glitch
Technical glitches in EVM hampered the poll process at numerous polling booths as voting got underway for 25 Lok Sabha and 175 Assembly seats in Andhra Pradesh.
DNA - Published
Upset with EVM, Jana Sena candidate damages EVM in AP
Amaravati, Apr 11: A candidate of the Jana Sena was arrested after he damaged an Electronic Voting Machine in Andhra Pradesh. Polling is on for the 25 Lok Sabha seats in Andhra Pradesh. Madhusudhan..
WorldNews - Published
Polls in 91 Lok Sabha seats Thursday; Andhra Pradesh, Sikkim and Odisha to also see assembly polls
IndiaTimes - Published
Lok Sabha Election 2019: Campaign ends for 91 Ph-1 seats
Voting for all Lok Sabha seats in Andhra Pradesh, Arunachal, Meghalaya, Uttarakhand, Mizoram, Nagaland, Sikkim, Lakshadweep, Andaman & Nicobar Islands and 17 seats in Telangana will take place on..
DNA - Published
You Might Like