Abraham Lincoln
16th president of the United States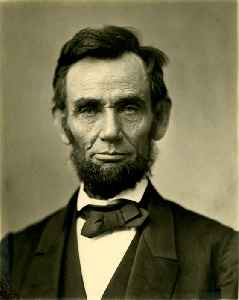 Abraham Lincoln was an American statesman, politician, and lawyer who served as the 16th president of the United States from 1861 until his assassination in April 1865. Lincoln led the nation through the American Civil War, its bloodiest war and its greatest moral, constitutional, and political crisis. He preserved the Union, abolished slavery, strengthened the federal government, and modernized the U.S. economy.


Trump - I'm treated worse than Abe Lincoln
President Trump's thoughts on coughing, UFOs and how he is more mistreated than even Abraham Lincoln.
BBC News - Published
Donald Trump talks health care, Abe Lincoln and Richard Nixon in television interview
President Donald Trump says in a TV interview that no other president, not even Abraham Lincoln, has been as mistreated by the press as he has.
USATODAY.com - Published
Actor Jon Voight Huge Supporter Of Trump
According to CNN.com, "Oscar-winning actor Jon Voight has posted a pair of videos to Twitter in which he affirms his long-held support for President Donald Trump and calls him "the greatest president..
Credit: Wochit News Duration: 00:39Published
Iranian Cleric Claims U.S. 'Fleet Can Be Destroyed With One Missile'
According to a report by Reuters, on Friday, a senior Iranian cleric claimed that the United States' navy fleet could be 'destroyed with one missile,' as a US aircraft carrier headed to the Gulf. The..
Credit: Wochit News Duration: 00:35Published
Search this site and the web:
You Might Like