Frankfurt
Place in Hesse, Germany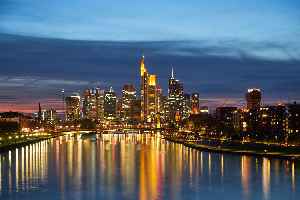 Frankfurt is a metropolis and the largest city of the German federal state of Hesse, and its 746,878 (2017) inhabitants make it the fifth-largest city of Germany after Berlin, Hamburg, Munich, and Cologne. On the River Main, it forms a continuous conurbation with the neighbouring city of Offenbach am Main, and its urban area has a population of 2.3 million. The city is at the centre of the larger Rhine-Main Metropolitan Region, which has a population of 5.5 million and is Germany's second-largest metropolitan region after the Rhine-Ruhr Region. Since the enlargement of the European Union in 2013, the geographic centre of the EU is about 40 km (25 mi) to the east of Frankfurt's central business district. Like France and Franconia, the city is named after the Franks. Frankfurt is the largest city in the Rhine Franconian dialect area.


Arsenal, Chelsea, Valencia, Frankfurt in Europa League SFs
Arsenal, Chelsea, Valencia and Eintracht Frankfurt advanced to the semifinals of the Europa League on Thursday
USATODAY.com - Published
Former Volkswagen CEO charged with fraud in Germany
FRANKFURT, Germany (AP) — German prosecutors have indicted former Volkswagen CEO Martin Winterkorn and four others on charges of fraud and unfair competition, saying...
WorldNews - Published
Breakfast with Belle in Frankfurt
Good Morning Europe's Belle Donati sits down with German MEP Terry Reintke ahead of the upcoming European Elections.
Credit: euronews (in English) Duration: 05:45Published
One Of Russia's Richest Women Killed In Plane Crash
According to Business Insider Airline tycoon Natalia Fileva, one of Russia's richest women, died in a plane crash in Germany, her company S7 has said. A small, six seater plane carrying Fileva crashed..
Credit: Wochit News Duration: 00:31Published
Co-owner of Russia's S7 airline dies in plane crash near Frankfurt
Natalia Fileva, 55, the major shareholder in S7, a member of global Oneworld airlines alliance, and one of the richest women in Russia, has died in a plane crash near Frankfurt. Rough cut (no reporter..
Credit: Reuters Studio Duration: 01:04Published
TUI warns on profit after 737 MAX grounding, shares plunge
Tour operator TUI has warned its profit will fall by at least 200 million euros ($225 million) this year after the grounding of Boeing's 737 MAX aircraft. As David Pollard reports, the financial impact..
Credit: Reuters Studio Duration: 01:04Published
ECB can delay rate hike again if needed: Draghi
Facing rising threats to growth, the European Central Bank could further delay a planned increase in interest rates if it needs to, ECB President Mario Draghi said on Wednesday. David Pollard reports.
Credit: Reuters Studio Duration: 01:26Published
Brexit fallout on UK finance intensifies - think tank
More than 275 financial firms are moving a combined $1.2 trillion in assets and funds and thousands of staff from Britain to the European Union in readiness for Brexit at a cost of up to $4 billion, a..
Credit: Reuters Studio Duration: 01:31Published
World War Two bomb detonated in Frankfurt's river
Some 600 people are evacuated from parts of the German city as experts explode a device underwater.
BBC News - Published
Hundreds evacuated in Frankfurt so WWII bomb can be defused
Advertisement BERLIN (AP) — Some 600 people have been evacuated from their homes in the old city of Frankfurt so specialists could remove a World War II-era bomb...
WorldNews - Published
Search this site and the web:
You Might Like