Michael Bloomberg
American businessman and politician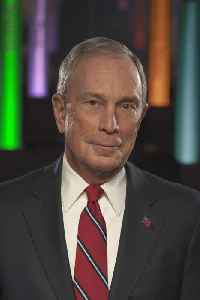 Michael Rubens Bloomberg is an American businessman, politician, philanthropist, and author. He is the majority owner and co-founder of Bloomberg L.P.. He was the mayor of New York City from 2002 to 2013, and was briefly a candidate in the 2020 Democratic presidential primaries.


Bloomberg: Fire Donald Trump

Former NYC mayor and presidential candidate Mike Bloomberg blasted Donald Trump for what he described as his many failures, saying, "I'm not asking you to vote against Donald Trump because he's a bad..
Credit: Reuters Studio Duration: 03:20
Published
You Might Like



Bloomberg commits to spend $100 million to help Biden in Florida

WASHINGTON — Former New York Mayor Mike Bloomberg is committing to spend $100 million in Florida to help Joe Biden win the state. Bloomberg's $100 million "will be used to turn out voters for Joe..




WorldNews - Published

Also reported by •CBS News •USATODAY.com


Michael Bloomberg Donates $100 Million to Defeat Trump in Florida

Joe Biden just got a massive infusion of money that will be pouring into what could be the make-or-break state ... thanks to the deep pockets of Michael Bloomberg. The former NYC Mayor and current..




TMZ.com - Published





Mike Bloomberg gives $100 million to Black medical students

Former New York City mayor and presidential candidate aims to increase the number of Black doctors in the U.S.




CBS News - Published





Bloomberg ditches early states and focuses ad money on Super Tuesday contests

The presidential race is heating up, and Democratic candidate Michael Bloomberg is already eyeing Super Tuesday. The former New York City mayor is ditching early voting states like Nevada and South..




CBS News - Published





2/20: CBSN AM

Candidates take aim at Mike Bloomberg in Nevada debate; Mount Vernon pulls souvenir Washington dentures




CBS News - Published





Michael Bloomberg Upstaged by Housefly During DNC Speech

Former Presidential candidate Michael Bloomberg knows how to generate buzz ... just ask the fly that swooped in on his big moment at the DNC, and stole the spotlight. Bloomberg scored a prime spot at..




TMZ.com - Published





DNC Highlights: Speeches from Joe Biden, Michael Bloomberg, and More

For days, Democrats at the convention cast Joe Biden as a big-tent candidate for a big-tent moment. On Thursday, he made a broad appeal for support.




NYTimes.com - Published





'He Stiffed Our Party': Bloomberg Doubts Resurface Before D.N.C. Speech

Michael Bloomberg's appearance on the final night of the Democratic convention has reignited questions about his pledge to throw his fortune behind the effort to defeat President Trump.




NYTimes.com - Published





Biden vs. Trump: Live Updates for the 2020 Election 

Joe Biden will release a video of a conversation with Barack Obama. Michael Bloomberg's gun control group is putting $15 million toward races in eight states.




NYTimes.com - Published





Bloomberg's Everytown for Gun Safety Pours $15 Million Into Races in 8 States

The group, Everytown for Gun Safety, hopes to help Democrats flip three Senate seats, win control of state legislatures and lift Joe Biden to victory in Florida.




NYTimes.com - Published





New York to launch tri-state virus tracing program with Michael Bloomberg's help

New York Governor Andrew Cuomo said on Wednesday that he would work with neighboring Connecticut and New Jersey on a joint program to trace the contacts of people exposed to the coronavirus outbreak to..




Reuters - Published




Trump draft order requires more from tech workers on H-1B visas: Bloomberg

President Donald Trump would require technology workers in the United States on H-1B visas to provide updated certifications that they are not displacing American workers, according to a draft..




Reuters - Published




Biden Looks to Unify Party Ahead of Bruising Fight with Trump

(Bloomberg) — Joe Biden's most urgent task as the presumptive Democratic nominee will be to unify a divided party for a bruising general election fight against President Donald Trump while the..




WorldNews - Published





Trump Invokes Act to Prevent Exports of Key Medical Gear

(Bloomberg) — President Donald Trump said had he invoked the Defense Production Act to prevent crucial medical supplies from being exported to other countries — an escalation of his battle with 3M..




WorldNews - Published





Trump Says Saudis, Russia Will Cut Production After MBS Call

(Bloomberg) — President Donald Trump said he expects Saudi Arabia and Russia to cut oil production by about 10 million barrels after he spoke by phone with Crown Prince Mohammed Bin Salman on..




WorldNews - Published





Dumped amid coronavirus, former Bloomberg campaign aides sue for pay and benefits

Former organizers for Michael Bloomberg's unsuccessful presidential bid sued the billionaire's campaign on Monday, saying he laid them off amid the global coronavirus pandemic after promising pay and..




Reuters - Published





Ex-Field Organizer Sues Bloomberg Campaign, Alleging Breach of Contract

A former campaign worker for Michael Bloomberg filed a proposed class-action lawsuit on Monday, arguing she and thousands of others were tricked into taking their jobs and are owed overtime pay.




NYTimes.com - Published





Michael Bloomberg Spent More Than $900 Million on His Failed Presidential Run

The billionaire was in the race for just over 100 days and won the support of 64 delegates.




NYTimes.com - Published





Mike Bloomberg pumped nearly $1B into his losing presidential run

All those television ads, staffers and consultants sure added up for Mike Bloomberg – to the tune of at least $936 million.




USATODAY.com - Published





Mike Bloomberg pledges to give DNC $18M to help beat Trump in November

Bloomberg's $18M transfer to the DNC marks the largest from a presidential campaign in recent history.




USATODAY.com - Published





Michael Bloomberg, Abandoning Super PAC Plans, Gives $18 Million to D.N.C. Instead

The former New York mayor had promised to keep his presidential campaign organization in place through November, but he has now opted to fund Democratic field efforts in battleground states.




NYTimes.com - Published





Bloomberg to give $18M to DNC; state parties get offices

WASHINGTON (AP) — Mike Bloomberg is transferring $18 million from his presidential campaign to the Democratic National Committee in the largest single such transfer ever. It's the latest sign of the..




WorldNews - Published





President Trump Is Negative for Coronavirus, White House Says

(Bloomberg) — President Donald Trump has tested negative for the novel coronavirus, according to a memorandum released by the president's physician. "One week after having dinner with the..




WorldNews - Published





World's richest nearing US$1 trillion in losses

Bloomberg From New York to Paris, Sao Paulo to Hong Kong, the losses are unprecedented for the world's wealthiest. The world's 500 richest people collectively lost US$331 billion on Thursday, the..




WorldNews - Published





Here's how much Mike Bloomberg spent on anti-Trump advertising alone

The billionaire former New York City mayor's campaign was entirely self-funded. Bloomberg has vowed to put money into defeating Donald Trump.




USATODAY.com - Published





Bloomberg's Job Security Promises Are Falling Through, Campaign Workers Say

Former campaign workers for Michael R. Bloomberg's presidential bid reacted angrily on Monday to news that they would not work through the November election, as expected.




NYTimes.com - Published





Biden Is Back: This Week in the 2020 Race

Joseph R. Biden Jr. won South Carolina and most of the Super Tuesday states, and the race is down to him and Bernie Sanders, after Elizabeth Warren and Michael Bloomberg dropped out.




NYTimes.com - Published





Bloomberg to fund anti-Trump operation in 6 critical states

Today 7:45 AM Former Democratic presidential candidate Mike Bloomberg speaks to supporters as he announces the suspension of his campaign and his endorsement of former Vice President Joe Biden on..




WorldNews - Published





Biden Looks to Expand Staff as Bloomberg Weighs How to Help Him

Joseph R. Biden Jr.'s team is eager to tap into the enormous pool of Democratic talent now available. Some support could come from Michael Bloomberg's vast resources.




NYTimes.com - Published





Michael Bloomberg to fund independent group to boost Democrats this year

Michael Bloomberg will form an independent group to help elect the Democratic presidential nominee in November, fulfilling a vow to put his $60 billion personal fortune to work even after abandoning..




Reuters - Published




Mike Bloomberg deserves thanks, not derision

"US media tycoon Michael Bloomberg exited the Democratic presidential race and endorsed frontrunner Joe Biden on Wednesday, after blowing more than half a billion dollars on a gamble that failed to..




WorldNews - Published





Biden's Super Tuesday surge reshapes Democratic race, Bloomberg drops out

The search for a Democrat to challenge Republican President Donald Trump in the Nov. 3 election narrowed on Wednesday to a choice between Bernie Sanders and Joe Biden, who staged a comeback in Super..




Reuters - Published




How Mike Bloomberg can put his massive campaign organization to boost Joe Biden

The Bloomberg operation would have to function independently of the Democratic nominee's campaign in order to avoid running afoul of campaign finance laws.




USATODAY.com - Published





Bloomberg bows out of presidential contest but his money will stay

After a not-so-Super Tuesday, Michael Bloomberg is out of the presidential nomination contest. But the power of his $60 billion fortune is staying in.




Reuters - Published




Michael Bloomberg's campaign was the most expensive self-funded campaign in history

Only one major self-funding candidate won the general election – President Donald Trump.




USATODAY.com - Published





After Super Tuesday surge, Biden gets new boost as Bloomberg drops out

Former New York Mayor Michael Bloomberg ended his U.S. presidential campaign on Wednesday and endorsed new Democratic front-runner Joe Biden, whose bid for the White House streaked ahead with a string..




Reuters - Published




Factbox: Four Democrats still seek the U.S. presidential nomination

The field of candidates seeking the U.S. Democratic presidential nomination shrank to four on Wednesday after billionaire former New York City Mayor Michael Bloomberg ended his campaign and said he was..




Reuters - Published




Bloomberg abandons presidential bid as Biden surge reshapes Democratic race

Billionaire former New York Mayor Michael Bloomberg ended his U.S. presidential campaign on Wednesday and endorsed new Democratic front-runner Joe Biden, whose campaign for the White House streaked..




Reuters - Published




Bloomberg drops out, backs Biden in Democratic presidential race

Billionaire former New York Mayor Michael Bloomberg ended his presidential campaign on Wednesday and said he was backing Joe Biden for the Democratic Party's nomination to challenge President Donald..




Reuters - Published