Tyler Skaggs
American baseball player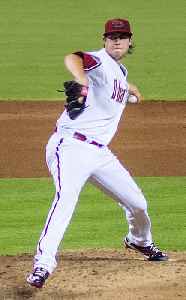 Tyler Wayne Skaggs was an American professional baseball starting pitcher, who played in Major League Baseball (MLB) for the Arizona Diamondbacks and Los Angeles Angels.


Pitcher: Fentanyl From Team Employee

(Newser) – A former Los Angeles Angels employee has been charged with providing fentanyl to a player who died in his hotel room after taking it last year. Tyler Skaggs, 27, a pitcher, was found dead..
Credit: Wochit News Duration: 00:32
Published
You Might Like



Former Los Angeles Angels employee charged in pitcher Tyler Skaggs' fatal overdose

A former Los Angeles Angels employee has been charged in connection with the fatal 2019 overdose of pitcher Tyler Skaggs, the Department of Justice announced Friday. CBS Los Angeles reports.




CBS News - Published





Ex-Angels employee charged in player's drug death

Prosecutors in Texas say a former Los Angeles Angels employee has been charged with conspiracy to distribute fentanyl in connection with last year's overdose death of Angels pitcher Tyler Skaggs. (Aug...




USATODAY.com - Published

Also reported by •CBS News


Tyler Skaggs Death, Ex-Angels Employee Charged With Distributing Fentanyl

Ex-L.A. Angels employee Eric Kay has been charged with distributing fentanyl in connection with pitcher Tyler Skaggs' death ... and prosecutors say they have text messages to prove it. According to..




TMZ.com - Published





Former Angels employee Eric Kay charged with distributing fentanyl in connection with Tyler Skaggs' death

Eric Kay, the Angels' longtime director of communications, was arrested and arraigned at a federal courthouse in Fort Worth, Texas on Friday.




USATODAY.com - Published





Tyler Skaggs was reportedly given oxocodone by L.A. Angels employee

Tyler Skaggs, the Los Angeles Angels pitcher who died this summer, was reportedly given drugs by a team employee. Skaggs was found dead in a Texas hotel in July. An autopsy found opioids in his system...




CBS News - Published




Angels employee working with feds: 'Right thing to do'

The Los Angeles Angels employee who claims he gave opioids to late pitcher Tyler Skaggs told ESPN on Sunday that he is coming forward because it is "time for everyone to stand up and take..




Reuters - Published





Angels decline to comment on report of Tyler Skaggs' drug abuse

ESPN reported Saturday that the Angels knew of late pitcher Tyler Skaggs' drug use "long before his death"




CBS News - Published





MLB and union to discuss opioid testing after Tyler Skaggs death

The league and players' association will discuss the possibility of more widespread testing for opioids following the death of Skaggs




CBS News - Published





Tyler Skaggs' family doesn't have name of Angels employee possibly involved in death

After the release of an autopsy report, Tyler Skaggs' family suggested in a statement an Angels team employee may have been involved in his death.




USATODAY.com - Published





Angels say they can't comment on Tyler Skaggs family's allegation of employee involvement

Angels general manager Billy Eppler says club is cooperating with a Texas police investigation into Tyler Skaggs' death and can't comment on case.




USATODAY.com - Published





Medical examiner: Angels pitcher died of accidental overdose

Los Angeles Angels pitcher Tyler Skaggs died from a lethal mix of alcohol, fentanyl and oxycodone when he was found unresponsive last month, according to a toxicology report.




CBS News - Published





Tyler Skaggs' toxicology report shows late Angels pitcher had fentanyl, oxycodone, alcohol in his system at time of death

The late Los Angeles Angels pitcher died in his hotel room in Texas on July 1




USATODAY.com - Published





Angels pitcher died from mix of alcohol, fentanyl, oxycodone

Police found Skaggs last month inside a Hilton hotel room where he was was pronounced dead




CBS News - Published





Angels back in Texas after Skaggs' death, Rangers rally, 8-7

The Los Angeles Angels returned to Texas for the first time since pitcher Tyler Skaggs was found dead in his hotel room before the start of a series at the Rangers last month, losing 8-7 in 11 innings..




USATODAY.com - Published





Angels' Skaggs remembered and praised at memorial service

Los Angeles Angels pitcher Tyler Skaggs has been remembered at a memorial service




USATODAY.com - Published





LEADING OFF: Skaggs' funeral, White Sox debut full netting

LEADING OFF: Skaggs' funeral, White Sox debut full netting, Jones faces former Orioles teammates, Yankees-Twins, Athletics-Astros, Woodruff injured




USATODAY.com - Published





The Los Angeles Angels honor fallen teammate Tyler Skaggs with a no-hitter

On Friday night, The Los Angeles Angels played their first home game since teammate Tyler Skaggs died on July 1st during a road trip in Texas. The Angels would score 7 runs in the first and 13 over..




CBS News - Published





On Tyler Skaggs tribute night, late pitcher's numbers appear everywhere in Angels' no-hitter

In the Angels' first home game since Tyler Skaggs' death, reminders of the late pitcher seemed to appear everywhere during the combined no-hitter.




USATODAY.com - Published





Los Angeles Angels throw no-hitter while honoring Tyler Skaggs

Before the game's dramatic final out on Friday, and accomplishment of completing a no-hitter, the park was already charged with emotion




CBS News - Published




Angels honor Skaggs with emotional no-hit masterpiece

The Los Angeles Angels threw a combined no-hitter in their first home game after Tyler Skaggs' death




USATODAY.com - Published





Los Angeles Angels pay tribute to pitcher Tyler Skaggs in first home game since his death

The Angels paid Tyler Skaggs an emotional tribute before and during their first home game since the pitcher's death.




USATODAY.com - Published





Angels throw combined no-hitter on night they pay tribute to late Tyler Skaggs

On a night they paid tribute to Tyler Skaggs, the Los Angeles Angels honored the late pitcher in perhaps the best way they could: With a no-hitter.




USATODAY.com - Published





The Latest: Late Angels pitcher Skaggs gets All-Star tribute

The Latest: Late Angeles pitcher Skaggs honored by teammates at All-Star Game




USATODAY.com - Published





Mike Trout, Tommy La Stella wearing No. 45 in MLB All-Star Game to honor Tyler Skaggs

Barely a week after the tragic death of their teammate, Angels All-Stars Mike Trout and Tommy La Stella will wear No. 45.




USATODAY.com - Published





Mike Trout embraces role as All-Star Game stalwart – while also mourning Tyler Skaggs

Just 27 years old, Trout is making his eighth All-Star appearance, tied for the most of anybody here in Cleveland.




USATODAY.com - Published





Angels try to get handle on raw emotion after Skaggs death

Mike Trout and the rest of the Los Angeles Angels are struggling to get a handle on the raw emotion after the death of 27-year-old teammate Tyler Skaggs




USATODAY.com - Published





Angels mourn death of pitcher Tyler Skaggs

Star outfielder Mike Trout and the rest of the Los Angeles Angels are dealing with raw emotions after the death of 27-year-old teammate Tyler Skaggs, a pitcher. (July 3)  




USATODAY.com - Published

Also reported by •CBS News


100 best friends: Tyler Skaggs touched countless lives with big heart, sense of humor

The Angels lost a left-hander gradually coming into his own after an injury-pocked career, a teammate as revered for his humor as his heater.




USATODAY.com - Published





The Latest: How the Angels dealt with Tyler Skaggs' tragic and sudden death

The sudden death of 27-year-old starting pitcher Tyler Skaggs was felt throughout the Los Angeles Angels' 9-4 victory against the Texas Rangers.




USATODAY.com - Published





Grieving Angels win first game after Skagg's death

The Los Angeles Angels defeated the Texas Rangers 9-4 in Arlington, Texas on Tuesday night. It was the Angels' first game since the death of pitcher Tyler Skaggs. (July 3)




USATODAY.com - Published




Angels get emotional win in return to field following death of teammate Tyler Skaggs

Mike Trout and the Los Angeles Angels reflected on deceased teammate Tyler Skaggs following an emotional win over the Texas Rangers.




USATODAY.com - Published





Nationals' Patrick Corbin pitches gem just a day after death of good friend Tyler Skaggs

Donning Tyler Skaggs' jersey number 45 as a tribute, an emotional Patrick Corbin threw a gem to honor his deceased friend.




USATODAY.com - Published





Nationals' Patrick Corbin will honor friend Tyler Skaggs by wearing his jersey number

Patrick Corbin lost one of his great friends in baseball on Monday in Tyler Skaggs. Tuesday, the pitcher will honor Skaggs by wearing No. 45.




USATODAY.com - Published





Los Angeles Angels remember Tyler Skaggs

Tyler Skaggs, a 27-year-old starting pitcher for the Los Angeles Angels, was found dead in a hotel room near Dallas on Monday. Angels general manager Billy Eppler, manager Brad Ausmus and team..




CBS News - Published




Heavy-hearted Angels return to field after Skaggs' death

Angels playing with heavy hearts in return to field after death of pitcher Tyler Skaggs




USATODAY.com - Published





Los Angeles Angels discuss 'incomprehensible' death of Tyler Skaggs

The Angels will play with a heavy heart as they return to the field Tuesday night after Skaggs' shocking death.




USATODAY.com - Published





Los Angeles Angels hold press conference on Tyler Skaggs' death

Pitcher Tyler Skaggs was found dead in his hotel room on Monday




CBS News - Published




Tyler Skaggs: What we know about death of 27-year-old Angels pitcher

Angels pitcher Tyler Skaggs was found dead in a hotel room Monday, hours before his team was scheduled to face the Texas Rangers. He was 27.




USATODAY.com - Published





Tyler Skaggs: Los Angeles Angels fans react to player's death

Los Angeles Angels fans mourn outside their stadium for pitcher Tyler Skaggs, who has died aged 27.




BBC News - Published

Also reported by •CBS News


Tyler Skaggs dead: Police refuse to confirm cause of death of LA Angels pitcher but ...

Los Angeles Angels pitcher Tyler Skaggs was found dead in his hotel room on Monday night at the age of 27, but authorities have not confirmed the cause of death after saying that suicide is "not..




WorldNews - Published





Angels pitcher Tyler Skaggs dead at 27

Los Angeles Angels pitcher Tyler died on Monday. Skaggs was found unresponsive in his hotel room in Texas, where his team had gone to play the Rangers. (July 2)




USATODAY.com - Published

Also reported by •Reuters •CBS News


A decade after Nick Adenhart, death of Angels' Tyler Skaggs a tragic reminder of grief's permanence

Tyler Skaggs' tragic death comes 10 years after the death of another young Angels pitcher: Nick Adenhart.




USATODAY.com - Published





Active MLB players to pass away in recent years

Angels pitcher Tyler Skaggs passed away Monday, becoming the most recent active Major League Baseball player to die.




USATODAY.com - Published





Tyler Skaggs: Los Angeles Angels pitcher dies aged 27

Monday's game against the Rangers was cancelled by Major League Baseball in the wake of his "devastating death".




BBC News - Published

Also reported by •CBS News


Tyler Skaggs through the years

Tyler Skaggs through the years




USATODAY.com - Published





Angels pitcher Tyler Skaggs dies, game vs. Rangers canceled

Angels left-hander Tyler Skaggs was 27, no other details on his death were released. Game against the Rangers is canceled.




USATODAY.com - Published