River Severn
River in the United Kingdom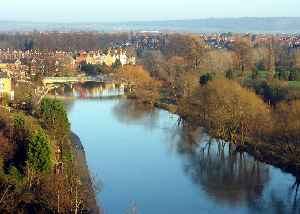 The River Severn is the longest river in Great Britain at a length of 220 miles (354 km). With an average discharge of 107 m3/s (3,800 cu ft/s) at Apperley, Gloucestershire, it has by far the greatest water flow in England and Wales.


PM branded 'traitor' in flood-stricken town

The Prime Minister was met with heckles of "traitor" as he arrived in Worcestershire to visit ongoing efforts to tackle flooding. Boris Johnson arrived on the banks of the River Severn in Bewdley..
Credit: PA - Press Association STUDIO Duration: 00:34
Published
Homes evacuated along the River Severn

Homes in the Shropshire town of Ironbridge have been evacuated as the River Severn continues to rise, compromising flood defences. Homes have also been evacuated further down the river in the..
Credit: ODN Duration: 01:00
Published
Severe 'danger to life' flood warning for Shrewsbury

A severe flood warning is in force for Shrewsbury as the River Severn is expected to reach its highest level in 20 years. Report by Jonesia. Like us on Facebook at http://www.facebook.com/itn and..
Credit: ODN Duration: 00:49
Published
You Might Like